A Look at the Glassy Behemoths of Long Island City
---
---
So many skyscrapers are going up in Long Island City, Queens, that the air is starting to feel a little thin.
Much of the construction of the tallest buildings in the area is focused around the Queens Plaza and Court Square sections of the neighborhood with their easy access to eight subway lines.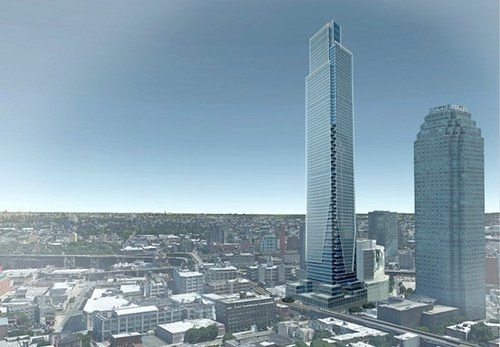 LIC's towers are not actually like the super skinny ones that dominate the skyline along West 57th Street, and most are not condos purchased to park money for shady foreign elites.
But we shouldn't sell them too short, either; there is at least one tower that's so tall that its developer filed its plans with the Federal Aviation Administration to make sure it wouldn't pose a threat to airplanes. (That's what happens when you want to build supertall skyscrapers a few neighborhoods over from two of the busiest airports in the country.)
That building, United Construction & Development's Court Square City View Tower, as it's currently known should stretch 66 stories and 984 feet high. It will be the tallest structure in Queens. The building, at 23-15 44th Drive, will feature roughly 800 condominium units. It is being designed by Hill West Architects and will feature a double-height lounge with a mezzanine area overlooking a pool on the third floor. The tower will also have two shades of glass—a neutral blue on its broader sides and a clear green
on the edges. (By the way, the FAA determined in September 2016 the building will not be a "hazard to air navigation.")
Durst Organization has plans for a 63-story, 765-foot tall rental building that would be attached to the landmarked Clock Tower in LIC at 29-55 Northern
Boulevard. Durst is planning outdoor open space for the tower dubbed Queens Plaza Park and other amenities, although those have not been announced yet. The tower will have 958 apartments.
Stretching nearly 600 feet and 58 stories, Tower 28 at 42-12 28th Street by Heatherwood Communities is next up in terms of height of projects under construction or already completed. The project opened last year and features 451 apartments. It houses amenities such as a fitness center, spa, sauna and yoga studio.   
Then there's Rockrose Development's Eagle Lofts at 43-22 Queens Street at 570 feet and 54 stories. The SLCE-designed building under construction will have 790 units and feature 15,000 square feet of interior amenities for a fitness center, entertainment lounge, rooftop barbeque areas, yoga studio, media screening room, children's playroom and library.
And under construction now is Tishman Speyer's Jackson Park. It will include three high-rise rental towers, the tallest of which, at 28-34 Jackson Avenue, will be 53 stories and comprise roughly 650 apartments. The complex will have its own amenity building at 45,000 square feet. Those perks will include amenities like a swimming pool and fitness center.