Mod About You: CLT Materials Could Bring in a New Wave of Construction
Cross-laminated timber is being used in more ambitious projects and could lead to a flurry of modular construction
---
---
Regal Homes' residential condominium development The Cube sits in London's Hackney borough, but much of its construction was done some 900 miles away.
The cross-laminated timber (CLT) panels that clad the building were produced in Unternberg, Austria, by CLT manufacturing firm Binderholz, which used digital 3D modeling tools to design and cut the panels, rehearsed how they would be put together onsite in London and then determined the sequence in which they would be shipped across the continent.
"Then they were loaded onto [trucks], driven over to [the U.K.] and delivered to the construction site using a just-in-time delivery process," said Damien Cartmell, Regal's managing director for construction. "And as they came off the wagon they were dropped into place as had been rehearsed digitally."
When it was completed in 2015, The Cube was, at 10 stories and 108 feet tall, the tallest in Europe to incorporate CLT as a main structural element. Regal this year completed construction on another Hackney development, Dalston Lane, a 121-unit residential project that is currently the world's largest CLT building.
As the name suggests, CLT panels consist of several layers of timber fixed at right angles to each other and glued together. It's something of a niche product at the moment. (According to a recent report from the United Nations Economic Commission for Europe, there were roughly 11 million square feet of CLT produced in 2016. By way of comparison, global production of wallboard that year totaled around 22.5 billion square feet.) Nonetheless its combination of strength, stability and relatively light weight gives it great potential as a construction material. And combined with computer modeling and manufacturing tools employed by firms like Binderholz, it could enable a new wave of modular building.
"There is a huge disruption coming to the construction industry, and it's based on the idea that the system is largely broken," said Michael Green, the principal of Vancouver-based Michael Green Architecture and a major proponent of building with CLT.
The nature of current construction involves significant variability, Green noted.
"Because everything is built onsite, you have huge schedule risk, you have inaccuracies. And, all those inefficiencies add up to a lot of unknowns, and that adds up to a lot of money," he said. "The shift that is about to happen is we are going to move from construction being a craft-based industry to being an industry like all others where buildings are built largely in factories and then brought to site and assembled."
Modular construction isn't a new idea, of course. But, Green said, a few recent developments have positioned it for widespread adoption. Perhaps foremost among them is the application to home building of the sorts of automated tools used in industries like auto manufacturing.
"The car industry has gone through this evolution where robotics has allowed, instead of identical cars going down the assembly line, totally different cars being built [on the same line] because big data, computers and robotics allow for that kind of mass customization," he said. "And we're going to see similar factories building very large buildings that are highly customizable and so adaptable to very unique designs."
Also key, Green noted, is the emergence of CLT, which, he said, is significantly lighter than materials like concrete while still being sturdy enough to ship long distances.
"That means you can cut these panels with computer-based tools that are highly accurate, which increases efficiency and cost, and then you can ship them, because they are so rigid, with complete systems [like plumbing and electrical] in place," he said. "And that allows you to build on the job site very quickly."
Such talk might seem like the blue-sky musings of a CLT evangelist, but, in fact, at least two major outfits are currently putting just such processes into place with plans to build thousands of housing units per year.
In the U.K., insurance giant Legal & General has built a CLT plant outside Leeds out of which it aims to produce 2,500 to 3,000 homes per year. Stateside, construction startup Katerra this fall announced plans to open next year a CLT production factory in Spokane Valley, Wash. The Silicon Valley firm aims to streamline home building along the lines Green laid out above. Founded in 2015, the company is headed by Michael Marks, a former chief executive officer of tech manufacturing contractor Flextronics, and has raised some $220 million in funding to date, giving it a valuation of more than $1 billion.
Katerra is positioning itself as a full-service construction company, covering everything from design and engineering through manufacturing and construction. Legal & General will likewise handle the full home-building process, but, unlike Katerra, it is also assuming the role of developer.
The insurer's CLT building business is part of its larger Legal & General Homes business, which, in turn, is part of Legal & General Capital, the group's main investment arm. That arm has among its various purposes the goal of creating investment opportunities for the larger Legal & General entity.
"So, for instance, our annuity group that has the pension funds we look after directly, for understandable reasons can't invest in speculative land and take the planning and development risk [of a construction project]," said James Lidgate, the CEO of Legal & General Homes. "But they are interested in the kind of long-term inflation hedge income that housing can generate. So that is where we step in and say, 'O.K., we want to generate development returns on this undertaking, but ultimately we want to transfer ownership of these homes to our [pension and insurance groups] as well as to other external pension funds that want to invest through our investment management arm.' "
In other words, Legal & General's pension and insurance businesses would like to invest in something like a residential real estate investment trust. But, this sector, Lidgate noted, doesn't yet exist in the U.K. the way it does in the U.S. And so the company, through its Homes division, is essentially building one.
"Outside of the residential sector, there is investment-grade commercial real estate [in which] we make significant investments of billions of pounds every year, and we will continue to do that," he said.
In residential, though, "there is not the market in the U.K. that you guys have in the U.S.," Lidgate said. "It is emerging, but it is nowhere near the maturity you have over there. So there is a weight of capital that wants to invest in that sector, but there are not the assets there for it to invest in. So we will create those assets."
A modular CLT-based approach is appealing in that it gives Legal & General more control over the home-building process than they might otherwise have, Lidgate said.
"The guiding principle is that building homes in a controlled factory environment with a more controllable supply chain where you can oversee the manufacturing process irrespective of how much oversight you have on a construction site fits with the investment rationale behind building and manufacturing homes that we are going to own in the long term," he said. "We have an absolutely transparent forward view of the homes we are building."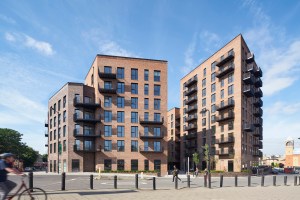 He added, "We can be designing them with the CLT and modular process in mind, and when we can do that, we can generate time savings that, versus building homes traditionally onsite, can be significant."
Lidgate cited as an example a 450-unit multifamily development the company is currently building using traditional construction. The project is anticipated to take around 36 months to complete, a timeline that he said could be brought down to around 28 months using modular methods and CLT.
That, Lidgate noted, translates into an extra eight months of rent and, consequently, better returns. He said he did not expect modular CLT building to produce significant savings in construction costs themselves, though some, like architect Green, have projected the approach could lower construction costs by some 20 to 30 percent compared to conventional methods.
Another potential advantage is reduced long-term upkeep costs. Because they use computer-controlled automation and materials like CLT that can be cut with extremely high tolerances, modular construction processes are able to build to very precise specifications, which should, in theory, make for better quality homes.
"In terms of the life cycle costs of running and owning these homes, while it's difficult at this stage to quantify what [the savings] might be, absolutely the logic would follow that if you are manufacturing them with the design tolerances we can do in our facility, then you would expect them to be cheaper to maintain," Lidgate said.
In the U.S., some analysts have cited home maintenance costs as a major source of uncertainty around the long-term performance of single-family REITs, which suggests that Legal & General could benefit from being able to more tightly control this expense as it assembles its own rental portfolio.
The company is currently focusing its modular business on multifamily developments, though Lidgate said it is also developing designs for modular-built CLT single-family homes.
"We are trying to capture as wide a portion of the housing market as we can," he said.
Not that everyone is especially enthused about the prospect of modular building. Mark Wolf, the CEO and founder of single-family rental developer and operator AVH Communities, based in Irvine, Calif., launched his company, which currently offers homes in several Texas communities, with a modular-building outfit as its original equity and construction partner.
"We were led to believe that it would be more efficient from both a cost and time perspective," Wolf said. The reality, though, "was the complete opposite."
One issue, Wolf said, was that, although putting together the modular panels at the jobsite is, in theory, simpler than building conventionally, it required workers with specialized skills that were not always readily available.
"In [conventional] construction, especially the residential trade, it's a very migrant labor force," he said. "Your framer, your certain trades, they come through town, they get the job done, they move on. They're very good at what they do. But they don't have to be a skilled, trained labor force.
"All these big systems, though, require a little bit more skilled labor," he noted, "because it's specific in nature, and it's specific to that technology, right? To that builder's system."
More problematic, Wolf said, were the city-to-city and inspector-to-inspector variations in building codes and interpretation of those codes that essentially defeated the purpose of standardized modular construction.
"Within the same building department you could get a different opinion of what is appropriate and what isn't based on the day and the inspector who came out," he said. "You get Bob one day and Jim the next day and Susan the day after that, and all three can have a difference of opinion as to the efficacy of what has been done."
Different municipalities may also have different standards around the various components that go into a home, Wolf said. "So whether it's different [requirements for] lighting, insulation, wiring, it becomes troublesome."
In New York, developer Sy Ghassemi this year shelved plans for a 10-story CLT-based condo at 475 West 18th Street. The building would have required a change to city building laws, which currently don't allow for wood construction exceeding six stories, but, according to Ghassemi, it was a slowing housing market, not regulatory challenges, that led him to walk away from the project.
"It was a disaster," Wolf said of his company's foray into modular construction. "So we've pivoted away from anything panelized, anything modular at this point in time."
Even so, Wolf said he still believes modular building with materials like CLT has great potential down the road.
"Don't get me wrong. I'm a huge advocate," he said. "I think this is going to play a part in the future. But I think it's going to take a lot of pieces working together—i.e., code, labor enforcement, standardization, labor pools. There are still a lot of things that have to come together, I think, for it to work on a widespread basis."
AVH Communities
,
Binderholz
,
Cross-laminated timber
,
Damien Cartmell
,
Flextronics International USA
,
James Lidgate
,
Legal & General
,
Mark Wolf
,
Michael Green
,
Michael Green Architecture
,
Michael Marks
,
Regal Homes
,
The Cube