High-End Home Fixture Company Pirch Shutters Soho Outpost [Updated]
---
---
Pirch, a luxury appliance showroom that epitomizes "experiential" by allowing customers to "try before you buy," has closed its massive Soho store, according to signage in the door.
"Pirch has decided to restructure and operate out of their Southern California base and therefore a decision has been made to exit all non-[California] markets with immediate effect," the sign at 200 Lafayette Street between Broome and Spring Streets reads.
A Pirch spokeswoman told Commercial Observer: "Pirch Soho closed officially a couple of weeks ago, although there is still a team handling follow through on existing orders out of the distribution center in New Jersey. Pirch California is fully operative and doing well. It has been determined by management that the path forward for Pirch is based in California."
The news comes a month after Bloomberg reported that the company was "planning to shutter most of its locations as it overhauls operations." That included the Soho flagship.
The 32,000-square-foot, three-story store at General Growth Properties' 200 Lafayette Street opened in May 2016, marking the California chain's foray into the New York City market. The asking rent was about $400 per square foot on the ground floor, The Real Deal reported. The upscale store was home to "working kitchens where a curated selection of the world's best appliances can be tested, and special events are held," according to a Pirch press release. "Vignettes throughout feature working showers, sinks and bathtubs."
Retailers have been struggling as of late, with experts saying that for brick-and-mortar shops to survive, they need to be experiential. So where did Pirch—which was named one of Fast Company's most innovative companies in retail last year, and the year prior, one of the most promising companies by Forbes—go wrong?
"I think the Pirch concept was a great idea and a fun experience but unfortunately not too many New Yorkers were in the market for a $48,000 stove," commented Eastern Consolidated broker James Famularo.
Retail consultant Kate Newlin offered: "Elegant concept, but as one Italian furniture brand told me, 'This town is filled with dot.com, Wall Street and hedge fund money in the hands of 20-something guys who buy the loft and then have their mothers come in and decorate from Ikea for them.' Pretty much a recipe for disaster for high-end kitchen redesign, right?"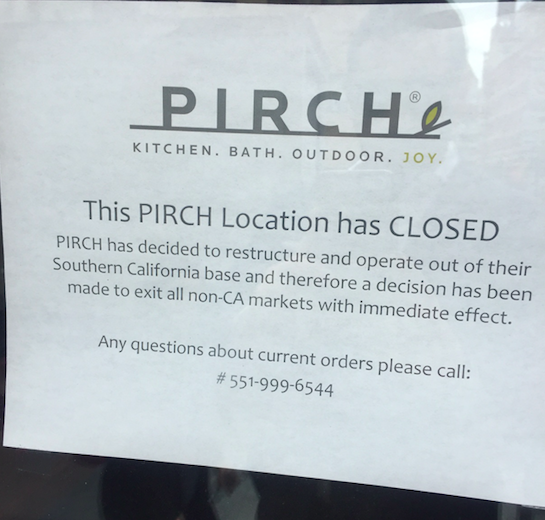 According to Peter Braus, the managing partner of Lee & Associates' New York office, "It shows that even having a really well-conceived, extremely exciting and original retail concept like Pirch is is not enough to fight the tides created by today's trends. Perhaps they found that people were doing to them what so many other retailers have experienced—customers using their store as nothing more than a showroom to try out the latest products, and then making the purchase on line for a much lower price. It demonstrates vividly that a retailer really does need to  be 'Amazon-proof' in order to make it."
A spokesman for GGP, which acquired the 130,000-square-foot, seven-story building in October 2013 for $148.8 million, said the company is "just beginning to market the space [which spans the basement and the first and second floors] so stay tuned." No one from Pirch  immediately responded to a request for comment.
Update: This story has been edited to include a comment from a Pirch spokeswoman, the landlord and a retail consultant.