Battle Heats Up Between Resi Building Access Tech Platforms [Updated]
Latch launches hands-off access to deliverymen, while GateGuard looks to ban partiers and Airbnb-ers
---
---
A sprint between two tech companies to provide keyless access to apartment residents is quickly gaining pace.
Starting today, tenants at a batch of city apartment buildings are able to use Latch, a networked keyless-entry system, to receive deliveries when no one is home to open the door, Commercial Observer can first report.
Meanwhile, GateGuard, a competing platform that replaces a traditional intercom with a camera and facial-recognition software, emphasizes its knack for helping landlords kick out subletters. The company will announce tomorrow that it is giving away 2,000 camera-equipped intercoms, its founder, Ari Teman, told CO.
The emerging competition between the two firms frames divergent views of security and city life. Latch promotes accessibility and welcoming guests and service workers, whereas GateGuard is focused on helping enforce landlords' rules and keeping undesirables out.
Since 2014, Latch has raised more than $26 million in private funding, including from major residential landlords LeFrak and Rudin Management, according to a Latch spokeswoman. Executives from Tishman Speyer have also pitched in capital, a source said.
One of the largest to adopt its technology is The Grand at Sky View Parc at 40-22 College Point Boulevard in Flushing, a Queens complex of three high-rise towers with more than 250 units.
Installation began early last year at buildings around the city, with residents at 150 buildings in Manhattan, Brooklyn, Queens and the Bronx able to use their smartphones to give approved guests the ability to unlock lobby doors with a passcode. But starting today, Latch is allowing Jet.com and Walmart distribution networks delivery access without tenants' lifting a finger.
That development is thanks to a new partnership between Latch and FedEx, which delivers packages on behalf of the two retailers. (Latch representatives declined to confirm the collaboration, but sources close to the deal identified the partner as FedEx.) Delivery drivers will receive access codes as part of their daily itinerary, allowing them to drop packages indoors instead of leaving a missed delivery notice. And tenants can allow access to workers of all stripes by sending them a text-message code.
Latch consoles also contain a camera, so that tenants and building managers can view recorded images of building entrants, although a live video stream from the camera is not available, according to Latch.
But Teman said the video feature raises questions about the role of big property managers as investors in Latch (think Big Brother).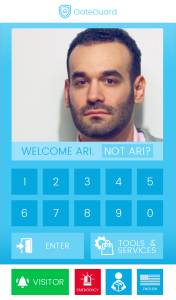 "Do [landlords] really want to take a lock from another real estate company?" Teman asked. Landlords "don't want Silicon Valley looking [through a camera] at their property."
Simple in-unit intercoms and lock-relay buzzers have been a staple of apartment life for decades. Jerry Seinfeld's frequent use of one such device to let his friends Elaine and George into this Upper West Side apartment building on Seinfeld made the buzzer something of a New York icon. More obscurely, functioning intercoms are mandated by Chapter 42 of New York City building code, as a matter of public safety. But Latch and GateGuard consoles represent a clear step forward from the 1990s.
Latch's devices are sleek, black and about the size of an eyeglasses case. Installed in an adjacent wall outside the lobby door—like a traditional intercom—the console can be connected to a building's wireless network, allowing managers and residents more flexibility in controlling access to the building. Residents can, for example, grant a permanent unlocking code to nannies or housekeepers, or begrudging, temporary access to mothers-in-law.
GateGuard, which Teman introduced last year, has a boxy, sturdy-looking design. Its capabilities parallel Latch's video record of all building entrants. But rather than helping delivery workers, that product's Web page accentuates tenants' ability to keep out illegal subletters and other unwelcome people.
The GateGuard interface is currently available from the company's website for $240, and the firm charges $24 per month thereafter to monitor the video footage it receives.
Teman said that he is the sole investor in GateGuard, which he funded with proceeds from his previous security ventures. He said that the company is running on its own revenue, but declined to give the address of a building where GateGuard has been installed.
GateGuard also functions as a traditional intercom. Latch does not provide a hard-wired in-unit device, which appears to mean that it cannot yet legally replace an intercom.
For now, though, Latch, is focused on easing the convenience of deliveries.
"Drivers are super excited about this," said Luke Schoenfedler, Latch's founder and CEO. "They're asking, 'can you tell other buildings to install this?' The drivers have wanted this everywhere."
To mark the occasion of the FedEx partnership, Ryan Agran, Latch's director of operations, demonstrated the system this morning at 85 South Street, an eight-story, 21-unit building just across from the South Street Seaport. As Agran approached the door and pressed a button on his smartphone's touchscreen, the hitherto snoozing Latch unit came to life, blinking a soft white light. (The console communicates with nearby devices using Bluetooth.) In short order, the door's electrical lock clicked free.
Next, it was time for a card trick. Like many office-building turnstiles and suite entrances, Latch doors can also be unlocked—using radio-frequency identification, or RFID—with an unpowered tag that fits snugly in a wallet or on a keychain. Agran's unit—white, and about the size of a credit card—successfully opened the lobby door when he held it within a few inches of the wall-mounted console.
But all this was old hat compared with the main event. With a briney East River wind howling like the ghosts of the Fulton Fish Market, Agran demonstrated how he could grant an apparently trustworthy Commercial Observer a lobby reprieve. Simulating an approved apartment guest trying to get in while the resident was out, this reporter gave his mobile number to Agran, who with a prompt bit of smartphone-poking sent a text message with an access code.
The console presented serenely glowing digits arranged like a clock face around its circular touchscreen. Suppressing the urge to try some sort of landlord's incantation, we keyed in our assigned seven digits, and were inside moments later.
Michael Mintz, the CEO of MD Squared Property, a residential landlord with buildings throughout New York City, told CO that he sees value in both products. Even before Latch's new delivery partnership, its devices had won a warm reception among his tenants.
"We've installed Latch in nine or 10 buildings, and our residents are loving it," Mintz said. "The sharing of access is huge. If someone has a housekeeper, they can give time-restricted access codes."
The tool fills a niche at smaller buildings in particular, Mintz said, where a small tally of apartments or downmarket rents might render full-time staff exorbitant.
"Especially in smaller buildings, most of them are non-doormen," Mintz explained. "Those buildings have such trouble getting deliveries properly. Because this system shares access, they're able to get in when they're there and it makes it so much simpler."
Each door unit costs about $400, according to the company's website. Buildings must pay an additional fee, which varies based on building size, for software to operate the system.
"We want this to be so convenient that the technology pays for itself," Schoenfelder said.
But Mintz has also expressed admiration for GateGuard's product, and said that he plans to install it as well.
"We are also going to be installing GateGuard in some of our buildings as they have amazing technology and offer a very sophisticated intercom system that is a major amenity for our residents," he said. "We have been working with Ari Teman…and have had a great experience with his products."
Latch and GateGuard are not alone in bringing cloud computing to the front door. Next week, Amazon will begin offering a device it calls Amazon Key, which will allow Amazon deliverers to drop packages inside consumers' homes. (Unlike Latch, Amazon's version cannot yet be used to grant access to the front doors of apartment buildings, a Latch spokeswoman said.)
An Amazon spokeswoman declined to comment.
New Yorkers are perhaps inured to ubiquitous surveillance, but cameras at every doorstep would seem to represent a new level of snooping. Still, Mintz said his tenants were comfortably on board.
"Not a single person has complained about" privacy issues, Mintz said. "So far, none of our residents has been concerned."
But as the power to open doors migrates from a small metal key to ethereal computer code, one thing seems clear: more city dwellers will soon have to think harder about whom to trust with access to their buildings.
Update: This story has been edited to include more information about GateGuard's business and pricing, and to include Michael Mintz's statements about that company.
85 South Street
,
Amazon
,
Amazon Key
,
Ari Teman
,
Fedex
,
Fulton Fish Market
,
GateGuard
,
Jerry Seinfeld
,
Jet.com
,
Latch
,
LeFrak
,
Luke Schoenfelder
,
MD Squared Property
,
Michael Mintz
,
Rudin Management
,
Ryan Agran
,
South Street Seaport
,
The Grand at Sky View Parc
,
Tishman Speyer
,
Walmart