Williamsburg's Subpar Office Stock Is About to Undergo a Seismic Shift
Developments like 25 Kent Avenue will likely double—or even triple—the Brooklyn neighborhood's office supply
---
---
Vice Media commands a presence in Williamsburg like no other.
The company has grown to some 1,200 workers since it put down stakes there in 2001. And in 2014, Vice decided to gut renovate a 75,000-square-foot property at 49 South 2nd Street for its headquarters—something unheard of for the neighborhood.
That rehab and buildout—which included dedicated screening rooms, a recording studio, graphics and color correction suites, level control rooms and 125 edit suites—set it back $20 million, according to an Empire State Development Corporation release at the time. (The state agency gave Vice $6.5 million in tax credits.)
That's what you had to do, however, if you wanted to thrive in Williamsburg's office market: spend. And have had the good sense to be early to the party as space was and still is scarce. It has been tough going for those who didn't want to undertake a big DIY renovation.
"That is the bane of my existence and 50 percent of the reason why we chose to move to Manhattan—there simply isn't space available unless you're committed to building it out yourself or risking having your equipment and staff on walk-in retail level," said Mallory Blair, a co-founder and the chief executive officer of Small Girls PR, which was started in Williamsburg but moved to Chelsea last week because they couldn't find a large enough space.
"Which we're not."
But in the next few years there should not be any more office shortage troubles in Williamsburg. A plethora of planned office developments will double or even triple the size of the current office market in the hipster neighborhood, and it starts at 25 Kent Avenue.
Rubenstein Partners and Heritage Equity Partners are betting big with the project. When completed, the waterfront building will encompass 500,000 square feet—60,000 square feet of retail, 64,000 square feet of light manufacturing and 376,000 square feet of office space.   
The structure is being built without an anchor tenant, showing plenty of confidence on behalf of the developers. But this confidence isn't groundless: Williamsburg comes with a vast army of tech, media and creative workers that already live there.
"We did a lot of research and figured out that there is a lot of demand for office in Williamsburg," said Jeff Fronek, the director of acquisitions at Rubenstein Partners. "Companies will follow their employees, and we see that a lot of creative employees live along the L train. We think it's compelling to offer a walk-to-work solution for those companies."
Moving westward, Two Trees Management Company is developing two separate office buildings on the 11-acre site it owns that was part of the Domino Sugar Factory.
The first is a ground-up building at 260 Kent Avenue, which will rise 42 stories, dwarfing its neighbors. The 462,000 square feet of space will include 150,000 square feet of offices and 300 rental apartments above when completed in two years.
At the second building, the developer is converting the old refinery at 292 Kent Avenue into 380,000 square feet of office space.
Two Trees anticipates it will be more than two years until it is completed as well, but the company is hoping that one large tenant will occupy the entire building.
When the developer purchased the site in 2012, Williamsburg had zilch by way of true office space. Two Trees pushed for a mix of residential and commercial at the site during a two-year long rezoning.
"It's more healthy, and it's more appealing," David Lombino, a managing director at Two Trees, said of the hybrid. "There are examples on the Upper West Side [of Manhattan] along the river and some parts of Long Island City [Queens] where you have an awful amount of residential investment and not a lot of office. If you go there on a weekday, it's pretty dead. It doesn't feel like New York City. It's not a vibrant place, and it's not an appealing place."
Elsewhere in Williamsburg, Cheskie Weisz's CW Realty Management purchased the three-story warehouse at 61 North 11th Street between Wythe and Kent Avenues in May for $35.5 million, as Commercial Observer previously reported. Weisz is converting the structure into 30,000 square feet of office and 11,300 square feet of retail space.
And in East Williamsburg, The Hudson Companies has begun transforming an industrial building at 315 Meserole Street between Bogart and Waterbury Streets into 80,000 square feet of office and 20,000 square feet of retail space. Asking rent for office space at the building is in the mid-$40s per square foot, and the company is targeting tech, creative, media and marketing tenants, of course.
The project, called "The Breeze," features a 6,000-square-foot courtyard a 2,000-square-foot breezeway, a 2,000-square-foot penthouse that could be rented to a venue and a rooftop for 400 people. It is slated for completion in 2018.
"If you polled [office] tenants moving to Brooklyn, and especially the creative tenants that we are targeting, one of the most important things to them is access to outdoor space," said Chris Tepper, a senior project manager at The Hudson Companies. "That's one of the things that you get in Brooklyn over Manhattan. It's not that there are not many terraces in Manhattan. But the size and occupancy level of this one is unique."
So after all of this time, why is office space finally coming to Williamsburg?
When the city rezoned parts of Williamsburg and Greenpoint in 2006, it did so with the goal of adding more residential growth in areas along the waterfront where factories and industrial properties stood. Residential became the highest and best use. Luxe or trendy (or both) retail brands followed, as well as the bars, concert venues, restaurants and hotels.
But office didn't pencil out until demand came for C-suite level offices.
While brokerages CO spoke to don't track statistics for the Williamsburg office market, various brokers estimated that the total amount of existing office space in the neighborhood today is less than 500,000 square feet of space. And the vacancy rate is between 1 to 3 percent—the definition of tight.  
Williamsburg office spaces can command rents from the mid-$40s for existing or older spaces to the $70s for modern spaces that are being constructed, a variety of Williamsburg brokers confirmed.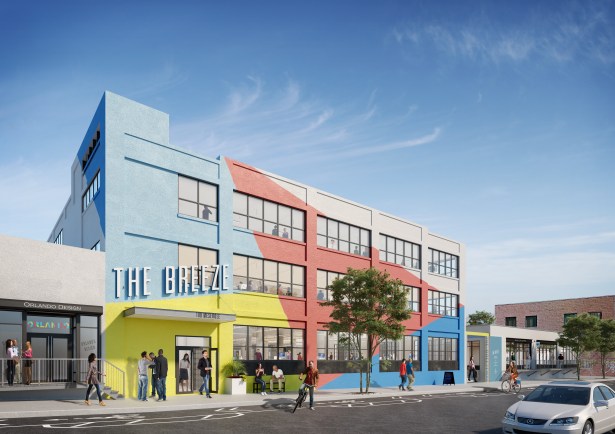 "The demand is there, so theoretically the supply should come," said ABS Partners Real Estate's Ben Waller, who is marketing office space at 315 Meserole Street. "But you need to underwrite the projects. And it's very difficult to do so especially when there is no data. It's hard to wrap your head around it."
Before the spate of recent announcements about the new development, there was a clear demand for office space in the neighborhood, so coworking companies became the sine qua non solution to the neighborhood's office real estate problems.
Coworking giant WeWork currently has two locations in Williamsburg, as does its rapidly expanding rival The Yard, which was founded there in 2011. Other coworking brands include The Brass Factory, Green Desk, New Women Space, Rough Draft, The Bakery, The WorkAround and, simply, Workspace Williamsburg.
"Our Williamsburg members are drawn to the space because of how it reflects the neighborhood: a laid-back atmosphere, prioritizing comfort and a design-forward aesthetic," The Yard co-Founder Richard Beyda said via email. "People are choosing to live, work and shop in this area because they don't want to be in Manhattan and like the relaxed vibe combined with that Williamsburg industrial chic aesthetic."
Coworking is good for startups, but more mature companies generally want their own spaces. AGW Group, a marketing and creative communications agency born in Williamsburg with three partners four-and-a-half years ago, is a member at WeWork's 134 North 4th Street location.
After reaching 15 employees, the company decided it needed its own space. Staying in Williamsburg was essential, given that almost all of their employees live there. So they started searching for new digs.
It took a full year before the company found a 5,000-square-foot full-floor space. It plans to move in November. (Due to contractual agreements with the landlord, AGW co-Founder Adam Gorode couldn't give CO the address of the new location.)
"We are looking to craft our own culture as we are looking to evolve," said Gorode, who is also the CEO of AGW Group. "In order for us to do that, we need our own space so we can host our own events and our own programs. It's part of our evolution. While WeWork is fantastic, you begin to adopt the cultures of other companies and WeWork itself."
The big elephant in the room that the entire office market is facing, however, (not to mention the whole residential market) is the critical—if temporary—loss of the L train, the neighborhood's main transportation option and part of the reason that Williamsburg became so desirable in the early 2000s.
Superstorm Sandy flooded the nearly century-old, 7,110-foot-long subway tunnel, connecting Brooklyn and Manhattan, with 7 million gallons of saltwater in 2012, which damaged the infrastructure and systems.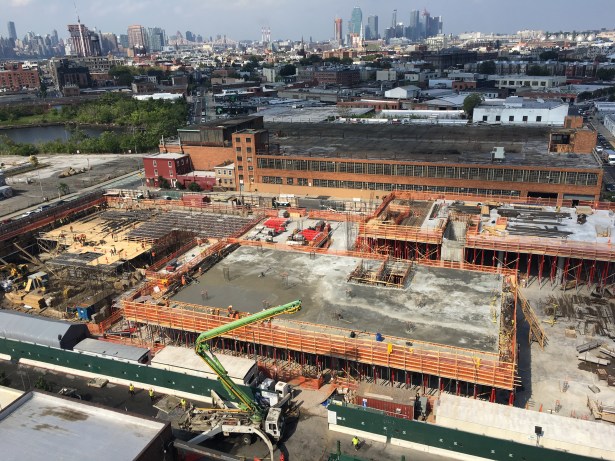 Under a $477 million contract, the Metropolitan Transportation Authority hired Judlau Contracting and TC Electric to do the work, which included installing new tracks and third rails, replacing communication, power and signal cables, installing new tunnel lighting and repairing the fire protection system and concrete lining of the tunnel. The project will start in April 2019 and take 15 months. This is a devastating blow to the 225,000 weekly riders that use it back and forth from Brooklyn to Manhattan. (All L train stops in Brooklyn will be accessible, though). The MTA plans to mitigate the loss with more G, J and M train service.
Brokers believe, however, since builders are all already spending money on large projects, and since the shutdown is temporary, developers won't be hindered much. And the already tight market might actually see an uptick in rents.
"I'm assuming the flipside of the L train shutdown is that it will get even more expensive [to rent existing office space]," said Ofer Cohen, the founder and president of Brooklyn-based TerraCRG. "The shutdown is for the tunnel that gets you from Williamsburg to Manhattan. It's a test of how committed you are to the lifestyle in Williamsburg. I would argue people who live in Williamsburg don't want to be anywhere else."
After the L train work is completed, Cohen suspects that there will be a flood of larger tenants looking for the new spaces in Williamsburg as the inventory comes online. And we can predict much bigger tenants than before in Williamsburg—especially since they won't have to do what Vice did.
A case in point of the demand can already be found at the 21-story, 183-key William Vale hotel at 55 Wythe Avenue, which opened in 2016. The building has some 40,000 square feet of office space across five floors on the market. And there is a lease already out for one tenant to take the entire space, according to Mario Faggiano, co-Founder of EXR Group, which is representing the owner All Year Management. The space has an asking rent of around $75 per square foot.
"It takes a few individuals to exercise that option to build office on the land that they own," said Faggino, who wouldn't reveal the name of the tenant. "I think it's like a waterfall effect. After people do it and are successful, then others are going to rush to it.
25 Kent Avenue)
,
260 Kent Avenue
,
292 Kent Avenue
,
315 Meserole Street
,
49 South 2nd Street
,
61 North 11th Street
,
ABS Partners Real Estate
,
AGW Group
,
Ben Waller
,
Cheskie Weisz
,
Chris Tepper
,
CW Realty Management
,
David Lombino
,
Empire State Development Corporation
,
EXR Group
,
Green Desk
,
Heritage Equity Partners
,
Jeff Fronek
,
Judlau Contracting
,
Mallory Blair
,
Mario Faggino
,
Ofer Cohen
,
Rubinstein Partners
,
Small Girls PR
,
TC Electric
,
TerraCRG
,
The Bakery
,
The Brass Factory
,
The Hudson Companies
,
The Yard
,
Two Trees Management Company
,
Vice Media
,
WeWork
,
Workspace Williamsburg