CRE Tech Startup Falkon Sets Sights High With New Off-Market Listings Platform
If a "whisper" listing goes online, is it still considered off-market?
---
---
Having launched last year as a database of on-market commercial property listings across New York City, Falkon officially announced its new off-market listings platform this week—a tool that the platform's founder, Ashkán Zandieh, hopes will bring greater efficiency and transparency to the city's property investment sales market.
The startup has thus far relied on on-market listings to serve as what Zandieh described as "the Streeteasy of commercial real estate investment sales," (referring to the residential real estate listings portal) with around 1,000 active listings valued at a combined $100 billion, he said. Now, the company is looking to expand its influence via a database of off-market listings—predominantly multifamily and mixed-use properties that have not been widely publicized or marketed for sale by property owners or brokers.
"Selling multifamily, mixed-use real estate in New York City is super complicated and complex, and no one is really harnessing technology to make it quicker, easier and ultimately cheaper," said Zandieh, a former broker at ABS Partners Real Estate who also runs prop-tech networking and advocacy organization RE:Tech.
Zandieh hopes the off-market listings database of Falkon, which is free to use and makes all of its revenue through advertising, will increase the company's total number of listings "by 200 percent," or up to 3,000 properties, by the end of this year, he said. Zandieh added that most of the site's listings, which remain overwhelmingly on-market, are priced the "mid-market" range of $5 million to $50 million—though properties listed anywhere from $600,000 to north of $100 million have been featured.
"Our end goal is to have every single investment sales opportunity in the city of New York on our platform," he said.
Falkon claims that it attracted more than 20,000 visitors to its website and mobile app from around the world over the first six months of this year—"including active members in the U.K., China, Germany and more looking for real estate investment opportunities in New York City," the company said in a press release announcing the off-market launch—and Zandieh said his goal is to reach "100,000 subscribers by next year."
Falkon undoubtedly has lofty goals for itself, considering it focuses on one of the most complicated and high-stakes realms of the real estate business. Thus far, few prop-tech startups have been able to penetrate the world of investment sales dealmaking; those that have, such as the CoStar Group-owned marketplace LoopNet, have often received less-than-rave reviews from market participants.
"I'm all for technology helping everything, but the information [on these sites] gets dated really fast, and I don't know how they can keep up with how quickly things change," Marcus & Millichap (MMI)'s Shaun Riney, one of the firm's top-producing Brooklyn multifamily market dealmakers, said of property listings sites like LoopNet. "As soon as these websites get stale, people stop looking at them."
While representatives for LoopNet declined to provide comment for this story, Zandieh said he was aware of the concern over "stale" listings on online marketplaces. "We don't allow listings to remain stale on our platform," he said, though he declined to disclose the frequency with which Falkon updates the listings on its site.
"What I can disclose is that it's advantageous to the listing agent or broker to update that information regularly, to keep their status active," he added.
Other brokers who spoke to Commercial Observer expressed concerns over the nature of marketing off-market listings through platforms like Falkon. Some worried that doing so would leave their listings open to be poached by other brokers, while others said that publicizing off-market properties online would defeat the appeal of such "whisper" listings—that of the low-key, diamond-in-the-rough investment opportunity that not everyone has had a crack at on the open market.
"As soon as a listing lists on a listings platform, it becomes on-market," said Derek Bestreich, the president of brokerage Bestreich Realty Group. "Investors don't like on-market as much—it feels like everyone has had the chance to see [the listing] and it does feel shopped around. But they love a true, off-market whisper listing."
Bestreich noted that off-market deals can often provide value for investors compared to on-market deals, because "the more exposure a property gets, the more people have the chance to bid on it, and therefore the price goes up."
He added, however, that off-market listings "in some cases sell for more than on-market [ones] because investors don't want the stigma of buying a building that people have already seen." And that, Bestreich said, is a problem with an online marketplace devoted to off-market listings. "The problem with this platform is it's the internet—it's the noisiest thing of all," he said.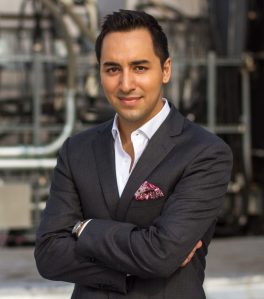 Zandieh dismissed such concerns, saying that Falkon simply looks to bring further efficiency to what he described as the time-consuming, ineffective means through which off-market listings are typically pitched.
"If [brokers] love data entry and wasting their time cold-calling people, then by all means they can continue," Zandieh said. "Instead of them cold-calling and having a hit rate of 5 percent, we've automated the entire process and helped the broker increase their hit rate and their reach. We have higher visibility than any broker does." (It is too early to tell what brokers' hit rate will be using Falkon.)
But Falkon, Zandieh stressed, is not designed and does not seek to take up the role of the commercial real estate broker in the dealmaking process. He noted that the platform only permits "exclusive" off-market listings, tied to an exclusive listing broker, and does not allow its users to post "open" listings, which are not beholden to any single broker and could lead to conflicts as sellers chase the highest price.
"An open listing is not an off-market listing," he said. "It bastardizes the entire process. It's not the Wild West anymore; you have to have an exclusive agreement between the seller and the broker [on Falkon]." Zandieh added that his platform "aim[s] to provide protection for the agent," citing his own background as a broker by trade.
Falkon's off-market marketplace also does not openly disclose the specific addresses of its listings nor sensitive financial information, such as rent rolls, about the properties in question—issues raised by brokers when discussing the platform and whether it protects the various stakeholders at play.
Zandieh said Falkon seeks to "protect all sides" of the dealmaking equation—buyers, sellers and brokers—through a listing verification process that can take up to 48 hours and requests an array of information about the property in question: asking price, net operating income, unit count, and other considerations.
"We go after publicly available information, and after that, it's just hard work—going through hours and hours of paperwork, automating our own data set and making it a living, breathing organism so it can be implemented and used to market real estate," he said.
Among the brokerages who have subscribed to the vision that Zandieh is offering is Cushman & Wakefield (CWK). James Nelson, a vice chairman at C&W and the brokerage's top-ranked investment sales broker last year, described Falkon as "a powerful, yet surprisingly easy-to-use tool built specifically for real estate professionals."
"It takes into account the way we work and only provides information we actually need," Nelson said in a statement. "Falkon makes it easier than ever to research and sell real estate and we're excited to deploy this across our investment sales team."
Other tech-based real estate startups have shown that there is a market for the service that Falkon is looking to provide. Brevitas, a San Francisco-based company that launched two years ago and went live with its own online listings platform in early 2016, now has 5,000 listings across the country and 15,000 members who use the site. Like Falkon, Brevitas is free to use, though co-founder and chief executive officer Ardian Zagari told CO the company is looking to roll out a paid "premium" version in the coming months.
"If you want to build a listings platform, you're going to get compared to LoopNet immediately," Zagari said. "What we realized is there's a ton of deal flow that takes place off-market. We basically just digitized how [brokers] did business; they have full control over who has access to all of their deal information, and they can open it up to a wider audience and market."
Unlike Falkon, Brevitas initially started as an exclusively off-market listings platform, before eventually opening up to on-market listings earlier this year in an effort to receive more business from major brokerages like CBRE and JLL. "We realized that if we wanted the big brokerages [involved], we needed listed deals," Zagari said.
Brevitas has also seized the opportunity to become what Zagari termed a "back-end software solution" for its brokerage clientele, who can use Brevitas' platform to disseminate marketing emails and communicate with buyers, sellers and other brokers.
But as a listings marketplace, Zagari said he was familiar with many of the concerns floated about the prospect of marketing and transacting real estate online—from brokers worrying they'll get circumvented, to apprehension about sharing property data online, to ensuring listings information is up-to-date and still relevant.
"I think that in general, the commercial real estate space and the people who are in the market might be a little more hesitant to adopt new technology," he said. Zagari added that more recently, however, "the overall sentiment I'm hearing from brokers and principals is that they're much more open [to using tech-based methods]. There's a ton of value in being more efficient, rather than sticking to the normal way of doing business."
Mariel Ebrahimi, the co-founder and CEO of real estate technology conference series DisruptCRE, said that while Falkon "is certainly not the first" company seeking to become a one-stop marketplace for transacting real estate, its position as a New York City-specific platform makes it unique.
Still, Ebrahimi has reservations about real estate players' willingness to take the most essential and sensitive aspect of their business online—particularly with tens of millions of dollars at stake.
"This is still an industry that comes, on the investment side, with a hefty price tag," she said. "The people who are transacting in this space are still going to be your seasoned real estate professionals who, if they're going to make an investment, will talk to their broker of 20 years to guide them through the investment. Are they going to spend $10 million through a website? I don't know about that."
Ardian Zagari
,
Ashkán Zandieh
,
Ashkan Zandieh
,
Bestreich Realty Group
,
Brevitas
,
Derek Bestreich
,
DisruptCRE
,
Falkon
,
James Nelson
,
LoopNet
,
Mariel Ebrahimi
,
Re:Tech
,
Shaun Riney
,
Cushman & Wakefield
,
Marcus & Millichap