Five Reasons Why Westfield Hearts Uber
---
---
Westfield Corporation, the Australian-based mall and shopping center behemoth, announced today a partnership with Uber to host taxi stands and kiosks at its 33 United States locations.
Each shopping center will come equipped with between one and 10 Uber stations, according to a Westfield news release about the partnership. At Westfield Century City in Los Angeles, there will be an "Uber Lounge" with complimentary beverages and phone charging stations. The program will begin rolling out in Westfield locations starting in the fall (official dates have yet to be announced).
If it sounds like a slightly strange partnership—because why would the two companies expend time and effort for something like this, when it apparently doesn't preclude rivals like Lyft or the old-fashioned yellow cab from getting fares at a Westfield property—you're not thinking clearly about what the two companies want from each other.
Commercial Observer spoke to industry experts to learn why this makes sense for both companies.
It Serves Uber's Strategy of Getting Everybody Hooked on Uber.
Uber is "just getting people used to the concept [of rider sharing],"  Rebecca Lindland, an executive analyst for Kelley Blue Book, told CO. "For many people using ride sharing is very easy, but it's still a way to get many new people to experience Uber in a comfortable environment."
Westfield Is Future-Proofing Its Malls.
"I'd say that Westfield is understanding that we are moving into an experience economy," Kate Newlin of Newlin Consulting, a brand consultant for retailers, said. "And many times what that means is alcohol. It makes it likely that you can hang out longer with fine dining and have more of an experience and get an Uber home."
Newlin added: "Companies oftentimes have to solve problems that don't yet exist. If they are preparing for fewer McDonalds and fewer food courts and more white tablecloth restaurants and more experience venues, then it will emerge as a good thing."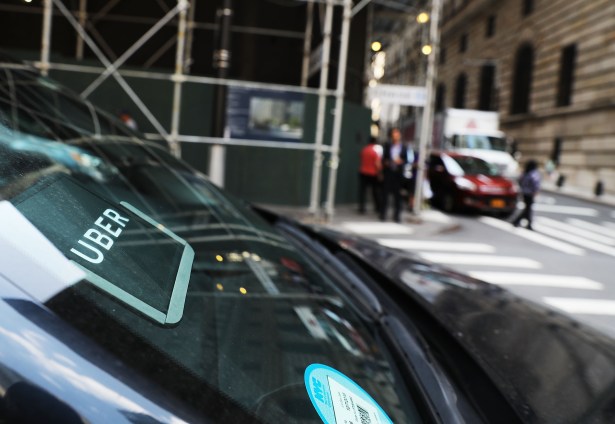 Think: Suburbs.
"It also takes Uber out of the city," Lindland said. "This is a way to infiltrate the suburban area and get people more comfortable with Uber. It's going to put tons of pressure on taxis. There is tons of opportunity. The suburban and rural locations are still underserved. There are still plenty of places where Uber is not ubiquitous."
And any way to break into a new market is good. "When I saw the headline, I thought about Saudi Arabia, where Uber invested heavily, and women can't drive," Lindland said. "So it could be a model for that. It's just another way that they are innovating."
This Is Something a Mall Desperately Needs.
When was the last time you tried to hail a cab or meet an Uber from a mall? If you've tried recently, you'd know that the single biggest pain in the posterior is trying to secure a meeting point between yourself and a driver in a sprawling complex with a lot of other cars surrounding it. Designated Uber spots is the perfect salve for this.
A Little Distraction Never Hurt Nobody.
This was announced as the news was still warm that Uber was designating Dara Khosrowshahi, the former chief executive officer of Expedia, as its new CEO. This big change comes after Uber Co-Founder Travis Kalanick stepped down from the post following a legal dispute involving the alleged theft of self-driving car data from Waymo, a spinoff division from Google, not to mention being skewered for allegedly catering to a workplace culture that was rampant with sexism. While the release about the partnership with Westfield indicates that the two companies had been at work on this deal since at least the beginning of the year, a harmless piece of marketing is always welcome.
Dara Khosrowshahi
,
Expedia
,
Google
,
Kate Newlin
,
Kelley Blue Book
,
Lyft
,
Rebecca Lindland
,
Travis Kalanick
,
Uber
,
Waymo
,
Westfield Corporation