Estée Lauder Renews Over 400K SF of Leases in Midtown East [Updated]
---
---
Estée Lauder Companies has renewed two leases in Midtown East totaling over 400,000 square feet.
Boston Properties said in its second-quarter earnings release yesterday that Estée Lauder renewed 220,000 square feet in the real estate investment trust's General Motors Building at 767 Fifth Avenue between East 58th and East 59th Streets. During the earnings call today, the company indicated that there was an option for Estée Lauder to expand its footprint beyond the 220,000 square feet.
A source told Commercial Observer that the renewal is for 20 years and reduces the company's space in the tower from 295,000 square feet. The old lease, which spans floors 37 to 43 and 45 and 46, expires in March 2020, according to CoStar Group. Other tenants in the 50-story, 1.8-million-square-foot Plaza District building include Weil Gotshal & Manges, Icahn Enterprises, Perella Weinberg and Perry Capital. Under Armour signed a lease for 53,000 square feet at the base of the building last year.
Because the lease was expiring in 2020, a spokeswoman for Estée Lauder said "it made sense to reevaluate our needs since both the company and the workforce have changed over time."
As CO reported at the end of 2015, the cosmetics giant was considering moving out of its corporate headquarters at the GM Building and brought CBRE on board to help with the assessment.
"We amended and extended the lease for 767 Fifth Avenue, and optimized our costs with a mix of higher and low floors," the Estée Lauder spokeswoman said. "We intend to redesign and reconfigure the space for the way we work today, but we expect it to be less disruptive to the organization than it would be to move everyone to a new location."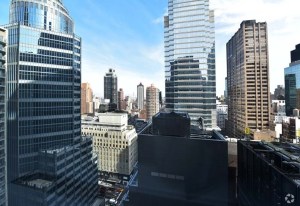 In addition, Estée Lauder extended its lease at Jack Resnick & Sons' 110 East 59th Street between Lexington and Park Avenues for 20 years, the source said. According to CoStar, Estée Lauder occupies 216,589 square feet on a lease expiring May 2018. Other tenants in the 37-story, 612,180-square-foot building are Cantor Fitzgerald, IMAC Corporation and RP Management. The Estée Lauder spokeswoman declined to comment on the East 59th Street lease.
CBRE's Stephen Siegel, Greg Tosko and Lewis Miller among others represented Estée Lauder in both renewal deals. Siegel wasn't reachable. The landlords represented themselves in-house, and spokespeople for both companies, as well as for Estée Lauder, didn't immediately respond to requests for information.
Update: This story has been edited to include comments from a spokeswoman for Estée Lauder.
110 East 59th Street
,
767 Fifth Avenue
,
Boston Properties
,
Cantor Fitzgerald
,
Estee Lauder Companies
,
General Motors Building
,
Gotshal & Manges
,
Greg Tosko
,
Icahn Enterprises
,
IMAC Corporation
,
Jack Resnick & Sons
,
Lewis Miller
,
Perella Weinberg
,
Perry Capital
,
RP Management
,
Stephen Siegel
,
Under Armour
,
Weil Gotshal & Manges