The Father-and-Son Duo Trying to Take Co-Living to the Next Level
---
---
Just two years after getting a college degree from Washington University, Sterling Jawitz was "banging his head against a table," trying to figure out how to make the math work for a co-living business he had come up with.
He often consulted his father, Simon, a veteran investment banker for J.P. Morgan and Goldman Sachs, about the concept: a 21st century university club with rented dorms above. Sterling called it UCity.
But UCity never got off the ground—condominium developers always seemed to outbid him for sites.
Still, the idea of cheap (or, relatively cheap) housing with a dorm-like component stayed with him. Through a family member, Sterling was introduced to General Assembly Co-Founder Brad Hargreaves, who was working on a co-living concept called Common. Sterling and Hargreaves met for lunch in May 2015 at the Flatiron District restaurant Almond, and Hargreaves welcomed him aboard as the first employee.
The pair proceeded to convince Sterling's father, Simon, to be the chief financial officer and opened its first co-living facility at 1162 Pacific Street in Crown Heights, Brooklyn, later that year.
Since then, the father-son duo has helped Common (which has offices at 6 East 43rd Street) rapidly expand to nine properties between New York City, Washington, D.C., and San Francisco with more than 300 bedrooms.
"Co-living is not something new—people have been living with roommates since the beginning of time, but it's become this daunting, ad hoc Craigslist process," said Sterling, 27, who serves as Common's head of real estate partnerships, which involves spending a lot of his time wooing landlords and developers into going into business with him. "We are just kind of creating a better user experience for it."
Since starting with just Hargreaves, Sterling and Simon, Common has expanded to a team of 50 people. Today, the company has software developers, real estate finance, legal and acquisition teams, building and cleaning staff and marketing professionals.
"I was a game developer who started a technology school, and there I was focused on products and operation. I knew how to grow a business, but I didn't know real estate," Hargreaves, 30, said. "[Sterling] understood real estate, and that is what I needed to take common to the next level."
Common plans to more than double to 650 bedrooms by the end of this year and balloon to 2,000 bedrooms by the end of 2018. And the company is looking at new cities. Common has raised $23.4 million in various funding rounds, according to Crunchbase. In its latest round in June 2016, it brought in $16 million from investors such as Milstein Properties, LeFrak and Solon Mack Capital.
As the company's chief financial officer, Simon looks over the budgets for Common properties and each department as well as the company's cash flow and works on long-term projects.
It was Sterling who found the company's initial four-unit Crown Heights property on Pacific Street via a Corcoran listing, which they converted to 16 bedrooms. Common partnered with investor Benjamin Thypin of Pacific Street Owner LLC and bought the property in July 2015 for $4 million, opening the building three months later. It took less than a month to lease it up with rents starting around $1,600 per month.
At Common Baltic, a property owned by Adam America at 595 Baltic Street in Boerum Hill, which launched in February this year, units start at $2,143 a month and go as high as $3,000 a month. It is the largest Common property with 145 bedrooms. The building hasn't been completed yet, but it is 50 percent leased.
"What we saw starting to happen organically in our other buildings was more people interacting and spending time together in common and amenity spaces," Dvir Cohen Hoshen, a co-founder and managing partner of Adam America, said via email. "There is a strong future for co-living in the multifamily market. It's an improvement on the way we all live today, especially for millennials looking for connection and community. More and more, I think it's how we'll live in the future."
One of the big selling points in Common's properties is the shared amenities. Freebies include Wi-Fi, gyms, lounges with big-screen televisions, bike storage, parking spaces, cleaning services, roof deck spaces, washers and dryers and community events. (The amenities vary per location, but residents can use them at any and all Common buildings.) Each unit comes furnished, and utilities are included in the rent.
Rent is one of the thornier questions in the Common equation, because it's not the giveaway that one might expect.
The lowest figure Commercial Observer spotted on Common's website was at Common Albany, 117 Albany Avenue in Crown Heights, where a co-living room is currently priced at $1,340 per month.
While prices are certainly not cheap, it is not completely ridiculous when you look at Brooklyn rents. According to the latest MNS Real Estate report, the average studio in Brooklyn rents for $2,183 a month, and the average one-bedroom goes for $2,674 monthly.
"It's pretty difficult to build affordable rental apartments in New York City," Simon said. "So either you are doing very high-end stuff or you are doing condos. So what we were looking to do was to figure out a way to get multifamily rooms to pencil out."
However, Common has received more than 15,000 applications for its roughly 300 bedrooms (which average 138 square feet) since launching.
"We kind of focus on that tranche that's right in the middle, which is really underserved—people making $45,000 up to $100,000 a year, where in order to live in the city need to live with roommates," Sterling said.
Going into business with his son was one of the most significant factors as to why Simon decided to work at Common.
"This has been an extraordinary surprise and a very unanticipated what I think will be final chapter in my professional career," Simon said. "I wasn't expecting to be this engaged again in a day-to-day business. I was drawn to it mostly by the opportunity to work with Brad, our CEO and founder, an opportunity to continue working with my beloved son Sterling, and I found the vision challenging and exciting."
A native of Long Beach in Nassau County, Simon, 64, went to Brandeis University and then to the University of Pennsylvania for a law degree in the early 1980s.
Following law school he moved into a one-bedroom apartment in the West Village (where he was paying $275 per month) and commuted to Brooklyn to work as a clerk at the federal courthouse in Cadman Plaza. After two years of clerking he went to work for Davis Polk & Wardwell before landing in banking. He moved his family to London in 1986 and took a job with J.P. Morgan.
"I wanted to be an investment banker, but I didn't really know what it was," he said. "The first job I got at the bank was in between law and finance."
He was doing things like structured finance and tax arbitrage transactions, before running the capital markets office.
Sterling was born while the family was still in London (he has two older brothers, ages 40 and 28)—the family returned to the United States in 1991.
"My wife [Lori] said, 'I'm moving back to the U.S. I'm taking our dog, and I'm going home,' " Simon said. " 'You can come if you like.' "
Wisely, Simon moved back to the U.S. with his wife and kids and was offered a job at Goldman Sachs. Five years later, they moved to the bank's Hong Kong office in 1996. (Sterling learned to speak Mandarin fluently while there, and it's why he chose to continue studying Chinese in college nearly a decade later.) In 2001, the family returned to New York for good, and Simon worked with a number of startups before he began teaching finance from 2012 to 2015 at Hofstra University.  
Sterling knew that he wanted to work in real estate because of growing up in Hong Kong and seeing a lot of big developments and because he was inspired by his grandfather, Gerald Kayden Osinoff, a WWII veteran that became a developer in New York City.
So following graduation from Washington University in St. Louis, he moved to New York City to work at Lee & Associates NYC.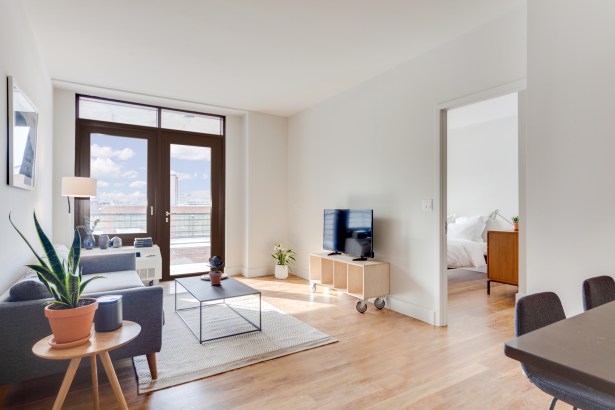 However, within months, he told his boss that he didn't want to do brokerage but acquisitions, and he was moved to sister company Sierra Real Estate. He worked on acquisitions of properties in Manhattan for Sierra until 2014, when he began thinking about creating a co-living business.
"All of my friends were graduating college, and they had to get roommates," Sterling said. "It was the only way to afford to live in New York."
He added, "Seeing how everyone around me was living, I realized that we weren't building for that. [My friends] were putting up pressurized walls [and] living in closets in the basement of a walkup in the East Village—I just realized there is a way to design for this which will keep the cost per head down."
On Thanksgiving 2014, Sterling and Simon met with family members for dinner at a restaurant on the Upper East Side. They explained the UCity idea to his wife's cousin, Dan Levitan, who co-founded venture capital firm Maveron with Starbucks Executive Chairman Howard Schultz in 1998. Maveron later became an investor in Common.
"They were telling me what they were doing, and they were exploring this kind of college dorm idea. It was super interesting to hear about it. We kind of stayed in touch for a while on it," Levitan said. "I've been in the venture business now for almost 20 years, and I can't remember any other time where I introduced a family member to any of our portfolio companies.
"Normally you'd think that's a bad idea," Levitan continued. "But I believe that Simon, given his institutional real estate knowledge and his experience with Goldman Sachs, I thought that would be great for Brad, who has the team-building and technology chops but didn't know the [financing side]."
So far it seems to have paid off. Simon realized that the best way for the team to monetize the business and get more money from investors was to become more of a property management company.
Common doesn't actually own properties; instead it has a management agreement with landlords and developers that allow it to operate the property—sort of like a hotel.
At first, Common was planning on signing a net lease with the landlord and individual leases with tenants. Tenants would have paid Common, and Common would have paid the landlords.
But Simon quickly changed that idea to make them less exposed to risk and more marketable to banks by giving Common a management company agreement. The company operates properties and facilitates signing leases between tenants and landlords, collecting a 3 or 4 percent management fee.
In addition, Common establishes a threshold per year with the landlord for the rent that the property could have gotten as a regular rental building. If Common goes beyond that threshold, it keeps approximately 50 percent of what it brings in, Simon said. So if a landlord could generate $400,000 in income, for example, but Common returns $500,000, it would keep $50,000 of the difference.
"It was such a clear shift that we needed to be a management company. Part of this comes from [Simon's] experience working with banks," Hargreaves said. "Having the tenants on long-term agreements with the owners lets us focus on marketing the buildings."
Sterling and Simon wouldn't reveal the current valuation of the company, but said they are expanding rapidly and have many real estate deals in the pipeline.
Common has announced that it will open a 233-bedroom common facility in New Orleans later this year. And, Sterling and Simon told CO that the team is planning a 17-bedroom property in the Prospect Lefferts Gardens section of Brooklyn at 453-455 Rogers Avenue. It will open in June.
But Common aren't the only ones expanding. Competitors WeLive (a division of WeWork), Ollie, Open Door and Node are all growing, and more co-living models around the world are popping up. WeLive has a location in the Financial District and Washington D.C., Ollie is in Kips Bay and Pittsburgh with plans to grow into New Jersey and Los Angeles; Open Door has one location in Berkeley and two in Oakland, Calif.; and Node has one active location in Brooklyn with four more on the way, three active buildings in the United Kingdom and plans for new outposts in Los Angeles, Toronto, Dublin and Cambridge.
Sterling said they aren't afraid of competition.
"If it's just Common that's in it, it's a great business," Sterling said. "But if we can get a ton of other operators into it, it makes us into an asset class. It creates cap rates around co-living. If more people enter it, it will drive down cap rates. So I view this as a good thing."
He added, "I think we are light years ahead in terms of as my father alluded to, the technology, the user experience, really understanding how to operate co-living."
1162 Pacific Street
,
117 Albany Avenue
,
453-455 Rogers Avenue
,
595 Baltic Street
,
Adam America
,
Benjamin Thypin
,
Brad Hargreaves
,
Common
,
Common Albany
,
Common Baltic
,
Dan Levitan
,
Davis Polk & Wardwell
,
Dvir Cohen Hoshen
,
General Assembly
,
Gerald Kayden Osinoff
,
Goldman Sachs
,
Howard Schultz
,
Lee & Associates NYC
,
LeFrak
,
Milstein Properties
,
MNS Real Estate
,
Node
,
Ollie
,
Open Door
,
Sierra Real Estate
,
Simon Jawitz
,
Solon Mack Capital
,
Sterling Jawitz
,
WeLive
,
WeWork