Robin Fisher Has a Multimillion-Dollar Dream of What to Do With Raw, Unused Space
---
---
A raw deal is usually considered a bad thing—unless you're Robin Fisher, and you're trying to peddle some sweet available space for pop-ups.
In this strained real estate market, as the number of store vacancies continues to escalate, pop-ups, or other short-term leases, are all the rage.
One company that provides a marketplace for short-term real estate, Space in the Raw, has logged "over 100 events" with gross transaction revenue exceeding $3 million since its inception two years ago, according to Fisher, a co-founder of the New York City-headquartered company.
So far, its operation has been primarily offline, with Fisher and her Space in the Raw co-founders, Christina Rene and PS Ives, matchmaking users and landlords via an internal database. The company will become more tech-based with the debut of a new web platform in beta next month followed by a full launch in October.
Not long after starting Space in the Raw, Rene and Ives brought Fisher onboard as a co-founder and "decided it should be a tech play," Rene said. "Without [Fisher] I don't think we would have needed it [or] seen the use for it."
The website will be unveiled with roughly 200 space listings in New York City and Atlanta, ranging in size from 1,500 square feet to 100,000 square feet. Although the company bills itself as a short-term commercial real estate marketplace, it is heavily focused on events with about two-thirds of its clients hailing from production companies.
"Space in the Raw was meant to activate real estate for fashion and large-scale events, so they actually launched with Michael Jordan's 30th anniversary of his sneaker party," Fisher said. "Prince performed, and Ariana Grande opened. That was down at 23 Wall [Street] in May 2015. That was officially the first Space in the Raw event."
Being a business owner with Space in the Raw has helped inform Fisher's work as a senior managing director at Newmark Knight Frank, specializing in tenant representation. (The other two co-founders have other companies: Ives with firm Hush Events NYC, and Rene with company Voilà Event Solutions.)
"Leasing is all about problem-solving and taking your client's position as kind of your own and trying to make the best possible decision for that client, which has gotten more intense being a business owner in my own right," Fisher said. "So the way that I'm able to talk to my clients since I got involved with Space in the Raw is a totally different level because I'm making those same decisions."
As her leasing clients do, Fisher has to consider real estate as part of a much bigger picture, which includes talent attraction and retention, technology and infrastructure.
Fisher met the two initial co-founders of Space in the Raw when they came as guests to two separate meetings for the Executives' Association of New York City, a business networking group at which Fisher is a member (and is now its youngest-ever and second-ever female president).
"Robin fit the synergy between PS and I," Rene said. "We needed someone to complete us from a personality and work ethics standpoint."
Rene said that she handles the operations side, Ives oversees the end user–client relationships and Fisher deals with the real estate component.
Fisher became the majority shareholder because, as she said, she brought to the table "an entirely different sphere of contacts" and resources and is responsible for turning the company into more of a tech platform. As Ives put it, Fisher needed a bigger stake while running the investment round, but they all maintain equal voting power.
Even once the website is live, most people, Ives said, "won't book and just cook"; they will peruse the inventory online, book a site visit with a Space in the Raw team member and hash out the details from there. "From booking to production, we create production schedules," she said.
Space in the Raw is in its financial infancy compared with its competitors in the retail space, Storefront (a startup out of San Francisco that in 2013 took on $1.6 million in seed funding and in 2014 closed a $7.3 million Series A funding round before a merger last September for an undisclosed sum) and Appear Here (a British company newly in New York City, which has reportedly raised a total of about $21.4 million).
Space in the Raw closed part one of a seed round with friends and family on April 19 that brought in $850,000. Fisher said the trio is raising a seed-plus round for approximately $1.3 million after the site launches and is preparing for a Series A round in the third quarter of 2018.
The market seems to yearn for what these companies are offering. "We're going to have more and more vacancy," Fisher said, "and I believe, given the fortitude and strength of demand…landlords will start to think about their assets and how they might be able to warehouse some space for the short term." 
Space in the Raw will continue to have stiff competition.
Four-year-old Storefront shut down in June 2016, merged with European competitor, Oui Open, and reemerged last September, according to Joy Fan, the vice president of business development and the director of the U.S. team at Storefront.
"We wanted to go global and now we are in London, Paris, Milan, Hong Kong and Amsterdam," Fan said.
She said Storefront—which is in a number of markets in the U.S. besides New York City—differs from Space in the Raw and Appear Here because Storefront "provides analytics for space owners and clients." Storefront, she added, is analytical and transactional.
Those analytics cover insights ranging from potential revenue to recommended neighborhoods to best practices.
Elizabeth Layne, the chief marketing officer for four-year-old Appear Here, said her company is proudly "not a company of brokers." Appear Here, she noted, is instead focused on the tech side of the business.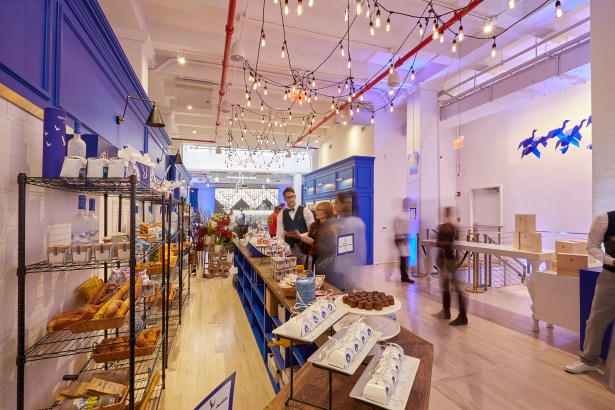 "We focused a lot on building search tools, a dashboard for landlords," Layne said, as well as the "ability to capture data" to help landlords and users make the most informed real estate decisions.
Fisher highlighted that Space in the Raw provides short-term users—who require space from 24 hours to six months—access to available and vacant commercial real estate in a "legally permissible way."
Space in the Raw has a team of 11 including the three founders and two interns working out of around 1,000 square feet at 109 West 27th Street between Avenue of the Americas and Seventh Avenue. The director of real estate, who works full time, has been in the business for 10 years, last as an admin at NKF. Two weeks ago, Space in the Raw brought on board a real estate manager who is a startup buff coming from technology company Grovo and is "very passionate about real estate," according to Fisher. (One of Space in the Raw's interns from New York University is even the son of a broker.)
In New York City, the biggest drivers of business to Space in the Raw are events and retail. In Atlanta, the focus is more on events and film and photo shoots.
Space in the Raw has arranged past events at three Brookfield (BN) Property Partners properties, according to a Brookfield spokesman: a Hugo Boss fashion show at 245 Park Avenue; a Rachel Antonoff fashion show at the Grace Building at 1114 Avenue of the Americas; and a No Kid Hungry event at Brookfield Place at 230 Vesey Street.
Space in the Raw "assisted in the Microsoft (MSFT) [conference] venue search and ultimately chose 4 [World Trade Center]," said Dara McQuillan, the chief marketing and communications officer at landlord Silverstein Properties. 
Of course, Space in the Raw is only one of Fisher's full-time jobs.
Soon, she will celebrate her 13-year anniversary at NKF. At 35 years old, Fisher has risen up the ranks quickly at NKF, especially compared with other women in the industry.
At NKF, "there are brokers that are agency, there are brokers that are global corporate services, but in terms of like senior hard core eat-what-you-kill brokers, there are less than five," she said.
There are only three female brokers that have been given an office at NKF and Fisher is one of them. Acquiring an office is tied to production levels, and while Fisher declined to cite specifics, a source with knowledge of the way the company works, said the number is $700,000 gross determined on a three-year average—but the firm maintains the discretion to make exceptions. (NKF declined to comment on the subject.)
Fisher said she and her team—which includes Christie Bennett and Alexi Rakestraw—close 15 to 30 deals a year.
While she's a "core office broker," Fisher said she has five retail deals in the works as well as three industrial deals.
Fisher last week sealed a 7,500-square-foot sublease for Australian marketing startup Rokt at Two Trees Management Company's 50 West 23rd Street between Fifth Avenue and Avenue of the Americas for part of the 12th floor. The sublease from Grovo is for three years and the deal was done in the low-$70s per square foot.
At the end of April, Fisher said she closed a roughly 18,000-square-foot deal for insurance company First American Title Insurance Company at 110 East 42nd Street between Lexington and Park Avenues. And the month prior, she and her team signed investment management firm Bridgewater Advisors to a 10-year extension for the entire 8,000-square-foot 26th floor at 600 Fifth Avenue between West 48th and West 49th Streets.
Fisher "fights tooth and nail" for her clients regardless of their size, said Bennett, an associate director at NKF, who has been on Fisher's team for the last five years.
In 2012, Fisher's team found 2,000 square feet at 902 Broadway between East 20th and East 21st Streets for Orchard Platform, a provider of data, technology and software to online lenders.
"Most brokers and teams wouldn't spend so much time with them," Bennett said. "I looked for six months."
A year later, Fisher's team put Orchard Platform in 7,000 square feet and, at the end of 2015, moved the company to about 26,000 feet at 386 Park Avenue South between East 27th and East 28th Streets.
The investment in Orchard Platform has paid off far beyond deals for the tenant itself.
"They have been one of our biggest referral sources," Bennett said.
Ross Adler employed Fisher to find his Jamaica, Queens-based Adler Windows a satellite office in Manhattan. They met as members of the Executives' Committee.
In January 2016, she found Adler Windows a space at 350 Seventh Avenue between West 29th and West 30th Streets. The company outgrew the 1,875 square feet and last week Fisher negotiated an expansion for the company into 1,850 square feet of adjacent space.
He tapped her because of her institutional knowledge. When he told her buildings he was mulling, Fisher knew them immediately—either from doing deals at the property or from just knowing the landlords—and was able to show Adler off-market space.
"Her knowledge of the market segment we were looking for was tremendous," he said.
Gretchen Shugart, the chief executive officer of TheaterMania.com, a provider of discount Broadway tickets, said Fisher has advised the company in several real estate transactions.
Most recently, TheaterMania.com assumed larger digs with an April move to 12,000 square feet at 550 Seventh Avenue between West 39th and West 40th Streets.
Shugart said that Fisher "really looks out for our interest."
To that end, Fisher did some analysis and found that one of TheaterMania.com's past landlords was overcharging the company on taxes to the tune of nearly $100,000.
"She helped us do the math and remediate that," said Shugart, who met Fisher when they were both members of a Financial Women's Association committee.
Since her father was a retina surgeon, Fisher grew up living near the operating rooms at what is now called NewYork–Presbyterian Hospital as well as Manhattan Eye, Ear & Throat Hospital, both on the Upper East Side. She attended the Horace Mann School and as a 12 year old spent weekends working for her dad, filing hundreds of patient folders.
" 'You want money? You work. You don't want money? You don't work,' " Fisher recalled her dad telling her.
Fisher started in commercial real estate fresh out of Cornell University. She knew she wanted to make money but was unable to land interviews at finance companies (she was a Spanish and American Studies double major—not exactly someone the banks were breaking down the doors to hire). So she became an intern at Cushman & Wakefield (CWK), in its research department. After taking photographs of every Class A and Class B building in Midtown and Midtown South for the first couple of months, she realized quickly that the way to make money in commercial real estate was in brokerage.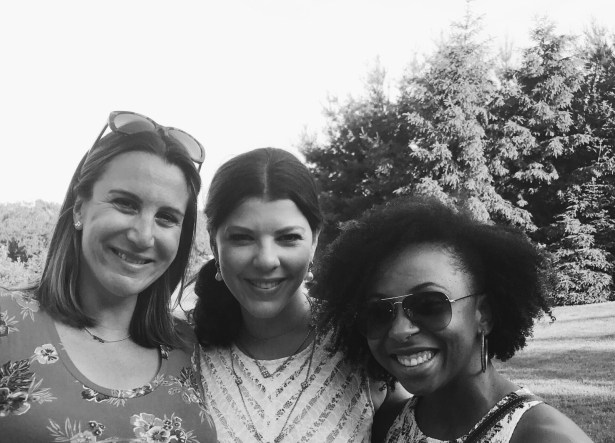 It was Aaron Block, a co-founder of the real estate tech accelerator MetaProp NYC and then a C&W broker, who convinced her she could be a great broker.
"She was in research but had brains, tenacity and the natural skill set to move into a higher income-producing opportunity," Block said.
Block commended Fisher for successfully moving into brokerage and having the gumption to get involved in a startup.
"Many people can't execute on it let alone have the vision," Block said. He and his team at MetaProp NYC are keeping an eye on Space in the Raw to see how it progresses before determining if their fund is interested.
Fisher began in brokerage on Neil Golmacher's team at NKF in 2004. By 2008 she was awarded the Real Estate Board of New York's Rookie of the Year award. She did her first "monster deal," she said, while working on Merrill Roth's team—20,000 square feet for Peter G. Peterson Foundation at 712 Fifth Avenue between West 55th and West 56th Streets at $170 per square foot.
Buoyed by that success, she and NKF's Barry Gosin and Moshe Sukenik pitched children's educational nonprofit Sesame Workshop, the company behind Sesame Street, on a headquarters assignment. They won the bid and renewed Sesame Workshop's deal for 140,000 square feet at 1900 Broadway, across from Lincoln Center, in September 2010. (She, Sukenik and NKF's Todd Hershman today are marketing a 33,000-square-foot sublease for Sesame Workshop as the company has been able to consolidate.)
That year she went out on her own and has been pounding the pavement as hard ever since.
"Robin is as focused today as the day she started," NKF Managing Director Leslie Harwood said in a statement. "She is driven to achieve her goals while multitasking in many different arenas."
And it was on a NKF assignment that the Chelsea resident met Joseph Fusaro, a vice president and senior sales executive at audiovisual systems integration systems company McCann Systems. Fisher has done several leasing deals for the company, and she met Fusaro when his company opened a Boston office. He was McCann Systems' point person. They fell in love and are getting married on Nov. 11—at a party thrown by Rene's Voilà, naturally.
109 West 27th Street
,
110 East 42nd Street
,
1114 Avenue Of The Americas
,
1900 Broadway
,
23 Wall Street
,
230 Vesey Street
,
245 Park Avenue; Rachel Antonoff
,
350 Seventh Avenue
,
386 Park Avenue South
,
4 World Trade Center
,
550 Seventh Avenue
,
600 Fifth Avenue
,
712 Fifth Avenue
,
902 Broadway
,
Aaron Block
,
Adler Windows
,
Alexi Rakestraw
,
Appear Here
,
Barry Gosin
,
Bridgewater Advisors
,
Brookfield Place
,
Christie Bennett
,
Christina Rene
,
Cornell University
,
Dara McQuillan
,
Ear & Throat Hospital
,
Elizabeth Layne
,
Executives' Association of New York City
,
Financial Women's Association
,
First American Title Insurance Company
,
Grovo
,
Horace Mann School
,
Hugo Boss
,
Hush Events NYC
,
Joseph Fusaro
,
Joy Fan
,
Leslie Harwood
,
Lincoln Center
,
Manhattan Eye
,
McCann Systems
,
Merrill Roth
,
Michael Jordan
,
Moshe Sukenik
,
Neil Golmacher
,
New York University
,
NewYork-Presbyterian Hospital
,
No Kid Hungry
,
Orchard Platform
,
Oui Open
,
Peter G. Peterson Foundation
,
PS Ives
,
Robin Fisher
,
Ross Adler
,
Sesame Workshop
,
Space in the Raw
,
Storefront
,
TheaterMania.com
,
Todd Hershman
,
Two Trees Management Company
,
Voilà Event Solutions
,
W.R. Grace Building
,
Brookfield
,
Cushman & Wakefield
,
MetaProp
,
Microsoft
,
Newmark
,
Real Estate Board of New York
,
Silverstein Properties