NYC Policymakers and Advocates Review Construction Safety Requirements
---
---
New York City is undergoing a construction boom with new developments and renovations happening across all five boroughs. If you are a long-time New Yorker, city tourist or just someone who has spent a significant amount of time in the city recently, there is no doubt that you have noticed the massive number of construction trucks, and orange and neon safety vests on laborers around town. The City of New York, the City Council, industry associations and advocates are all taking steps to keep its over 145,000 construction workers safe during the boom. Their biggest hurdle? Passing and implementing legislation that will save lives.
The Construction Safety Package
With the goal of strengthening construction safety regulations, the City Council introduced the Construction Safety Act this past January. The package includes 21 bills on crane operation and licensing regulations, oversight changes, training programs, fatality reporting and others.
"Thirty construction workers have died since 2015," said Council Member Jumaane D. Williams, Chair of the Housing and Buildings Committee in a statement announcing the legislative package. "There is no other industry where workers die at such an alarming rate without significant preventative recourse. It is the responsibility of the developers and construction companies to ensure there is an atmosphere of safety at construction sites. The Construction Safety Act will help government do its part in ensuring this atmosphere of safety truly exists by reducing safety violations and strengthening crane regulations."
Intro 1447 Apprenticeship Bill
The most controversial part of the package, Intro 1447, a bill mandating apprenticeship programs for construction workers of major buildings (buildings defined as 10 stories or more) or on demolition sites that are four or more stories (40 or more feet), had halted early on.
"The way the bill was originally written, was in such a way that it would essentially cause a standstill in the nonunion part of the construction industry," said Matt Caruso, President of Construction Realty Safety Group (CR Safety). CR Safety is a construction and site-safety management firm often involved in NYC construction safety policy.
Apprenticeship programs, which are certified by the state's Department of Labor, are often organized by or include the participation of unions. For nonunion contractors, applying for a program independently could take months and cost hundreds to thousands in expenses. Some fear that this could change the scope of the construction business and negatively impact nonunion workers.
Intro 1477 has caused quite a stir. The introduction of the Apprenticeship bill resulted in protests outside City Hall representing people both supporting and opposing the bill. City Council even received a letter of opposition signed by more than 60 New York City Housing Authority tenant presidents within a week of the bill's introduction.
"Bills like this one would be more effective across the board if they were focused on safety training, rather than technical trade training through apprenticeships," said Tom Nickel, New York Construction Alliance (NYCA) Co-Chairman in an editorial. "While advancements in construction safety legislation are needed, a hybrid program that applies to both union and open-shop safety training would mandate stricter standards industry-wide without putting New Yorkers out of work." NYCA is described as an organization which aligns "open-shop" construction organizations and promotes strict safety standards and other issues.
Nonunion Worker Statistics
There is also a separate argument suggesting that the bill disadvantages Black and Hispanic workers. Supporters of this belief have shared that nonunion contractors employ more minorities. This is indeed correct, however, in findings by the Economic Policy Institute commissioned by the New York City Building Trades Council, it is worth noting that although minorities make up 75.3 percent of nonunion construction workers, the percentage does not evenly reflect minority populations employed in New York City's construction community. Black workers are usually employed by union contractors. The disparity is caused by Hispanic workers which normally represent about 48.6 percent of all nonunion workers in New York City, while Black workers typically represent 15.8 percent. Non-Hispanic White workers make up 24.7 percent of the nonunion workforce.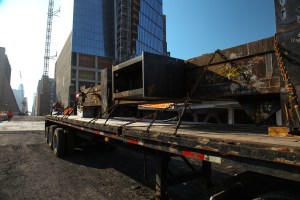 City unions have long clamored for new regulations, but groups like the Real Estate Board of New York, a trade association representing developers in New York City, aren't on board with the bill as its presented.
"Ideas, like requiring state-approved apprenticeship programs, will only result in shutting down construction sites and putting people out of work," said Real Estate Board of New York President John Banks early on. "We are committed to working with the City Council and others to improve safety at all construction sites in New York City."
 Developing a True Safety Bill
A commitment to safety is shared among most involved. The difficult part has been in determining effective and necessary policies.
"CR Safety is not just a safety company," continued Caruso, President of CR Safety. "We provide a variety of other services on construction projects that keep us aware of the construction process and all it entails. We're well equipped to discuss construction safety policy with expertise because we are aware of the latest trends, nuances and challenges in construction."
"What is particularly troubling is that most fatalities, as well as incidents and accidents, have occurred on buildings under 10 stories. As a company, we support things that have been proven to address safety under 10 stories: the recent DOB superintendent rule, increased number of site safety managers, enhanced safety training for workers, etc. It's critical to find a balance between regulations that will actually address worker safety, without overburdening a regulatory agency or the construction industry," said Caruso.
CR Safety regularly hires former laborers and trains them to be safety managers and for other similar roles.
Building Trades Employers' Association (BTEA) is another association extensively involved in New York's construction safety legislative efforts. The group is New York's largest contractor association. Its members put in place some $35 billion of commercial, residential, health care, education and public work projects in the City.
BTEA and other groups agreed that a required training program should take a more holistic approach than the bill in its current form. They believe that there should be a focus on safety instruction.
"There's no question that having a trained workforce and safe work environment is critical," said BTEA President, Louis Coletti. "The Council is having a number of conversations with organizations about what those training courses should look like, but what I have said to the Council is that, yes, training courses are an important part of the equation, but there are also other issues that can't be forgotten – one is the contractor's responsibility. We [BTEA] have made some recommendations about changing some of the requirements for superintendents."
Safety Recommendations
One of BTEA's recommendations to the Council is to require an Occupational Safety and Health Administration (OSHA) 30-Hour Competent Person Training for all construction superintendents. OSHA is the arm of the United States Depart of Labor which assures safe and healthful working conditions for working men and women by setting and enforcing standards and by providing training, outreach, education and assistance. OSHA defines a competent person as "one who is capable of identifying existing and predictable hazards in the surroundings or working conditions which are unsanitary, hazardous, or dangerous to employees, and who authorization to take prompt correct measures to eliminate them."
The 30-hour training would provide superintendents with the tools to identify and resolve potential on-site construction risks. To become a Registered Construction Superintendent in New York City, there are five different qualification tracks based on experience, however, in addition to other requirements most only require the 10-hour OSHA course in construction safety.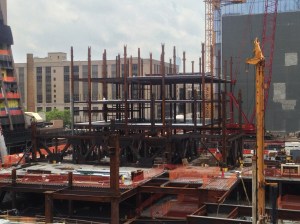 "There's nothing more important to our members than safety," continued Coletti. "Our companies are very aware of and concerned about complying with the safety provisions that go far beyond even what the building code provides. We have a very active safety committee. The construction managers and general contractors meet monthly with representatives from Fire Department, the Buildings Department and OSHA. The purpose of the meetings is for them to tell us trends and to enter a dialogue about how to improve safety standards."
Other groups have also made safety recommendations. Associated Builders & Contractors (ABC) presented the Council with a nine-point safety platform about two months ago that the organization's president says would ensure every worker complete the same training regimen without putting anyone out of work.
"What New York really needs is a ground-up solution focused on safety training, not a craft apprenticeship mandate above 9 stories," said Brian Sampson, President of ABC. "75 percent of all fatalities have occurred on jobsites near the ground, so what we need to do is pass a safety platform that works to address those problem areas and further promotes a stronger culture of safety."
The Future of Construction Safety
Opinions around construction safety regulations, protocol, and training requirements vary depending on who you ask, however, amidst New York City's current construction boom, measures must be taken soon.
No action has been made on Intro 1447 since its January 31st hearing in the Committee on Housing and Buildings, but just last month a new coalition – Building Blocks NYC – started an ad campaign to increase awareness of the bill. Building Blocks NYC is made up of the Laborers-Employers Cooperation and Education Trust, and District Council 9 of the International Union of Painters and Allied Trades. One of the advertisements feature a parent telling the story of how her son, a military Veteran, was killed working on a construction site.
Many union groups that support the bill see Intro 1447 as supporting a bigger picture and rebuke the claim of it supporting unionized workers over nonunionized construction workers. The large majority of New York City's construction fatalities have occurred on nonunion construction sites. For them, public safety must come first and they believe this bill moves the needle forward.
It has been reported recently that there are accounts of an updated version of Intro 1447. This updated version of the training bill is said to have garnered support from 29 councilmembers. Once a bill is decided on, amended, passed and signed into law, a new question will arise: How will the new requirements be enforced?
Getting Involved this Construction Safety Week
Policy and regulatory disagreements aside, Construction Safety Week has arrived in New York! Each year – during a full week – industry professionals around the nation recommit to maintaining safety in all construction practices and communicate a dedication to a shared culture of care and concern. This year's celebration of safety takes place from May 1st through May 7th.
According to OSHA, "nearly 6.5 million people work at approximately 252,000 construction sites across the nation on any given day." These are people with families, friends and loved ones that they would like to make it home to each day after working on a construction site. The celebration of Construction Safety Week is a reminder of why safety is vital.
Construction injuries and fatalities can be caused by a variety of potential hazards including falls, trench collapse, scaffold collapse, electric shock and arc flash/arc blast, failure to use proper personal protective equipment, and repetitive motion injuries. Nationally, the number of fatalities in construction is higher than the average for all other injuries. As of February 28, New York City's Department of Buildings has noted that there have been 72 reported construction injuries this year in New York City alone.
"Safety starts in the office of the CEO," said BTEA President, Louis Coletti. "That's where the commitment to safety comes from and it permeates down to the project executives and the superintendents, and down to the workforce." To foster a community of safe employees and construction professionals, safety must be a priority for everyone.
Here are a few ways to get involved in Construction Safety Week:
Attend NYC Department of Buildings' Build Safe | Live Safe Conference
The Departments' Build Safe | Live Safe Conference is a series of daylong seminars hosted at the New York Marriott Downtown. Each seminar includes a various industry experts discussing trends and highlighting safe construction operations. The topics will include construction safety, forensic engineering, demolition and Site safety plans, flood protection and NYC gas work, special inspections, alteration, and crane codes and regulations. Conference attendees are eligible to receive up to 4.75 LU/HSW credits. For more information, visit nyc.gov/safetyweek.
Use Social Media to Raise Awareness
Social media has become a modern tool to quickly and effectively reach large audiences. Social media platforms can be used a variety of way to raise awareness of Construction Safety Week including:
– Give a colleague a shout out. Post about and tag a team member on Twitter, Facebook or Instagram who takes the correct precautions to ensure safety in construction.
– Employers can use the company's social media profiles to post a "caught being safe" series. Managers could post images of workers doing correct safety procedures or using safety equipment the correct way.
Host a First Responder/CPR Training
In an emergency or construction accident, time is of the essence. Hosting a first aid, CPR and/or AED training for your team members this week will give them the tools to save a life if needed, and the knowledge to think quick on their feet. Training classes are hosted by American Red Cross.
 Coordinate a Team Meal
Host a team meal to thank employees and discuss safety. The meal can be themed (i.e. order sub sandwiches to thank sub-contractors) or general in nature, but it will offer an opportunity to bond, further develop work relationships, and provide an informal environment for the construction safety discussion.
Join OSHA's National Stand-Down
Happening the week following Construction Safety Week is OSHA's National Safety Stand-Down to Prevent Falls in Construction. A "Safety Stand-Down," is an opportunity for employers to speak directly with their employees about safety. Companies can conduct a Safety Stand-Down by taking a break for construction work to engage is a staff safety activity which includes a conversation about safety. The activity itself should be relevant, necessary and/or interesting for staff. It should result in a dialogue about safety practices. Some examples include conducting safety equipment inspections, fall protection demonstrations, developing rescue plans and storytelling.
ABC
,
BTEA
,
Building Blocks NYC
,
Construction Safety Act
,
Intro 1447
,
jumaane williams
,
Louis Coletti
,
Matt Caruso
,
OSHA
,
Safety Coverage
,
Sponsored
,
sponsored-link