The Plan: PJ Mechanical's New Space at 55 Broad Shows Clients What They Do
---
---
A company's office space is usually meant to be comfortable for its workers and impress the firm's clients.
So what did heating ventilation and air conditioning or HVAC construction and installation company PJ Mechanical do for its office design at Rudin Management Company's 55 Broad Street? Expose the mechanicals and ductwork so clients can see its work immediately upon walking in the door.
The unencumbered ceilings reveal oval spiral ducts, which are actually more efficient than traditional rectangular ones because they better prevent leakage.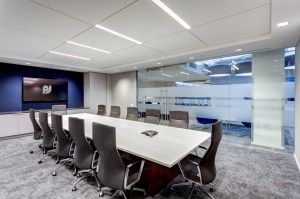 The nearly half-a-century old PJ Mechanical, which specializes in renovations, new construction, alterations and maintenance of HVAC systems, also installed its own ductwork.
"The wanted to emphasize what they actually do," said Luis Valcarcel, a senior associate and design director at Ted Moudis Associates, which designed the office. "They wanted exposed ceilings all over the open office as much as possible."
The design for its new 25,695-square-foot office was completed last fall. It features concrete polished floors, social meeting spaces, conference rooms, private glassed-offices and suspended LED lights.
Above one of the social meeting spaces in the office, where employees can leave their desks in order to work in a small group, there is a wood design on the ceiling. But the woodwork doesn't cover the exposed ceiling.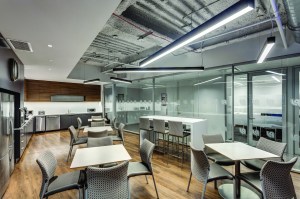 "The wood-dropped feature over the collaborative work area is just to keep the ceiling exposed but to give it a more intimate look," Valcarcel said.
Cubicles are not in fashion any more, but privacy was still necessary for PJ Mechanical's employees. So unlike many modern tenants that tend to do away with the barriers and lay down open-plan communal desks for its workers, the workstations at PJ Mechanical are divided by 53-inch tall, white aluminum partitions. Essentially, Ted Moudis cut the height of the cubicles a bit.
"They have a lot of confidential clients and they still want workers to have privacy," Valcarcel said."[The partitions] give you seating privacy and the privacy for the [computer] monitors, but if you stood up, you could still see across the room and across the office."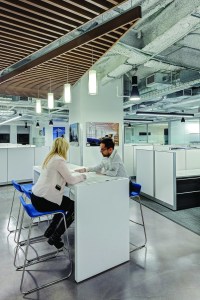 While most of the office looks raw because of the concrete and exposed ceilings, the kitchen shows a much softer side to the firm. It's made to look warmer with wood floors and panels, and casual chairs, which provide a cool ambiance.
"They wanted a pantry area that was warm and inviting to the personnel to have the employees eat there as much as possible," Valcarcel said.