The Plan: A Federal Home Loan Bank of New York at 101 Park Avenue
---
---
When the Federal Home Loan Bank of New York signed a renewal and expansion last May for its offices at H.J. Kalikow & Co.'s 101 Park Avenue, it also made the commitment to change itself up.
As a financial institution that assists community lenders in helping people of varying incomes purchase homes, it had a stuffy trading floor with old-school cubicles, windowed private offices and large conference rooms at the 1.3-million-square-foot Midtown building between East 40th and East 41st Streets.
But as its leaves its fifth-floor, 42,700-square-foot space and heads up (literally) to its new 68,000-square-foot offices on entire seventh floor and a part of the sixth floor, those yesteryear workplace designs had to go.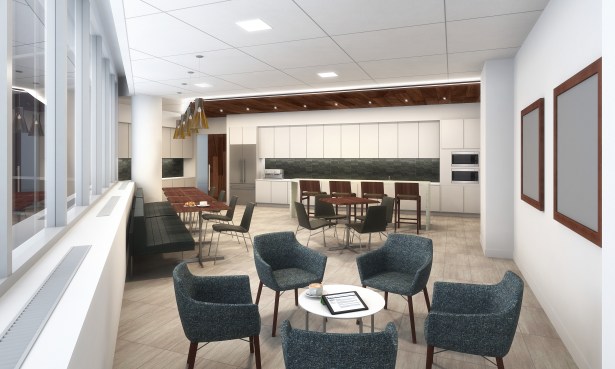 The new offices, which are under construction and due to be completed on May 1, will feature an array of meeting spaces, including lounges, breakout spaces, huddle rooms, phone booths (for when you need to make that private call, but don't need the entire office eavesdropping) in addition to conference rooms.
"They wanted smaller types of meeting spaces so people can choose how they want to meet," Jessica Mann-Amato, a design director at Spector Group who oversaw the project, told Commercial Observer. "This is a big departure from how they are working now."
Sure, the common rooms will be smaller in size than larger conference rooms in the former office, but it'll be more than enough for the federally chartered bank's 238 employees. Combining all of the meeting spaces, there will be a total of 355 meeting seats in the office, a ratio of one-and-a-half seats per employee.
And its employees also get the benefit of being closer to the windows in the new space. The office will have open plan workspaces on the exterior and glassed-executive offices in the interior so natural light can flood the expanse.  
"It's just a more welcoming space, because it provides daylight and more" room, Mann-Amato said.
The triangular-shaped duplex office has dark walnut ceiling patterns in some areas and has an interconnected staircase at its core that highlights a common meeting space at the foot of the stairs. The tiled kitchen features more dark walnut ceilings, walnut tables and cushion chairs.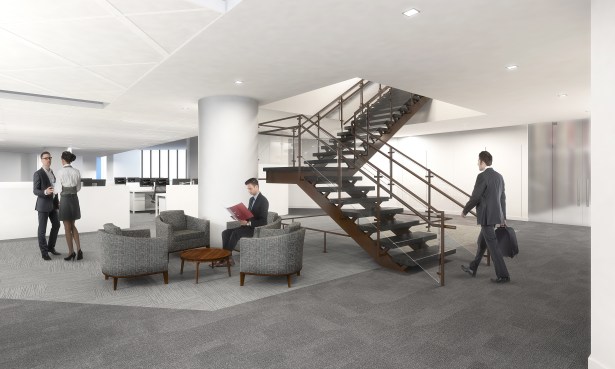 Although the bank has made huge strides in implementing a lot of the new office trends, the Federal Home Loan Bank was not ready to embrace it 100 percent. It opted to keep carpeted floors, drop ceilings and simple white walls throughout the office instead of something flashier like polished concrete and neon orange walls. (Yes, we've seen brave media and tech companies with neon orange and green walls.)
"It's a banking institution, not a digital firm," Scott Spector, a principal at Spector Group, said. "For a banking institution they have been pretty progressive with how we are dealing with the layout. They are not Google or LinkedIn, but they are at the peak of the banking world, pushing the envelope a bit."