Silverstein's Janno Lieber Talks Spotify, 2 WTC and the New Downtown
---
---
John Lieber—"Janno" as everyone in the world calls him—was in good spirits when he met with Commercial Observer at the corner of Greenwich and Chambers Streets in the Financial District last week.
The head of World Trade Center Properties, the division of Silverstein Properties charged with rebuilding the complex after 9/11, had recently wrapped up a massive deal with music streaming service Spotify. The Swedish company will move its United States headquarters to 378,000 square feet on the top 11 floors of 4 World Trade Center. Spotify also made a deal with the State of New York in which it will add 1,000 employees over the course of its 15-year lease and will get an $11 million tax reduction (Lieber said the deal with the state was negotiated without Silverstein Properties' involvement).
But aside from scoring what's already one of the largest leases of the year, the Spotify deal was another milestone for the 15-year-old rebuilding process. The 2.3-million-square-foot 4 WTC is now entirely spoken for, roughly four years after it was completed. The 977-foot tower is home to a mix of tenants from the Port Authority of New York & New Jersey to technology firm MediaMath to financial company Hudson River Trading.
Lieber's work at the 16-acre site is far from over, however. There's still the under-construction 3 World Trade Center next door, where a sizeable chunk of the 2.5-million-square-foot tower is up for lease. And lastly there's 2 World Trade Center—the building many companies have courted but none want to commit to. News Corp. and 21st Century Fox backed out of a deal last year to anchor the lower half of the building. Without an anchor tenant in place, the developer has not been able to secure financing for the tower.
A married father of three teenage children, Lieber is a longtime resident of Brooklyn. A big portion of his career was in the public sector before joining Silverstein Properties and its founder Larry Silverstein in the rebuilding roughly 14 years ago. He began his career at City Hall when Ed Koch was mayor and went on to work at the United States Department of Transportation under President Bill Clinton from 1994 to 1998.
When Lieber, 55, later sat down with CO at the company's offices in 7 World Trade Center, he updated us on the Spotify deal, what's next for the complex and how, on 9/11, he ran into Mayor Bill de Blasio who was then just a candidate for City Council. 
Commercial Observer: What is the impact that the Spotify deal is will have on the World Trade Center?
Lieber: It completes the leasing of 4 World Trade Center. It does what we always wanted, which is to have a staged leasing process. [Leasing 7 WTC, then 4 WTC and finally focusing on 3 WTC.]
The other impact is that it validates what we've been saying all along: The rebuilding of the trade center has been part of a broad and dramatic shift Downtown. We have almost 62,000 people living Downtown and they are predominantly millennials. The number of people has grown. [The neighborhood] has this tremendous access to the workforce. Spotify validates this transformation of Downtown from a traditional financial services district to the World Trade Center as the center of a mixed, live-work district.
And 4 WTC has a mix of everyone, too. There are government agencies, finance firms and tech companies.
The mix of 4 WTC is representative of what the trade center has become and what Downtown has become. It has established companies, but more companies like Spotify and [New York Mets broadcaster] SNY, which is the new edge of media.
It had been reported for at least three months that Spotify was between 4 WTC and 1 World Trade Center. Why do you think the company opted for your building?
The significant decision for them was: Do they want to be Downtown? Once they decided to come here, that was the big milestone in their process. I don't know what factors play into that.
Principally, it was the appeal of the space itself, the fact that it was smaller plates. And the ability to be in your own elevator bank and control your own branding identity in the areas where your workforce is going to go. Those were things that I think made a big difference to them. In the end, we were able to work out something great.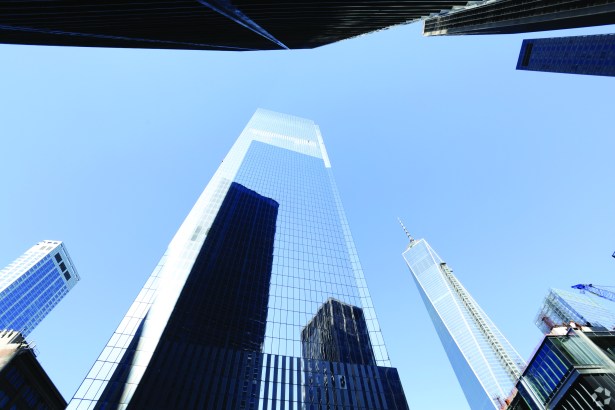 They also arranged an agreement with the state to get a rent break and add 1,000 employees.
That was a deal that Spotify worked out with the state on their own. We had nothing to do with that. Nor should you; it's a tenant incentive. It wasn't anything we got involved with. It was an important announcement that the governor made: to have 1,000 new jobs created in the technology sector, and Downtown, really conveyed something that was a big deal for New York.
When there's a deal that's about to be signed at the World Trade Center, it's seemingly covered for months. Do you feel there is more of a spotlight on leases there than other buildings in the city?
Any deal of this size gets attention in the real estate press. This particular deal got more attention because of who it is. This is a company that defines the cutting edge of technology and that everyone is using. It's not Oracle or Cisco Systems. This is a company that's selling a technology service to the consumers. Every family has a couple users. That was part of what brought an extra level of attention to this deal.
New Yorkers like to be reminded that what was a place of tragedy and loss has become a place that represents the best of New York and is in every way a municipal and national triumph. That's why we get attention. It's not just because it's a big lease.
What is the game plan for 3 WTC, which is supposed to open next spring?
Yes, it will open in about a year from now. We are getting a lot more action. More calls, more tours. Even since the Spotify deal was announced there has been a notable uptick in discussion.
We are building on the story of Spotify. We are making sure everyone understands the things that made this location. Spotify wanted an environment that would be cool for their workers. They were excited by the ability to do more in modern space.
Is the success of Downtown and the Far West Side pulling tenants away from the traditional office district that is Midtown?
I don't think so. In our commercial real estate industry, Midtown is still a huge piece of it. Midtown is not going away.
What we are seeing is that some of the things that make Downtown special is that all of the trains come here. It's part of our history. This was the city's first business district. It's easy to get to. You have a huge amount of park and public space relative to the size of the business district. You have a one-of-a-kind combination of residential and commercial in a more balanced proportion than Midtown. All of those things have made Downtown really attractive. Downtown represents the most appealing version of New York.
This is the oldest neighborhood in the city. Historically people forget about it, but it always seems to become vibrant again.
That's the story of New York. We keep reinventing ourselves for the 21st century. We went from being an economy that's based around our harbor, to being a manufacturing economy, to being an economy of brainpower services, now to being an economy based around creativity and technology.
In every case, New York has reinvented itself to be at the forefront. We didn't need national elections to tell us adaptation was part of who we are. The World Trade Center tells that story. It's a story of a civic determination—of taking things that were bad and making them better than ever before. Larry Silverstein's contribution to this is a story of entrepreneurship, determination and the things that have made so much of New York successful. It's a story of collaboration between the public sector and private sector. We have in the past 50-plus years had a high level of private-public collaboration to address our challenges. That's why the public likes to focus on the trade center. It's a success. That speaks to the qualities we love about New York.
Looking back, is there anything that stands out as the turning point of the World Trade Center's redevelopment?
The successful lease up of 7 WTC encapsulates the story of the World Trade Center. There was destruction. It was the last building to come down on 9/11. We made a slimmer building both to create a park and to speak to the needs of today's creative tenant base. It was the first sustainable office building in New York City.
When we opened it we didn't have any tenants, and lo and behold we lease it up to an amazing mix of tenants. That represented what the trade center would and could become. The confidence the tenants and Silverstein gave by building really validated Downtown as a new mixed-use district. This building relates more to Tribeca than Wall Street because of its location and the way the neighborhood functions. All those were huge symbolic lynch pin moments.
You hit 100 percent leasing in about 2010, right?
It was around 2010 and 2011. It was mostly leased, and then there was the downturn. And we had to get the last couple hundred thousand feet leased. It was in those early years between the opening in 2006 and the downturn in late 2008 that validated what this was becoming.
What's the game plan for 2 World Trade Center?
We have an unbelievable building. The Fox episode was obviously a disappointment, but what we got out of that was a chance to rethink for the most contemporary tenant mix.
You have a site that's built up to grade. We can show everybody what it feels like to be part of this community. We are continuing to market it to big tenants.
Is there a dream tenant?
It would be a tenant—or more than one—who allows us to finance the building. The building is designed for a dynamic mix of uses. It has huge floor plates at the bottom, but at the top you have boutique-size floor plates, which could be appealing to hedge fund-type users. You have layouts that can do studios and newsrooms, other kinds of media installations and tech installations. Then you have a series of conventional office floors and column-free, unbelievable views.
How did you end up at Silverstein Properties?
I did two stints in government: first in the Koch administration, then in the Clinton administration. Between it I was a lawyer for a little while. After I left federal service at the Department of Transportation, I started working on big public-private projects. Eventually, after a couple years in that world, someone put me in touch with Larry Silverstein. We hit it off and that's how I came to be here.
It's been 14 years. It doesn't seem like that long, but it's been incredibly rewarding and fun to be a part of this civic mission.
What's the dynamic like between you and Larry?
We really enjoy each other. We have a very different set of experiences and perspectives. We collaborate well.
You're both New York guys, right?
I grew up in Manhattan. I'm a refugee: I moved to Brooklyn in 1999. Larry's a refugee from Brooklyn [to Manhattan], so he gets it. We are both passionate New Yorkers.
What did you do in the Koch administration?
I was a kid; I worked in economic development. Then I worked in City Hall on transportation issues. I dealt with the MTA and the state government.
What's your plan once the World Trade Center is done?
I'm not gonna buy a sailboat and sail away. I'm going to stay involved with New York projects for a very long time.
You were in Brooklyn for 9/11. What was that like?
I was in Downtown Brooklyn, not far from the Brooklyn Bridge. I happened to run into Bill de Blasio, who was in the middle of the first primary day for his first campaign for City Council. He needed a lift to get back to the center of his district. We rode together on Fourth Avenue seeing all those people walking back from Lower Manhattan covered with the ashes. The storekeepers—a lot of them were Arabs—were giving out water. I saw the towers fall from the Brooklyn side. It is very much a powerful part of my memory.
What was the mayor like?
He was somber. We weren't sure what had taken place. It was just this sense that the city had been attacked and a lot of lives had been lost. All of us were starting to process it. The discussion was about—what does this mean for the city in the long run.
1 World Trade Center
,
2 World Trade Center
,
21st Century Fox
,
3 World Trade Center
,
4 World Trade Center
,
7 world trade center
,
Bill de Blasio
,
Ed Koch
,
Hudson River Trading
,
Janno Lieber
,
Larry Silverstein
,
MediaMath
,
MTA
,
News Corp.
,
Port Authority of New York & New Jersey
,
SNY
,
World Trade Center
,
World Trade Center Properties
,
Silverstein Properties
,
Spotify