Mercedes Horsepower: The NYPD Horse Stable in a West Side Luxury Building
---
---
"These are our partners," said Sergeant Donald Boyle of the Mounted Unit, a Special Operations Division of the New York Police Department, introducing Commercial Observer to some of the horses that live in Mercedes House. Yes, that Mercedes House. The 1.2-million-square-foot, 32-story luxury residential building between West 53rd and 54th Streets at 11th Avenue, developed by Two Trees Management Company, is home to some VIP members of New York's Finest.
In 2013, Two Trees sold the top 10-floor condominium part of the building to Invesco for $170 million and 27,000 square feet of ground-floor space to the city.
"Finding a permanent space for the stables was a longstanding community priority," said David Lombino, Two Trees' managing director for external affairs, referring to the previous home of the NYPD horses at Pier 76, which was part of the Hudson River Park conversion. Manhattan's Classic Car Club is there now—so, history can repeat itself. "So we worked with the NYPD to custom design a great facility."
That facility in Hell's Kitchen (which, it should be noted, has zero interaction with the apartments above it and has its own entrance) is now a space described by Deputy Inspector Barry Gelbman, the commanding officer of the Mounted Unit, as a self-sufficient shoebox slid into a building.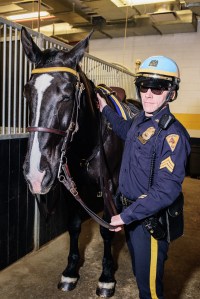 This $30 million box was designed with separate electrical and other resources for emergencies and a special HVAC system, resulting in the least smelly barn you can imagine. There are 27 separate horse stalls built by Loddon Equestrian, a British manufacturer whose client list includes Queen Elizabeth II. Each has automatic fresh water feeders. There are also a riding ring, two horse showers, a corner for a farrier (horseshoer) and a space for the guy who custom fits saddles and makes every bridle in the fashion of the U.S. Cavalry.
"There's a lot of history in this unit," said Boyle, noting the harness maker is the grandson of a former NYPD harness maker.
Boyle said the Mounted Unit, established in 1871, hired Civil War veteran cavalrymen to perform its primary mission: combat reckless galloping.
"There were horses everywhere. It was out of control," Boyle said of the end of the 19th century, describing the chaos and traffic of horses pulling delivery wagons, trolleys, livery carriages and construction vehicles. Stealing and drunk mounting were horse-related issues, too. A specialized unit of true horsemen, not just people who could ride horses, which was pretty much everyone at the time, was needed to keep the public safe.
Today the Mounted Unit includes 75 specially trained police officers and 24 civilian specialists. Functions have evolved from enforcement to community affairs, but patrols have the same goal of security. The mere presence of NYPD blue (plus yellow pant stripes that are a nod to cavalry roots) is simultaneously reassuring to crowds and deterring to criminals, they say. Together horse and police amount to "10-foot cops," beacons in congested areas like Times Square.
Twenty of the Mounted Unit's 50 horses live in Manhattan. Like their riders, they are part of Troop B, the biggest of the unit's four remaining units. Troop D lives in and works out of Pelham Bay Park, in the Bronx. The NYPD Remount School of Horsemanship, where mounted-to-be police selected largely for their social skills, learn how to handle horses and to ride (or refine their riding skills), is there too. Troop F is in Cunningham Park in Queens. (Troops A and C have been phased out.)
Troop E is in Brighton Beach, Brooklyn, in a stable that seems to be the oldest still operating in New York City. The three-story poured concrete building was erected in the late 1800s (date unknown, according to the NYPD) for the city's Department of Sanitation, then called the Department of Street Cleaning, which relied on horses until it was full mechanized in 1934. The NYPD moved in in the 1920s and has operated there ever since. Until 1996, it was the unit's training facility.
Hanna Cohen, who lived on the adjacent Brighton Beach block as a child in the 1950s, remembers kids sneaking on tiptoe into the stable for a closer look at the horses they knew well from the outdoor arena and local patrol. "There was a general reverence whenever the policemen on horses were about," she said fondly. 
Sergeant William Mackay walked Commercial Observer through the cobblestone floors in Brighton Beach, pointing up to the trap door in the ceiling of the second floor, where the horses have always lived. Hay is stored on the third. The 20 stalls here have the same amenities as at Mercedes House and other NYPD stables. And horses have the same 24-hour care, including oatmeal-like breakfast and new shoes every six weeks.
"We perform a necessary function," said Mackay, meaning the police and their equine partners. "It's very old fashioned, but we're so visible."
Mackay grew up in Brooklyn near Kensington Stables (see story on page 12) but, like many of his peers, did not learn to ride until he joined the Mounted Unit 21 years ago; he's been on the force for 35. He reminds us the Ocean Parkway bike path was originally a bridal path connecting Prospect Park, Brooklyn, to the water. 
"People gravitate to the mounted officers," said Mackay, echoing the words of folks in and out of the NYPD. "The public likes it. It's nostalgic, it's in movies, and they are approachable."