Faith in Eighth: The Little Street That Could
---
---
"Make Sweat Sexy," proclaims the $44.95 tank tops sold at workout studio 305 Fitness at 18 West Eighth Street, between Fifth and Avenue of the Americas.
The boutique facility, whose $32 cardio classes boast a live DJ and instructors with glistening six-packs, is constantly swarmed with bright-eyed New York University students or chic millenials in the latest Lululemon prints. After class, many traipse around the corner to Liquiteria (402 Avenue of the Americas) to pick up $9 coffee smoothies or fruit bowls filled with esoteric bits, like açaí and spirulina.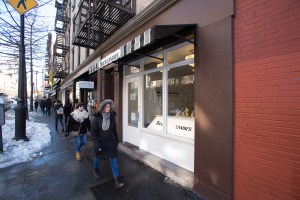 Some big rents are driving these expensive smoothies and ridiculously pricey tank tops. "Eighth Street has morphed into a hip and trendy destination," said Adelaide Polsinelli, a senior managing director at Eastern Consolidated. "Just a few years ago, it had over a dozen vacant stores at any given time. Now, it has become a major dining hub."
Anyone who hasn't visited the block in the last five years would have a hard time believing that this little strip of West Eighth Street, between Fifth and Avenue of the Americas, once the redoubt of nearly two dozen discount shoe stores, head shops and not much else, is flourishing with Instagram-approved spots like Stumptown Coffee at 30 West Eighth Street, and the impossible-to-book Loring Place at 21 West Eighth Street.
This is doubly impressive when you hear so many tales of retail woes in well-trafficked, desirable areas.
The headlines have proclaimed more than once, you see, that this storied street was on the verge of a renaissance, only to have storefronts left empty. In 2013, when this writer first moved to the neighborhood, the New York Daily News proclaimed the street the newest "foodie mecca." Locals waited expectantly for a rush of high-end restaurants. Promising places, like the homey Persian spot Café Nadery or cheery ice cream parlor 5 Oz. Factory, opened with a flourish, only to shutter soon after.
But this time, the momentum seems strong enough to finally push this stretch into full-on gentrification.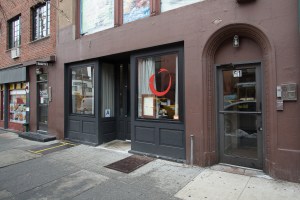 The catalyst, in true Greenwich Village fashion, seems to be the camaraderie between local businesses. Nearly all of the retail shops on the block are independently owned, and many of the newer owners have joined forces with the Village Alliance Business Improvement District to cross-promote each other and bring even more foot traffic to the block. "Now that we've got a really great lineup of businesses, we're working together to ask, 'Okay, how can we collectively market and position Eighth Street as a really great destination?' " said Will Lewis, the marketing manager for Village Alliance. The answer, over the last few years, has come in the form of the successful Positively Eighth Street Festival, a daylong event that last year drew 3,000 visitors to the block for music, arts and crafts. New this year is the Made on Eighth Street initiative, which aims to promote the street as it continues to develop.
"I've made so many great friends on the block," Storm Ritter, the owner of the eponymous clothing shop at 14 West Eighth Street, told Commercial Observer. "There's a lot of collaboration."
Ritter makes one-of-a-kind painted items and has partnered with Uncle Sam's Army Navy Outfitters (37 West Eighth Street) to paint some of their clothes, which they then sell in their shop. Another new owner, Chloe Vichot of the environmentally friendly salad spot Ancolie (58 West Eighth Street) gives her salad jars to Ritter to use for her paints. In return, Ritter has painted the logo on Vichot's uniforms, pieces that she bought at Uncle Sam's.
A bevy of independent restaurants is also helping to drive up pedestrian traffic. While The Marlton Hotel at 5 West Eighth Street was certainly the first to plant their flag in 2013, critically lauded spots like sushi den Neta (61 West Eighth Street), panini spot Il Bambino (48 West Eighth Street) and new farm-to-table Loring Place are fast turning the street into a miniature restaurant row.
"What's great about Greenwich Village is its diversity," said Branden Kim, Neta's general manager. "There is a mix of one-of-a-kind stores, franchises and unique, contemporary twists, like Neta. We really love the people who live here and visit."
Dan Kluger, the chef at Loring Place, agreed: "I can't think of anything I don't like about the street," he said. "I love it now as much as I did before we opened. So far, I've been most excited about how welcoming all of the neighboring businesses and residents have been."
Jared Gordon and Jesse Wilson, who own popular cocktail joint Analogue at 19 West Eighth Street, opened in 2013, just before the latest boom in leases. They took an initial gamble on their location, which was originally surrounded by vacancies. "We just couldn't imagine that the street would remain dormant forever," said Gordon. "It was too centrally located, too beautiful and too picturesque and too evocative of old-school Greenwich Village." The duo also believed that a destination bar would attract the intrepid travelers, which would then allow enough foot traffic for restaurants and dry goods retail shops to follow. Their predictions have shown to be accurate, as the latest wave of retail on the block have been places like Goods for the Study at 50 West Eighth Street, a high-end stationery store, and the first East Coast outpost of venerated See's Candies at 60 West Eighth Street.
What allowed many of these small businesses to open in the first place, however, was the rent, which Polsinelli said can be anywhere from $125 to $300 a square foot for ground-floor retail. This is obviously significantly less than $755, which is the average that the Real Estate Board of New York quotes for nearby Soho.
"This is the most tenant-friendly retail strip," said Polsinelli. "It benefits from strong demographics, healthy pedestrian traffic and access to all subway and bus lines. In addition, the physical storefronts are diverse and interesting, making for a creative canvas for specialty retailers."
Indeed, if Eighth Street had only one descriptor, it might be creative. The New York Studio School at Eight West Eighth Street is the former home of the Whitney museum. Jimi Hendrix's Electric Lady Studios at 52 West Eighth Street is still host to major acts like Adele and Lana del Rey. And new businesses, like Storm Ritter or high-end clothier Atelier New York (20 West Eighth Street), continue to carry the torch.
Of course, in the creative field, business can be fickle. If the street loses its foot traffic due to too many vacancies, it can have a domino effect on the existing businesses. "Eighth Street is a challenging block to keep occupied unless you are on the corner or close to [Fifth Avenue or Avenue of the Americas] where pedestrians can clearly see the stores while walking on the main avenues," said Jordan Vogel, a principal at Benchmark Real Estate Group. "I have seen many restaurants come and go on Eighth Street over the last decade since acquiring 10 Fifth Avenue."
One of the biggest hindrances to a full-on renaissance is the eyesore that is the former Barnes & Noble at 675 Avenue of the Americas. The looming 10,000-square-foot, three-story corner space has been vacant since Dec. 31, 2012. While there were rumors of a TD Bank takeover, those have since fizzled and bright red Cushman & Wakefield "Retail Space for Lease" signs hang in the gargantuan windows. Representatives from C&W did not respond by press time.
Provided vacancies stay low, rising rents are still a worry for any operator, especially in a fast-gentrifying street. "We deal with unrealistic landlords, unpredictable weather, a changing consumer, fluctuating minimum wages and big business competition—specifically online commerce," Uncle Sam's owner Richard Geist, who has run his business on Eighth Street since 1998, told CO. William Kelley, the executive director of the Village Alliance, agreed: "Traditional retail storefronts face many challenges in 2017, from online sales with lower overhead and a highly competitive market to capture customers' attention," he told CO. And the very nature of Eighth Street, with its many independent businesses, means that owners have no corporate safety net on which to fall if sales dwindle.
But Geist, who has weathered many a change on the street, remains cautiously optimistic. "We, store owners act as huge contributors to the historic Greenwich Village tourism. Foot traffic has increased, and the energy has sky rocketed. It's time for our street to reinvent itself."
But nothing seems to bring the story of the street as full circle as See's Candies, with its old-timey, white-paneled interior and mind-boggling array of chocolates. "It was the street in 1921. So, I chose the location because I really wanted to be part of that," owner Bill Rhodes said. "People are coming in here and saying, 'For years we wanted West Eighth Street to be special.' And they come in to the store and say, 'Now we really know it's happening.' "
14 West Eighth Street
,
19 West Eighth Street
,
21 West Eighth Street
,
30 West Eighth Street
,
305 Fitness
,
37 West Eighth Street
,
48 West Eighth Street
,
5 West Eighth Street
,
60 West Eighth Street
,
61 West Eighth Street
,
675 Avenue of the Americas
,
Adelaide Polsinelli
,
Analogue
,
Benchmark Real Estate Group
,
Branden Kim
,
Cafe Nadery
,
Chloe Vichot
,
Dan Kluger
,
Eastern Consolidated
,
Il Bambino
,
Jared Gordon
,
Jesse Wilson
,
Jordan Vogel
,
Loring Place
,
Marlton Hotel
,
Neta
,
Richard Geist
,
See's Candies
,
Storm Ritter
,
Stumptown
,
Uncle Sam's Army Navy Outfitters
,
Village Alliance Business Improvement District
,
Will Lewis