Is There Any Saving Macy's?
---
---
There may be a miracle at work on 34th Street as Macy's Inc. keeps its Manhattan flagship store open, but for 100 other Macy's stores that are facing closure—and thousands of employees—it is more like a calamity.
Last week, Macy's Inc. identified 68 stores (including the 35-year-old, 158,000-square-foot outpost in Douglaston, Queens) of the 100 the company announced last August that it would be closing. In addition, the company will be cutting more than 10,000 jobs. The same day, the company separately announced that sales fell by 2.1 percent in November and December 2016 compared with the same months a year prior.
Macy's, which is the largest department store chain in the country with 730 locations, wasn't the only large retailer to report weak holiday sales in 2016, nor is it the only company closing stores. Sears and Kmart, once the country's two largest retailers, announced closures last week.
The decisions to shed stores come as the retail landscape shifts dramatically. Commercial Observer reported last November that retailers were facing a lot of pressure, with the looming threat of interest rate hikes, the impacts of e-commerce and the reality of high rents.
And department stores are particularly vulnerable.
"What's happened with Macy's is happening with most department stores," said C. Bradley Mendelson, a co-head of the retail division at Colliers International. "I think department stores are being hit hardest by internet sales more than any other retailer. When you have free delivery and free return, why would anyone walk into a department store?"
John Brod, a partner at ABS Partners Real Estate, said that Macy's announcements are "so reflective [of] what's happening in retail today and its affect on real estate. When Macy's signed their leases a number of years ago they never factored in the fact that the way people shop would change. The size format of bricks and mortar are set in stone and don't provide flexibility in the event of retail decline."
While Macy's touted that the store closings would generate approximately $550 million in savings starting this year, its revenue appears to be on a downward trajectory.
"We continue to think that revenue will fall in the low-single digits on average annually over the next five years and our expectation for 2 percent comparable sales declines in 2017 is already in line with [Macy's] management comments that 2017 will be similar to November/December comparable sales performance," Bridget Weishaar, a senior equity analyst at investment research firm Morningstar Credit Ratings, indicated in a stock analyst note. "In our opinion, the department store space is the most exposed to the e-commerce threat as many of the same products can be found in both channels (this is reflected in our belief that Macy's does not possess a competitive moat)."
Macy's, which has corporate offices in New York and Cincinnati, saw fiscal 2015 sales of $27.08 billion. Stifel, a wealth management and investment banking firm, estimates that the 2016 figure will be $25.83 billion and the 2017 number will be $25.01 billion.
One market watchdog is not optimistic that Macy's can turn itself around without making dramatic changes to its ethos.
"I don't think Macy's is salvageable," said Kate Newlin of Newlin Consulting, a brand consultant for retailers and manufacturers, and the author of Shopportunity!: How to Be a Retail Revolutionary (2006) and Passion Brands: Why Some Brands Are Just Gotta Have, Drive All Night For, and Tell All Your Friends About (2009). If the company does not evolve and better meet the needs of its customers, Newlin cautioned that the brand "would be lucky" to survive for another 15 years.
Essentially, department store owners and the malls that house them will have to change with the times or perish.
"There's been a significant change in retail commerce where the big-box retailers got squeezed because the variety and price points they offer, which at one point were unique, can be duplicated through online retailing," said attorney Allen Hubsch, a partner specializing in real estate at Loeb & Loeb.
Hubsch represents Regal Cinemas, Edwards Theatres and United Artists across the United States, which gives him knowledge about large blocks of real estate on the market.
He is working on movie theater leases in two former multilevel Sears store locations, one in Portland, Ore., and one in Southern California. (Sears Holdings said it is shuttering 108 Kmart stores and 42 Sears locations in the next few months. Meanwhile, Sears shut down 278 locations over the last two years.)
The most critical problem Macy's and some other department stores are experiencing is not focusing on the shopper's experience, said Paco Underhill, the founder of Envirosell, a behavioral research and consulting firm for retailers, who has worked on department store issues for more than 30 years. For example, the stores need to better serve a local market (a dress that flies off the shelf in Omaha, Neb., won't necessarily be popular in New York City) and executives need to recognize that the younger woman is less interested in fashion (costumes for a specific event) and more interested in uniforms (everyday work wear).
As space is turned back over to landlords, they will need to alter their approach if they want to avoid long big-box vacancies.
"I think part of what landlords need to do is stop being landlords and be placemakers," said Underhill, who authored Why We Buy: The Science Of Shopping (2000), Call of the Mall: The Geography of Shopping by the Author of Why We Buy (2005) and What Women Want: The Science of Female Shopping (2011).
At the end of the day, Hubsch said, "The more creative landlords, and the well-capitalized mall owners will do better because they will be able to reposition the vacant department store better than someone who is less creative and doesn't have the same access to capital to do whatever needs to be done."
The options for those landlords are limited, but many people CO spoke with said property owners need to make their spaces experiential (think movie theaters, bowling alleys and interesting dining options).
"Owners of shopping centers will have to figure out how to reinvent themselves," Mendelson said. "This is not something new. The retail world, as in others, is always in a place of transition."
Oliver Chen, a senior equity research analyst covering retailing/specialty stores, luxury, retailing/broadlines and department stores for financial services firm Cowen and Company, said of Macy's real estate on "Bloomberg Markets" last November that  "a lot of these properties will be creatively purposed into other things." He added that Macy's will have to transform the shopping experience.
"Macy's really has to offer you convenience," Chen said. "They have to offer you great experience and they have to offer you merchandise that really wows you…it's up to Macy's to really deliver on this."
Many retail pros told CO that dumping underperforming assets is a smart move and other department stores will be following suit, if they haven't done so already.
Terry J. Lundgren, Macy's chairman and chief executive officer, explained the reductions in a statement last week: "As we've noted, it is essential that we maintain a healthy portfolio of the right stores in the right places," he said. "Our plan to close approximately 100 stores over the next few years is an important part of our strategy to help us right size our physical footprint as we expand our digital reach. We are closing locations that are unproductive or are no longer robust shopping destinations due to changes in the local retail shopping landscape, as well as monetizing locations with highly valued real estate." (Macy's declined to comment for this article.)
CBRE has been tapped to help with the disposition of a portion of the national closures. A spokeswoman for CBRE said the company would not be commenting beyond a news release.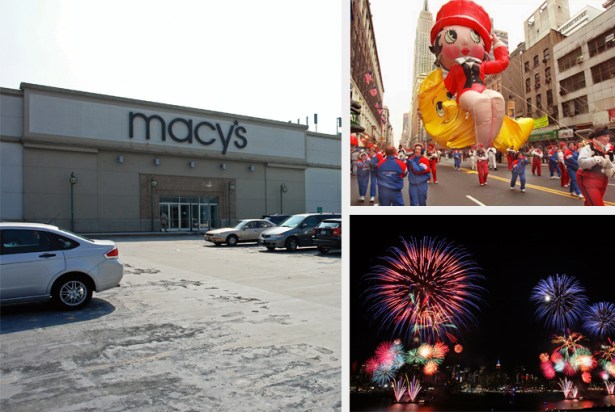 Macy's rejected the idea of spinning off its properties into a real estate investment trust and hired Eastdil Secured to advise in a deal with Brookfield Asset Management. Last November, Macy's formed a 24-month alliance with the real estate investor to create a " 'predevelopment plan' for each of approximately 50 Macy's real estate assets" with the option to add more, Macy's said in a news release at the time. "These assets primarily include owned and ground-leased stores and associated land, most of which are located in malls not owned by major mall owners." Brookfield can develop on a site or completely redevelop an existing store. (Brookfield declined to comment as did Eastdil Secured.)
While underperforming stores in suburban, U.S.A, are being shut down, prominent stores in main urban cities should survive, a number of retail pros said. Flagships, Mendelson said, "keep people buying online," a.k.a. bricks and clicks.
Some experts speculated that Macy's might well be worth more for its real estate than as a retailer.
Its real estate portfolio of 565 locations (which includes ground-leased mall stores, leased stores, owned distribution centers and its 429 owned stores) was valued at $20.74 billion, according to a Jan. 11, 2016, Starboard estimate included in a Morningstar report on Macy's the following month. The single-most valuable asset, Starboard determined, was the 2.2-million-square-foot Herald Square location at 151 West 34th Street between Broadway and Seventh Avenue, which a year ago was valued at $3.97 billion.
Macy's, previously called R.H. Macy & Co., was founded by Rowland Hussey Macy, who started out by opening fancy dry goods stores including one on the corner of 14th Street and Avenue of the Americas in 1858, according to the company website. The flagship has been in Herald Square since 1902.
And the Macy's name—and its 11-story full-block flagship in Herald Square—has became synonymous with many New York City traditions like the Macy's Fourth of July Fireworks and the Macy's Thanksgiving Day Parade and the annual flower show.
Thirty years ago, many people thought Macy's Herald Square offered a "profound shopping experience," Newlin said wistfully. But since, she and many others have found its offerings and store organization lackluster. "Macy's Herald Square should be less of a white elephant and more of a global destination," Underhill said.
But others maintain that the Herald Square store is still special.
"That is an iconic store that has always had its own special magic, specifically because it is experiential—from the flower show to the Christmas spectacles and all of the other special events to get the consumer to the store," emailed Robin Abrams, an executive vice president and one of the principals of the Lansco Corporation. "The flagship store has a tremendous amount of product by a broad range of designers/manufacturers. The 34th Street store features new luxury brand shops-in-shop that compete with the higher-end department stores as well."
151 West 34th Street
,
Allen Hubsch
,
Bridget Weishaar
,
C. Bradley Mendelson
,
Cowen and Company
,
Edwards Theatres
,
Envirosell
,
John Brod
,
Kate Newlin
,
Kmart
,
Lansco Corporation
,
Loeb & Loeb
,
Macy's
,
Morningstar Credit Ratings
,
Newlin Consulting
,
Oliver Chen
,
Paco Underhill
,
R.H. Macy & Co.
,
Regal Cinemas
,
Robin Abrams
,
Rowland Hussey Macy
,
Sears
,
Starboard
,
Terry J. Lundgren
,
United Artists
,
ABS Partners Real Estate
,
Brookfield
,
CBRE
,
Colliers
,
Eastdil Secured