Call Me Ismael Leyva: One of NYC's Most Prolific Starchitects
---
---
In the late-1970s, Ismael Leyva lived on a construction site.
The world renowned architect and head of the eponymous architectural firm was, at the time, a freshly minted graduate who had been studying architecture in Xalapa, the capital of Veracruz, Mexico, when a friend of his father had purchased a hotel in Acapulco that needed a lot of work. "He asked me to go and fix it up," Leyva told Commercial Observer from his offices in the Garment District—almost four decades later and 2,800 miles away from the spot. "I was like a construction manager, essentially, which was a really good experience…I learned all the traits."
In Mexico, as Leyva tells it, the architect and developer are essentially interchangeable.  "It comes with [the job]," Leyva said. "You're the contractor, too."
When the last of the jackhammers silenced themselves for the day (usually around 5 p.m.), he would go to one of the finished rooms at the Hotel Villa Rica to retire for the evening.
Mexico is a good bookend for Leyva's career; it was during that year in Acapulco that he met his future-wife, a New Yorker, and decided to move to the city (he has since been divorced twice but stayed in New York). But after a 38-year professional absence from his home country, he recently finished a 21-story office tower called Torre Las Americas, and he is working on a waterfront park at Boca del Rio, both in Veracruz—marking the first time Leyva has worked in his hometown since those early days.
In between those points in time, few architects were as prolific or made as big a name for themselves as Leyva did in Gotham—and beyond.
The handsome, dark-eyed, 65-year-old father of four has a full head of black hair with just a faint dusting of gray; he smiles politely at his visitors and answers all questions gamely, even though one senses an old-world reserve as he talks about himself. But, beyond the modest countenance, there is great ambition.
After landing in New York in 1978 Leyva started at Joseph Vitullo, a local architect, and did a two-year stint with Horace Einsberg and Associates, before spending approximately 15 years working for the firm that would become Costas Kondylis and Partners, before leaving in 1996 to start his own firm.
"I rented a desk in a corner of the office of a friend of mine—an architect—for $500 a month," Leyva said. "I started doing small things [for] people that knew me. And finally after a year the Related Companies gave me my first break by giving me a building [at 181 East 65th Street called] The Chatham, which I did in collaboration with Robert A.M. Stern."
Whatever talk has been bandied about a real estate slowdown hasn't much touched Leyva. He is doing the interior design of two of Related's Hudson Yards residential projects, comprising some 528 units; he has another 603 units under construction called The Greenpoint at 21 India Street in the Greenpoint section of Brooklyn. And a sprawling, multi-building Queens development spanning more than 750,000 square feet of floor space that he designed in Flushing, called River Park Place, that was put on hold by the recession was scooped up in November of 2016 by developer Chris Jiashu Xu of United Construction and Development Group, according to The Real Deal (no word yet on whether Xu plans on using Leyva's grand plans for the 3.4-acre site).
Leyva's eponymous firm is converting the top 23 floors of the old Verizon building at 140 West Street between Barclays and Vesey Streets into condominiums (a 475,000-square-foot project) and has a planned 42-story, 50-unit condo at 45 Park Place between West Broadway and Church Streets slated for completion this year. (Leyva soldiered through the last recession well enough; it's true, his office went down to 30 people from 100 during the worst of the crisis, but it is back up to around 80 currently.)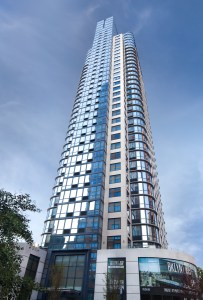 But that's just some of the stuff that's in the works. Leyva has, by his own count, completed close to 12,000 apartments in New York, and roughly 70 towers in the tri-state area. All over Brooklyn, Leyva has left his mark with his signature glass towers; he has dominated the Flatbush Avenue corridor running from Downtown Brooklyn to Fort Greene, with the 42-story rental 66 Rockwell; the Oro, a 40-story condo at 306 Gold Street; and BKLYN AIR, a 40-story rental across the street at 309 Gold Street. ("Someone said to me, 'I think they're going to change the name of Flatbush to Leyva Avenue,' " Leyva said and laughed.)
And Manhattan is certainly familiar with the Leyva name, particularly during the residential boom of the early 2000s. Leyva was connected to condo projects such as Yves Chelsea at 166 West 18th Street; Superior Ink at 400 West 12th Street (another Stern collaboration); Place 57 at 207 East 57th Street in Sutton Place (where he lives); and The Icon at 785 Eighth Avenue. The list goes on.
"His designs stand out," said Kevin O'Sullivan, the president of Time Square Construction, which was the general contractor as well as co-developer of The Icon. "You can pick out his buildings anywhere in New York—he's very efficient in his designs…I looked at some of his designs and knew he was the right architect for this project."
In the case of The Icon, Time Square Construction and its co-developer, Esplanade Group, had asked Leyva whether the extremely skinny width (only 24 feet) could be developed into a skyscraper.
"[The Icon] is particularly special to me because it's complicated and it works," Leyva said. "It [started as] a 22- or 23-story building at one point. And I advised my client to buy the air rights from another property to put it on top. He said, 'Are you crazy?' And I said, 'No, we'll be unique.' " The result was a gargantuan 43 stories that wound up getting its own exhibition at Battery Park's Skyscraper Museum.
"There are always challenges with the design aspect of a building," O'Sullivan said. "Once you start building high-rises, you're on a schedule—you get lots of RFIs [requests for information, from the city], and you have to get those answered immediately. That's what stood out about Ismael, immediately." He and his team were efficient as well as creative in how they waded through the 24-month process of designing and finishing the building, O'Sullivan added.
But beyond residential—and beyond New York—Leyva has become an international force in hotels and office towers.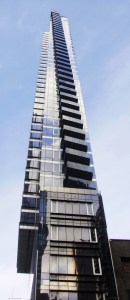 "As an architect, you're trained to do any kind of building, [but] the reason most of my projects are residential is because I got to be known as doing a good job as an architect on residential buildings," Leyva said.
When he started his own architecture firm, he tried to switch lanes.
"After two years I was trying to break into the hotel market, even offices, which is very difficult because they always ask you how many you've done. You just say, 'I haven't done anything,' and no one wants to give you your first break. Fortunately, I opened an office in Qatar, and I designed a building in the Middle East. So, I had something to show, and that's how I started getting some hotels in the United States."
Since then, he has built the tallest building in Costa Rica, a 30-story condo in San Jose called Torres Paseo Colón, and he's looking at a project in Cork, in Ireland (he and O'Sullivan are also working on an overseas project that they won't disclose at the moment, as well as a few Manhattan high-rises which also have to be treated hush, hush).
"All my buildings are special," Leyva said, "I put the same passion in all of them. They are my babies."
Correction: The original version of this article misidentified The Greenpoint as at 145 West Street, however, its official address is 21 India Street; The Icon was listed at 306 West 48th Street, but the official address is 785 Eighth Avenue; and Torres Paseo Colón was said to be in San Juan, but it is actually in San Jose.
140 West Street
,
166 West 18th Street
,
181 East 65th Street
,
207 East 57th Street
,
306 Gold Street
,
306 West 46th Street
,
309 Gold Street
,
66 Rockwell
,
Chris Jiashu Xu
,
Costas Kondylis and Partners
,
Horace Einsberg and Associates
,
Hudson Yards
,
Ismael Leyva
,
Ismael Leyva Architects
,
Joseph Vitullo
,
Kevin O'Sullivan
,
Related Companies
,
River Park Place
,
Robert A.M. Stern
,
Time Square Construction