Haim Nortman Picks Up Harlem Development Rights From Fata Organization for $10M
---
---
Four months after buying a Harlem church for $28.5 million, Brooklyn landlord Haim Nortman has purchased 27,500 square feet of development rights from Fata Organization for $10.2 million, property records indicate. The deal, for air rights at Fata's nearby 350-360 West 125th Street, closed on Dec. 13 and was recorded with the city yesterday.
Now Nortman can erect a building of over 100,000 square feet at LaGree Baptist Church's former home at 362-370 West 125th Street between Manhattan and Morningside Avenues.
Charles Glatter of BSD Realty Worldwide, who brokered the air rights deal, as well as Nortman's purchase of LaGree Baptist Church, told Commercial Observer that Nortman's project will be commercial on the bottom and residential above. On Nov. 14, the New York City Department of Buildings approved Nortman's application to demolish the four-story, 11,890-square-foot church.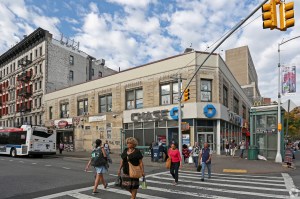 Nortman bought 362-370 West 125th Street from LaGree Baptist Church in July for $28.5 million, property records indicate, using a $14.3 million acquisition loan from Israeli banking corporation Bank Hapoalim B.M. LaGree had purchased the 1891-built property, which has a lot area of 12,475 square feet, for an undisclosed sum in 1975.
The Real Deal reported in August that the church includes 75,099 square feet of buildable residential space. Add to that the 27,500 square feet of air rights and the new building could be 102,599 square feet.
Nortman and executives at Fata didn't immediately respond to requests for comment.