Are Super-Specialty Businesses a Gimmick or Actually Profitable?
---
---
Every two weeks Winick Realty Group broker Michael Gleicher and his fiancée head from their apartment in Chelsea to the Flatiron District to refill their earthenware pot with fresh French mustard served from the pump at the Maille shop.
The couple generally switches off between Dijon Originale Mustard with white wine and the seasonal specialty flavor, which is now black truffle and Chablis mustard.
"The product is so much more fresh and it's direct to the consumer," said Gleicher, an executive vice president at Winick. "There's seasonality. It's addictive."
La Maison Maille, the flagship store for the mustard purveyor at 927 Broadway between East 21st and East 22nd Streets, has been open since late-April and appears to be doing well. It sells 35 different mustards as well as cornichons, vinegars, oils and kitchen accessories and has an on-staff mustard sommelier.
Gleicher may be somewhat of an anomaly. Steven Soutendijk, an executive director at Cushman & Wakefield who worked on the Maille (pronounced "my") lease, is a slightly less voracious consumer of mustard: He said that he can polish off a 17.6-ounce reusable pot of mustard in about six months.
Assuming that Soutendijk is more the norm, that amounts to a customer buying two jars of the Unilever-owned condiment brand, costing at the very most $118 a pop, twice a year, excluding any other edibles or accoutrement.
Obviously, one-product shops and restaurants are not new for foods like bagels, pizza, coffee, cheese, hamburgers and various sweets. But as food halls become more ubiquitous and drug stores try to serve as one-stop shops, how can retail stores that focus on one product like Kellogg's cereal, hot sauce or Chobani yogurt make it in New York City? 
Over the years, the city has gone from being a sea of specialty shops like those your grandmother frequented to get her meat and dessert to a place where grocery stores sell everything, now back to specialty stores. And what these specialty stores aim for—and have to achieve in order to succeed in the long run—is being best in class.
"That's a trend in the industry," said Alan Someck, an instructor in the restaurant management program at the Institute of Culinary Education and a restaurant consultant. "How are we going to stand out? Let's be known as the experts in creating a superior product."
Someck said that eateries with menus designed around one food like Chobani Greek Yogurt eatery, Kellogg's NYC all-day breakfast café and Melt Shop, which serves up grilled cheese sandwiches, can make financial sense.
"It narrows the focus of the labor skill set which impacts your labor costs," he said. "And labor is a big issue in the restaurant industry. From a real estate standpoint, if you're just producing one product, you can typically get a smaller footprint. [And] food costs are better because you're buying a larger quantity of one item so you're purchasing power is better."
Plus there are the branding benefits, which in many cases may far outweigh the profits. And those benefits can be great if the business provides "experiential retail," a major buzzword in the retail world.
"From a consumer and brand perspective it makes so much sense to offer tourists and local consumers a unique experience," Gleicher said. "It's a branding experience."
Jedd Nero, a principal of Avison Young and the executive managing director of New York City retail, said of Kellogg's NYC, which opened this summer at 1600 Broadway between West 48th and West 49th Streets: "It's about brand recognition and educating the consumer on who Kellogg's is."
As is the case with Kellogg's, "branding is as important as selling," for Maille, Soutendijk said.
David Gialanella, an executive managing director at Savills Studley, and partner Susan Kurland, the co-head of global retail services, think these types of shops are meant to bolster ecommerce.
"You have to believe they are there to leverage their online business," Gialanella said. Kurland added, "To me, the only reason to do it is to leverage online sales."
Concepts that tend to work in the Big Apple, Someck said, are those that can be eaten at many points throughout the day and are not part of a fad. Also, those that serve comfort foods like grilled cheese, meatballs, mac and cheese and even ramen are popular, as are those that aren't seasonal. ("Frozen yogurt places are struggling," he said. "It got oversaturated. When I go past Red Mango and I see that they're selling soup, I know they're in trouble.")
"I think the formula is, let's have a comfort food, add some customization, make it consistent, make it easy to produce and let's become experts at it and let's be known for it," Someck said. "Add all of those things together it then becomes a go-to place for that item."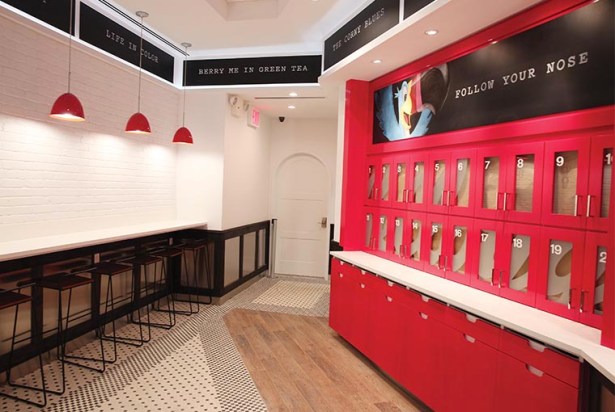 And perhaps the ultimate comfort food is cereal. That is something Sandra Di Capua, who previously worked at Eleven Madison Park, and Anthony Rudolf, formerly of Thomas Keller Restaurant Group, knew when partnering with Kellogg's to open a Kellogg's cereal café in Times Square. (Kellogg's provided a one-time investment in the store, Di Capua said.)
Cereal works for an all-day café, Di Capua said, because it "is a great unifier I think. It's something every single person recognizes." She added that Kellogg's "has a reach far beyond any other brand I can imagine."
Di Capua and Rudolf, the café's co-owners, played it relatively safe, signing a one-year lease with two one-year options for Kellogg's NYC. As Commercial Observer reported last week, Kellogg's NYC has exercised its first option for the 1,600-square-foot space.
But it's not just retailing a cereal creation for prices starting at $5.95 that allows the owners to make ends meet. Kellogg's NYC promotes merchandise, has a catering business and hosts birthday parties.
"It's really only with all those things working in tandem that we can make it work," Di Capua said. While it's not yet making a profit, "We're at a point where we're very happy," she said.
The branding benefits of such a concept in Times Square—the asking rent on this particular property was $1,000 per square foot—are obvious, but Di Capua noted, "We're not doing a global marketing campaign. We're doing a café. It should feel like a café."
Landlord Sherwood Equities didn't think twice about having a uni-focused café in its building.
"Anybody opening in Times Square it's a bit of a gamble, but we thought it made sense given the co-tenancy and the uniqueness of the product," said Fred Rosenberg of Sherwood Equities, who represented the landlord in-house in the deal. "It complements M&M's store, which is above it. It was a natural fit."
The idea of using a restaurant or a shop as a branding vehicle might have had something to do with the fact that one of Kelogg's rivals—PepsiCo—opened up a high-end bar and restaurant called Kola House this fall at 408 West 15th Street between Ninth and 10th Avenues in the Meatpacking District. (Actual Pepsi products are notably absent from the online menu and the website.)
Greek yogurt company Chobani has had a good run since 2012 with its 800-square-foot Soho café at 152 Prince Street, serving yogurt-based fare and topping options. It has been so successful that Chobani opened a 1,314-square-foot shop inside Target in Tribeca at 255 Greenwich Street in October.
Ulrika Bengtsson, the managing director of Vive la Crêpe, said her company has been able to maintain several crepe locations in New York City because of the all-day factor.
Crepes are "something you can eat all day long," between the savory and sweet options, and they are enjoyed by people of all ages.
She added, "We can serve breakfast, lunch and dinner. There is always an opportunity to sell a crepe."
Like other single-food concept representatives, Bengtsson emphasized that the company's success is due to using fresh, quality products and providing great customer service.
MYT Group, a restaurant group founded by three brothers from Mexico City, launched Viva la Crêpe in 2009 on Spring Street and that location is "still doing great," Bengtsson said. The brothers lived in France for a while, fell in love with crepes and, after success with a creperie chain in Mexico, decided to bring the tasty treats to New York City. The brothers finance their own deals, along with some investors.
Heatonist, a gourmet hot sauce shop with tasting bar (and hot sauce sommelier), is going strong in Williamsburg since opening in April 2015 at 121 Wythe Avenue, its founder said.
But Heatonist is a little different than the other specialty shops because while it only sells hot sauce, it is a curated selection of gourmet hot sauces from small-batch makers.
"The thing with hot sauce is if you buy it at a store and you get it home and you don't like it, you won't use it, and 90 percent of it will go to waste," said Noah Chaimberg, Heatonist's founder. "The hot sauce would hang out on my counter and six months later I would throw it out. I wanted to try it before I bought it."
He started out with self-funded pop-up carts at events. After he was met with success for a couple of years, he found a 1,100-square-foot Williamsburg space (of which only 250 square feet is for retail, including the tasting bar). Chaimberg launched a Kickstarter campaign and raked in $27,000 from 360 people, which was "enough to get us over the finish line." He footed the rest of the bill.
The company counts on sales from retail, ecommerce and wholesale to cover its rent.
Why would someone go out of his or her way to buy hot sauce at Heatonist instead of just picking up a bottle in the local supermarket?
"I have tasted over 5,000 sauces to get down to these 100 on the shelves," Chaimberg said. "It's that curation that people value from us." He added, "we only carry all natural products and only do sauces from small-batch makers. It's that sense of discovery that you're going to see something new, maybe from a small island of Japan. You've never heard of the island much less the sauce. We unearth these gems you'd never ever come across on your own."
No matter the following, Someck said that he thinks the stores focused on one product are "still a tough sell." He questioned how many times someone would buy hot sauce, which he called "a novelty," and how often one would walk into Maille to buy a jar of mustard when it's on the shelves at Whole Foods.
Even when these single-product businesses have success in one location, it doesn't mean they will survive elsewhere.
Maille's Upper West Side location, which was the first standalone boutique for the brand, is struggling. Two years after the first-ever Dijon mustard shop opened in Manhattan in 1,137 square feet (637 square feet of it at grade) at 185 Columbus Avenue between West 68th and West 69th Streets, Maille Boutique is on the market for sublease with a $475-per-square-foot asking rent.
"The business has been great in Flatiron and slightly off on the Upper West Side," explained Soutendijk, who has the sublease listing. "The economics of that space don't make sense."
The broker said the co-tenancy is better for Maille in the Flatiron District than on the Upper West Side.
"It's not the time for one product," said Douglas Elliman retail specialist Faith Hope Consolo. "It's a very competitive market. It's been a very fickle retail market. [Besides], people fall out of love with one product."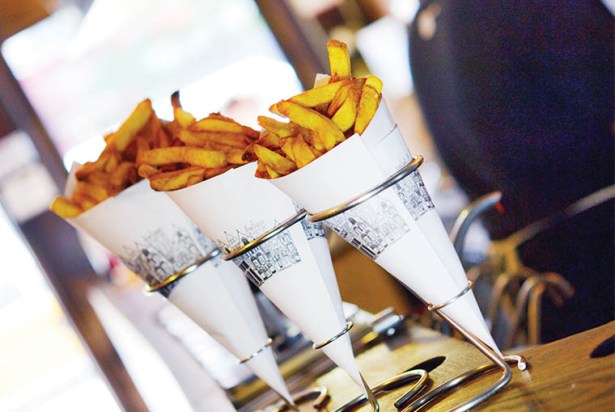 She anticipates that many new single-product makers will start to share retail spaces to make ends meet. She has received inquiries to that effect.
Suzanne Levinson, the co-owner of Pommes Frites, the Belgian-style fry shop with gourmet sauces, has learned about real estate issues the hard way. She has seen her business suffer since it reopened on May 22 in a new location, at 128 MacDougal Street near Washington Square Park, after the original location was destroyed in a gas explosion in the East Village in March 2015.
Since moving from the original 123 Second Avenue address, Levinson has relied on selling paper cones food packaging out of a warehouse in Brooklyn to make the monthly nut. (Prices for fries range from $4.50 to $7.25 with complimentary sauces. Special sauces cost $1.50.)
"We were much more stronger over there," she said. "It's kind of a slow start for us here." It could be that the setup is different, with the counter tucked away in the back rather than being visible from the street or that the storefront is down a few steps or that the rent is double the $5,000 a month she paid at the old place. "I'm not sure why it's not taking off," she said. She has even added beer and wine to help with sales.
Levinson came up with the idea for a New York City fries business more than 20 years ago after traveling through Europe and trying "Belgian frites in a paper cone doused with mayo." She thought, "This is the greatest thing ever" and realized New York City was home to various street food, but not fries. Armed with an art history degree and $100,000 collateral from her mother, Levinson quit her full-time travel agency job and spent six months creating a business plan.
Regardless of the current issues, Pommes Frites' staying power all of these years has been "consistency and the quality of the product," Levinson said. "You have to be the best. We work with a fresh potato every day. If it's not a good batch, we send it back."
Of course rent is an issue for any company in New York City, but when it comes to small businesses, it can be even more challenging.
Such was the case for small-batch mayonnaise production facility and shop Empire Mayonnaise Co. in Prospect Heights, Brooklyn. The store at 564 Vanderbilt Avenue, which made a cameo in a 2015 Saturday Night Live skit on the gentrification in Bushwick, closed this summer as the result of increasing rents, according to DNAinfo. Empire Mayonnaise Co.'s co-owner, Elizabeth Valleau, told the publication that the location "served its purpose" for four years, and she was on the hunt for a larger facility, possibly in Crown Heights or Long Island City, Queens. The company produced more than 60,000 jars at $8 a bottle in 2014, DNAinfo reported.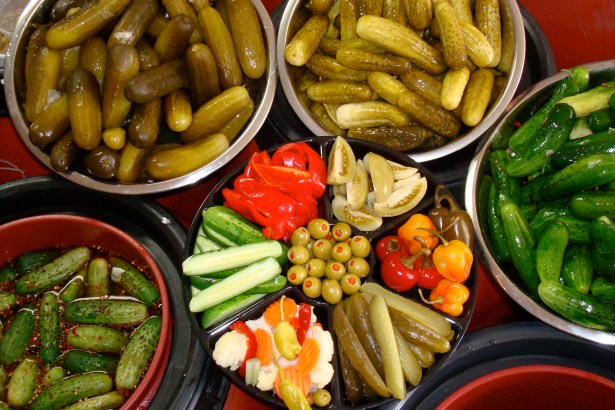 And some single-product food businesses just can't cut the mustard, perhaps, because the concept is just too far out, like Aussie meat pie purveyor chain Pie Face, founded in 2003 in Sydney. The entire company collapsed in 2014, and that included the closure of its seven New York City stores.
Melbourne-based Herald Sun reported in November 2014 that sources said the "business had suffered from 'aggressive growth' that saw 78 stores open across Australia and plans for 180 globally."
Someck opined that it was because "the product wasn't that great," and people, at least in New York City, didn't know what it was. "I didn't think it translated," he added.
"New Yorkers didn't know what an Australian meat pie was," Soutendijk declared.
One small business owner who hasn't found himself in a pickle despite only selling, well, pickles, is Alan Kaufman.
Kaufman is the owner of The Pickle Guys ("Guys" refers to him and the dudes who work for him), which, in addition to the sours and the Gherkins, offers other pickled vegetables. After 16 years at 49 Essex Street on the Lower East Side he is moving to slightly bigger digs across the street. He said he recently closed his Midwood, Brooklyn location when the lease expired because he needs the manpower at the new 2,000-square-foot place.
The secret sauce, he said, is having "good quality, a fair price and good customer service." He and his crew make everything on site, hand picking and hand packing merchandise daily. People buy from him, let's say instead of a market with a pickle bar, because "Everybody here has lots of experience," Kaufman said. "I sell to some gourmet places with pickle bars. They don't maintain it. We take care of our product. We're very proud of our product."
121 Wythe Avenue
,
123 Second Avenue
,
128 MacDougal Street
,
152 Prince Street
,
1600 Broadway
,
185 Columbus Avenue
,
255 Greenwich Street
,
408 West 15th Street
,
49 Essex Street
,
564 Vanderbilt Avenue
,
927 Broadway
,
Alan Kaufman
,
Alan Someck
,
Anthony Rudolf
,
Chobani
,
David Gialanella
,
Douglas Elliman
,
Eleven Madison Park
,
Elizabeth Valleau
,
Empire Mayonnaise Co.
,
Faith Hope Consolo
,
Food & Drink
,
Fred Rosenberg
,
Heatonist
,
Institute of Culinary Education
,
Jedd Nero
,
Kellogg's
,
Kellogg's NYC
,
Kola House
,
La Maison Maille
,
Maille
,
Michael Gleicher
,
MYT Group
,
Noah Chaimberg
,
PepsiCo
,
Pie Face
,
Pommes Frites
,
Sandra di Capua
,
Steven Soutendijk
,
Susan Kurland
,
Suzanne Levinson
,
Target
,
The Pickle Guys
,
Thomas Keller Restaurant Group
,
Ulrika Bengtsson
,
Vive la Crêpe
,
Washington Square Park
,
Winick Realty Group
,
Avison Young
,
Cushman & Wakefield
,
Savills
,
Sherwood Equities