Kellogg's Is Doing Grrreat in Times Square, Renews for Another Year
---
---
Kellogg's NYC, an all-day breakfast café open since the summer, is remaining in its Times Square digs for another year, Commercial Observer has learned.
While the first-ever permanent Kellogg's-branded eatery is not yet making a profit, "We're at a point where we're very happy," Sandra di Capua, a co-owner of Kellogg's NYC, told CO.
The restaurant opened its doors on July 4 in 1,600 square feet of ground-floor space (800 square feet for dining and 800 square feet for the kitchen) at 1600 Broadway with a one-year lease and two one-year extension options. With the leasing expiring on Feb. 28, the owners have recommitted for another year on the block between West 48th and West 49th Streets, according to di Capua, who previously worked at Eleven Madison Park. Di Capua and Anthony Rudolf, formerly of Thomas Keller Restaurant Group, partnered with Kellogg's to open the eatery.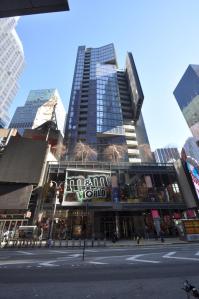 The asking rent for ground-floor space in the building is $1,000 per square foot, according to Fred Rosenberg of Sherwood Equities, who represented the landlord in-house in the initial deal. Di Capua said the actual rent is "a little bit under market as [the block is] evolving" and as of now is "a little bit sleepy."
ABS Partners Real Estate's Jennifer Bernstein and Mark Tergesen represented Kellogg's NYC in the transaction. Bernstein deferred a request to Tergesen, who didn't immediately respond with a comment.
The café, where dishes start at $5.95 for a cereal creation with a choice of milk, has a menu that includes milkshakes, pop tarts and ice cream sundaes. But it was still a bit of a gamble to open a restaurant focused on cereal less than a year ago.
"Anybody opening in Times Square it's a bit of a gamble, but we thought it made since given the co-tenancy and the uniqueness of the product," Rosenberg said, adding, "It complements M&M's store, which is above it. It was a natural fit."
1600 Broadway
,
Anthony Rudolf
,
Eleven Madison Park
,
Food & Drink
,
Fred Rosenberg
,
Jennifer Bernstein
,
Kellogg's NYC
,
Mark Tergesen
,
Sandra di Capua
,
Thomas Keller Restaurant Group
,
ABS Partners Real Estate
,
Sherwood Equities