Two Construction Workers Die in Queens Accident
---
---
Two construction workers were killed on a job site at 81-10 135th Street in the Briarwood section of Queens yesterday, after being crushed by a 6,500 pound steel beam that fell from a crane, city officials confirmed.
George Smith, 47, was operating a crane from Brooklyn-based Crane Express when the beam disengaged from the hoist and fell, smashing into Smith in the crane's cab and flag man Alessandro Ramos, 43, who was nearby, authorities said. Emergency Medical Services and police were called around a little after noon, and the first responders pronounced the men dead on arrival.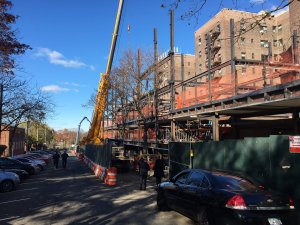 "This was a tragic accident—two people will not be going home to see their families tonight," New York City Department of Buildings Commissioner Rick Chandler said in a prepared statement. "Today's accident is a stark reminder of the dangers inherent in construction work."
The worksite, where The Musso Group is enlarging a residential building by adding some 50 additional units on the 134th Street side of the property, had no open violations and Smith did not have a history of accidents, according to a Department of Buildings spokesman. The crane also passed an annual inspection in June. Someone who answered the general line for the Musso Group referred Commercial Observer to the Department of Buildings investigation and said she "has no more information" on the incident before abruptly hanging up.  
There was a city advisory about winds reaching 40 miles per hour yesterday and, per Department of Buildings rules, crane operations should be suspended if winds reach greater than 30 miles per hour.
An investigation into the cause of the accident is ongoing, however, Chandler said the weather may not have been a factor, but could have been faulty equipment.
"We are at the beginning of a multi-agency investigation into the cause of this accident,"  Chandler said. "At this time, it appears that there was likely a rigging failure that resulted in the beam coming loose and falling to the ground. However, we have not made any final determinations."
Building and Construction Trades Council President Gary LaBarbera was quick to point out that the workers were not unionized, and that 85 percent of the 28 construction site fatalities in the last two years in the city have been on non-union sites.
"Today's incident was preventable and underscores yet again the need for a greater emphasis on construction safety and proper workforce training by the city and real estate industry," LaBarbera said. "The accident occurred on a non-union construction site and while union sites are not immune to tragedy, the evidence is overwhelming that unionized construction sites are safer."