Manhattan's Biggest, Ambitious Projects That Are Waiting for the Right Moment
---
---
Sometimes, when a reporter is invited into a developer's office and shown architectural plans on a drafting table and the master builder begins expounding on some 3-million-square-foot plan to "change the face of the city," one's eye inadvertently darts around the room looking for the crack pipe.
Yes, in the history of New York, there have been developers who have thrown themselves into plans so ambitious, so costly and so time consuming that they could only be described as fantasy—something so ridiculous as to be unreasonable.
But to borrow a phrase from George Bernard Shaw, "all progress depends on the unreasonable man."
The hopes of these unreasonable folks have not just flowered in Manhattan, where the biggest pie in the sky is baked, but in posh sections of Brooklyn and Queens. The plans include major infrastructure proposals that politicians hope will replace existing facilities that are the scourge of the city. Then you have mega-towers in Downtown and on the Far West Side—two areas that have seen their newest breath of life in decades.
It's been a good time to dream big. "There is strength across all sectors of the market," said Richard Anderson, the president of the New York Building Congress, which estimates construction and spending will hit their all-time peak this year. "There really is no weakness."
In Midtown, SL Green Realty Corp. is ambitiously moving forward with the 1.7-million-square-foot One Vanderbilt, although it has yet to secure a tenant to take up a large portion of the building.
But not everyone's that lucky. There are roadblocks for all of these projects: financing, securing tenants and even finding a proper site. While some of these projects are underway, others might never see the light of day—or at least have to sit on the shelf until they do, which can stretch out decades.
Let's not forget that the Pacific Park development in Brooklyn was first proposed in the mid-2000s—when it was called Atlantic Yards—when it faced loads of community pushback, and is just now starting to see the fruits of more than a decade worth of labor.
And projects surely change depending on where the market is going. Hearst Tower was originally slated to be a magnificent skyscraper in 1929, but the Great Depression forced the owner-occupier to cap it at just a few floors. It wasn't until 2006 that the publisher completed a bona fide tower at the site.
Eleven Madison Avenue was another victim of the era: Developer Metropolitan Life Insurance had big plans to make the site home to the first skyscraper over 100 stories, but market conditions left it at a stumpy 30 stories.
Here are five of Manhattan's most ambitious projects and some of the problems they face getting to the finish line.
With additional reporting provided by Liam La Guerre.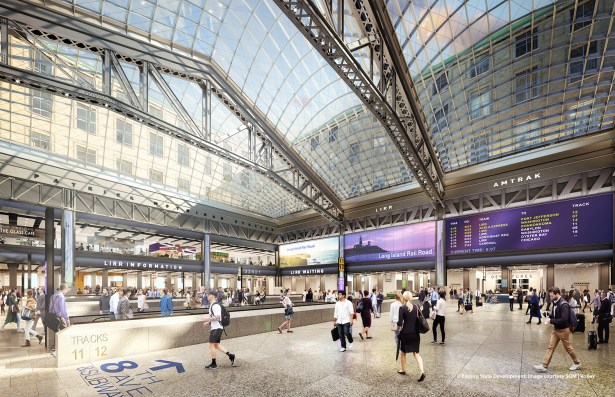 Empire State Station Complex
Size: 950,000 square feet
Developer: Related Companies, Vornado Realty Trust, Skanska, Empire State Development Corporation and TBD
Okay, it might actually be happening this time.
In January, Gov. Andrew Cuomo announced a new plan to overhaul the James A. Farley Post Office—the mammoth, block-long structure running along Eighth Avenue between West 32nd and West 33rd Streets.
The idea is that it will be incorporated into the new transit hub of Pennsylvania Station and will feature office and retail space.
Empire State Development Corporation, which is handling the bidding process for a private developer, named a joint venture of Related Companies, Vornado Realty Trust and Skanska to overhaul the building. The Moynihan plan is expected to cost $1.6 billion (at least it was, in the September  announcement.)
Big news, right? Not quite. You see, roughly a decade earlier Related and Vornado were also tapped to develop the 1912 structure into an office and retail complex. But because of slowdowns in the process (a recession and revolving governors with different agendas), the project never got off the ground, although the companies still had development rights. That was until they were nullified by Cuomo's January announcement.
"The pressure is on them to deliver now that the governor and the state have redesigned them as the joint developers," said Anderson, the Building Congress president. "What they need to do is get a tenant in the back of the Farley building."
Preconstruction has started throughout the fall, and work at the 255,000-square-foot train hall is slated to finish by 2020, according to the governor's office. In addition to the post office, the developers will create 112,000 square feet of retail and 588,000 square feet of office space. There will also be a 70,000-square-foot balcony overlooking the train hall, which will serve as an extension for Amtrak and the Long Island Railroad.
Although the Moynihan Station side of things has all been sewn up, there are still a lot of undetermined ETAs for the overall train hub, which is being called Empire State Station Complex.
A developer has yet to be named for the Penn Station overhaul, which would completely redo the existing facility while it continues to operate. Construction at that site includes widening and brightening some of the station's corridors. The MTA is undertaking a redesign of Penn Station's entrances on West 33rd Street and on Seventh Avenue.
The renovation also requires a relocation of the 5,500-seat Theater at Madison Square Garden, which sits above the Seventh Avenue entrance to the station.
Fans of the old Penn Station, demolished in the 1960s, have sought the opportunity to advocate for a relocation of MSG and build a new version of the aboveground train hall in its place. But NYU's Rudin Center for Transportation Policy and Management found in May that moving the Mecca of Basketball even a few blocks could cost something to the tune of $5 billion.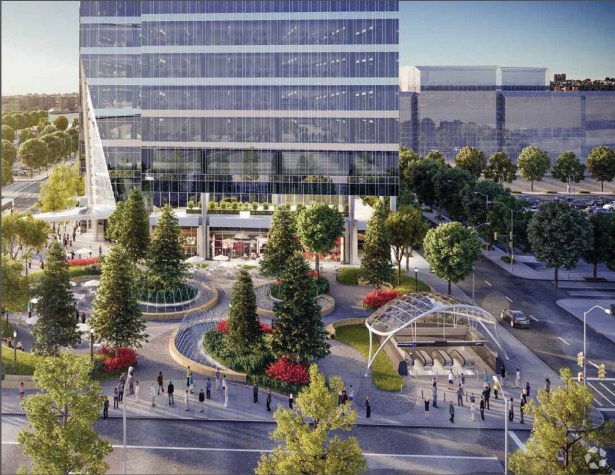 3 Hudson Boulevard
Size: 1.8 million square feet
Developer: The Moinian Group
Developer Joseph Moinian was one of the first real estate moguls to plant his flag on 11th Avenue when it was still an area of low repute. But his 3 Hudson Boulevard at 11th Avenue and West 34th Street is slow to take shape.
The 1.8-million-square-foot tower has been under development for some time now as rival towers by Related Companies and Brookfield Property Partners start taking shape. While the building is slated to feature retail and office space, there is the possibility that upper floors could also become luxury residential units.
In May, The Moinian Group started on about $100 million worth of foundation work at the site despite not securing an anchor tenant.
Bloomberg reported in May that the overall cost of the project is slated to be $2 billion. Moinian told the news service that he was sure a tenant would soon commit to the property, thus allowing it to move forward with financing and the rest of construction.
But the fact that it hasn't been built yet is its strongest point, said Arthur Mirante, the president of Avison Young's tri-state region and who is marketing the property. Because structural work has yet to begin on the project, floor plates can be adjusted and ceilings at the base of the building can be increased based on what an anchor tenant might want, including more outdoor space.
Mirante added that the developer was open to doing joint ventures on the project, including finding partners who would take office space in the property. Residential luxury units are also still on the table.
"We can still tinker with our design," he said. "Not only do we have flexibility still from a design point of view, but we have financial flexibility."
The Spiral
Size: 2.8 million square feet
Developer: Tishman Speyer
Once upon a time, Tishman Speyer could have been the developer of what's today the Hudson Yards complex. But because the market wasn't right, executives decided not to build a city within a city on top of a rail yard.
Now, however, the owner of Rockefeller Center and the Chrysler Building has its chance to shine on the Far West Side. Tishman Speyer has ambitious plans with The Spiral, a 2.8-million-square-foot office tower along 10th Avenue between West 34th and West 35th Streets (its official address will be 66 Hudson Boulevard). Starchitect Bjarke Ingels designed the 1,005-foot tower. His concept includes greenery going on the spiraled terraces of the building that at the bottom links to the end of the High Line.
Tishman Speyer, which declined to comment via a spokesman, still has a ways to go on the project (one of two properties it plans to construct on the Far West Side). The developer has secured $1 billion in equity from unidentified international investors, Bloomberg reported in February. Part of that money has been used to pay for development rights, which Tishman Speyer has purchased from the Metropolitan Transportation Authority.
But before the trees of the High Line start hitting the skyline, a couple of things need to happen. Namely, Tishman Speyer needs a large-scale tenant to occupy a decent chunk of the building, which rivals 1 World Trade Center and the Empire State Building in terms of square footage. Financing for the project has also yet to be announced for the project, which means they're likely relying on a tenant to sign.
Private equity giant Blackrock is rumored to be the prime candidate to anchor the building. But in recent weeks, reports have indicated that the mega-money manager is leaning toward 50 Hudson Yards, a planned office tower under development by Related Companies and Oxford Properties Group at 10th Avenue and West 34th Street.
"There's always a question whether market demand is sufficient to fill the space," Anderson said of overall development on the Far West Side. "Right now supply is growing rapidly and the question is whether there's sufficient demand to fill it. Only time will tell."
125 Greenwich Street
Size: 465,000 square feet
Developer: SHVO, New Valley and Bizzi & Partners Development
This one could go from Shvo-go to no-go.
Well, sort of.
Preliminary construction work has already begun on the Rafael Vinoly-designed 125 Greenwich Street, the super-luxury residential tower under development by SHVO, New Valley and Bizzi & Partners Development.
Before we get into the road bumps, we should acknowledge that this project might be in the best shape out of any on this list. Last December, SHVO signed a lease at 1 World Trade Center two blocks north of the site to set up a sales gallery for 125 Greenwich Street. Some of the financing has all been tucked away with $175 million in EB-5 debt. And in June, the developers wrapped up foundational work.
But what goes on top of that foundation keeps changing. In September 2014, the project was announced as a 1,356-foot tower with 128 condominium units. That all changed this summer when filings with city and state agencies indicated the skyscraper would be more than 1,000 feet. (Some renderings indicate it will be taller than the 977-foot 4 World Trade Center, which is across the street.)
But plans submitted earlier this year to the New York City Department of Buildings stated the tower would only be 876 feet tall. The number of units has also increased to 275 for-sale apartments. 
Construction of what could be another supertall tower in Lower Manhattan comes amid a softening condo market and personal problems for one of the developers.
In September, SHVO founder Michael Shvo was arrested by the Manhattan district attorney on a slew of charges related to his art dealings. Shvo, a former Douglas Elliman broker who became a developer during this real estate cycle, could face five to 15 years in prison on the most serious offense if he is found guilty. He has pleaded not guilty and is due back in court in early December.
Meanwhile, things are not looking hot for the condo market, especially in Manhattan. A July 2016 StreetEasy report shows Manhattan and Brooklyn condo sales had the smallest amount of price growth since 2012, and it was taking an average of 13 days longer to sell homes in Manhattan. While that might not be enough to kill a project like this, history indicates that it can change the layout in terms of size. Experts pointed to 432 Park Avenue, where some full floors were cut up into two units because the prices were too high.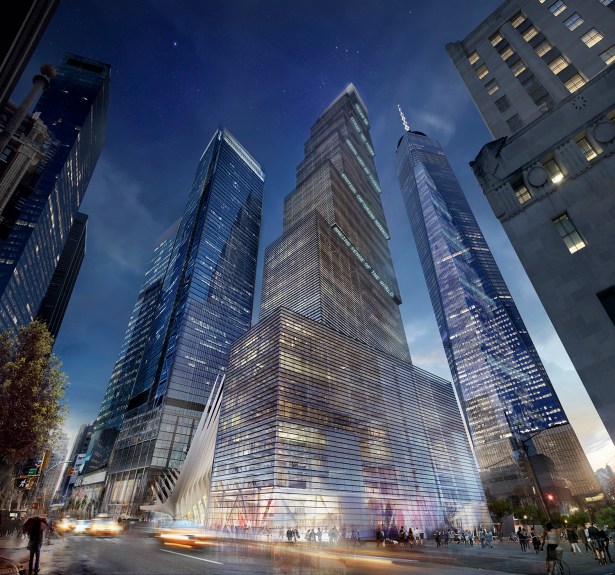 2 World Trade Center
Size: 2.8 million square feet
Developer: Silverstein Properties
Things were going the right way for construction of 2 World Trade Center at the beginning of this year. The tower, the last in the World Trade Center master plan, had a snazzy design, a ready developer and an anchor tenant all but sure to sign a massive lease. But as 2016 comes to a close, the last piece of the reconstruction puzzle is still awaiting an anchor tenant.
That's because News Corp. and 21st Century Fox backed out of a deal to occupy nearly half of the 2.8-million-square-foot tower in January on the grounds that the companies couldn't facilitate a move to Downtown.
The sudden 180 by the media companies left Silverstein Properties looking for a new tenant to fill the space. Without one, the developer cannot secure the financing for the Lower Manhattan tower.  
What Silverstein does have going for it are two designs for the site. Sir Norman Foster drafted the original plan for the building in 2006, but the News Corp. negotiations eventually led to Bjarke Ingels coming in for a redesign. Executives at the company have remained confident that an anchor tenant—either a media company or a financial services firm—will soon sign to the building, which they hope will be completed by 2021.
In the meantime, some of the money earmarked from that project has been moved to more tangible developments. The developer had been raising funds through the EB-5 system, which allows foreigners to invest up to $500,000 each in exchange for a visa. Roughly $70 million out of a planned $500 million had been raised before the deal went through. The Real Deal reported in mid-November that Silverstein had gotten approval from its investors to transfer the funds to Harry Macklowe's conversion of 1 Wall Street.