The Plan: Kaufman Organization's 155 West 23rd Street
---
---
In a city filled with development, having natural light is a rare commodity that seemingly every tenant wants.
But is it possible to get light in the lobby?
Oddly enough, the Kaufman Organization found a way to create an artificial window at the entrance to 155 West 23rd Street in Chelsea. When you look up at the light (and we say that in the electrical sense of the word), it appears as if you're looking at a blue afternoon sky, according to Brad Giambrone, the assistant director of operations and maintenance at Kaufman.
The light, imported from the Italian firm CoeLux, is one of the many things Kaufman is doing to breathe new life into the 105-year-old property between Avenue of the Americas and Seventh Avenue. The company entered into a $45 million ground lease in September 2015 with Gary Barnett's Extell Development Company.
Originally part of the 13-building Ring Portfolio—in which Extell paid $308 million in January 2014 for the controlling stake—Barnett at one point planned to convert the 83,196-square-foot building into some type of residential use, according to Grant Greenspan, a principal of Kaufman.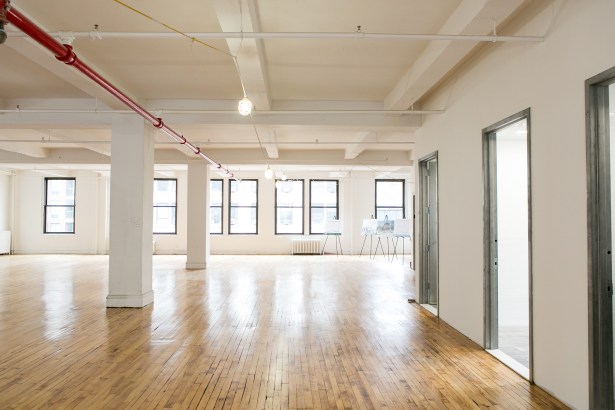 Kaufman embarked on a $9.5 million renovation program to replace everything from infrastructure (boilers and elevators) to a new roof deck that's being marketed to whomever takes the top two to three floors. Giambrone said the renovation will finish next month after kicking off as soon as Kaufman closed on the building in September 2015.
Kaufman is now marketing the property to creative tenants working in the technology, advertising, media and information services (or TAMI) realm, Greenspan said.
Luring in those types of tenants played a role in how Kaufman repurposed the building, which had been vacant for roughly a decade, according to Greenspan.
Because new creative-type tenants like the grit of old Midtown South buildings, the landlord opted to keep the original floors—worn and weathered from 100 years of garment-related companies using them.
"They're historic-looking loft buildings," Giambrone said of the Ring Portfolio, of which Kaufman now owns several. "When we renovate them, we try to keep that character there. We found that those types of tenants gravitate to that look—a restored building with that old charm but with modern upgrades and wires."
Greenspan said he's trying to market each prebuilt floor to a single user, instead of dividing it into partial offices. Asking rents for the spaces are in the $70s per square foot, he added.
Kaufman is also repurposing the roof deck to be used as an amenity to whomever takes the upper levels of the 12-story structure. Giambrone said the potential for greenery on the roof ties into the rustic, original nature of the building.
That goes all the way down to the lobby, too. Kaufman hired Design Republic to design the roof and entrance, which will also include greenery.
"It's the idea of differentiating yourself from the pack," Greenspan said. "So when [people] come into the building, they have the experience of the 'wow' factor in the lobby."