Robert A.M. Stern Takes Aim at Brooklyn Developments, Glass Towers and the WTC Oculus
---
---
Few people deliver a stern rebuke better than Robert A.M. Stern.
Looking out the windows from Stern's office on the Far West Side of Manhattan, one can see a project under construction that almost any architect would take an interest in: Hudson Yards.
"What is there to smile about," Stern said. "My view of the Hudson [River] is gone."
Dressed in an immaculate dark blue suit, with a slightly out of place Disney wristwatch, the dean of Yale School of Architecture (until earlier this year) and architect behind 15 Central Park West, is not one to mince words. He is willing to savage an unworthy building or transit hub—or complain about his lost view—if you ask him his opinion.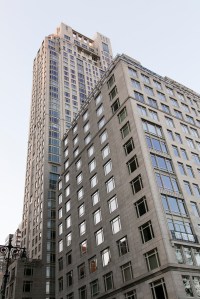 He's also willing to gush. Whether it's about the project that he's in the middle of in London's Mayfair, or his affection for limestone.
"I would like to leave my mark on the skyline of the city," Stern said. "I loved the skyline as a kid, taking the F train. I am going to write an autobiography, 'Take the F Train.' When the F train would come out of the tunnel, around the Fourth Avenue station, I would always stand at the front of the train and see this amazing skyline."
Commercial Observer sat down with the legendary 77-year-old architect to grab as many perspectives as we could get in an hour.
"Why am I saying this all to you?" he asked midway through our interview. And, then he answered his own question with a cutting: "because no one reads your magazine—that I know of."
If that's true, at least we won't get any complaints.
Commercial Observer: Why didn't you choose to focus on Brooklyn when you are a native Brooklynite?
Stern: There is a boom in Downtown Brooklyn, but the quality of the buildings being built is not stellar. The market doesn't command the high rate of return that you can get in Manhattan. But still I think the buildings in most parts of Queens and in Brooklyn could be better. The local politics is such that everyone is so thrilled to see something built that they'll settle for less. That's a bad thing because when the boom ends, which it always does, or cools down, you're often left with a lot of Class B products.
Have you been offered jobs in Brooklyn?
Virtually no. We were reviewed for a project on Fulton Street, but we did not get selected. It was a very interesting project, but I don't think it would be appropriate for me to say what it was. Years ago, in the late 1980s, we did work extensive work on the Brooklyn Law School. We did their tower, which overlooks Borough Hall, and I think it helped completely reposition the law school from its low status. It's not Harvard or Columbia or Yale, but it's a lot better than it was. As a Brooklyn boy, nothing would make me happier than to take the steps down of the Brooklyn Museum and try again because I feel like what was done there was not successful [the original McKim, Mead & White staircase was demolished in the 1930s]. But no one has asked me to do it.
If you had your choice of buildings to topple, would that be the one?
No! The Brooklyn Museum?! No!
The stairs, I guess?
No! Years ago New York magazine asked me what building I would topple. I said the PanAm Building—but I said they should save the sign. Always the smartass.
Now we know you didn't want to tell us your favorite building in New York, but are there a couple that stand out to you?
It's so cliché to innumerate them. I mean, who could not love Grand Central [Terminal]? And especially after the Calatrava Station, who could not love it more? [The Oculus is] not my favorite building—I'll [go] on record with that.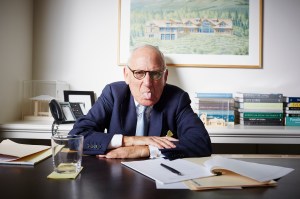 Not worth $4 billion?
Well, the money I don't know. But it is a disappointing structure to me. I don't love the way it looks [or] the way it works. Grand Central has people coming in from all sides—it's a crossroads, it's the San Marco of New York. The Calatrava Station is linear, so if you stand there for half an hour or so, you can tell when the PATH train has arrived: [Passengers] come through, most people don't stop, they're on their way to something else. Then you see shops ringed around the edge. I think they're too far apart. It's a shopping mall. Grand Central has a few shops, but it's a train station!
Have any young architects made an impact on you?
Well, I'd like to think I made an impact on younger architects.
Yeah, but we figure that one is too easy.
There are a lot of interesting young architects in New York, but it is much harder to establish yourself as an architect in New York than when I did. I think the time of the beach house of Long Island or converting slightly antediluvian co-op apartments on Park Avenue or Central Park West to make them more child-friendly—that's all been done. People of my generation, like Charles Gwathmey, Richard Meier, Jaquelin Robertson, we all did that kind of work and had a chance to polish our skills and make our connections to clients.
But there are wonderful architects like Claire Weisz and Mark Yoes; they call themselves WXY Architects. They've done a lot of interesting projects that are kind of beneath the radar, but they do a lot of good work to reinforce the city fabric.
Tell us about your thoughts on glass.
For most people, a glass box is a glass box. We've done a few glass buildings. I'm not against glass; I'm against the mindless use of it. I don't much like glass as a material for residential building. I think the wonder of residential buildings is the rhythm of windows—big windows in living rooms and smaller windows in bedrooms, bathroom windows or kitchen windows. And you can change the arrangement of the floor plans, so that on the lower floors you have many smaller apartments, and if you go up it gets bigger—so the window pattern changes. That's lively! When you look at buildings like that, your eyes get engaged.
Speaking of materials, why'd you get so into limestone?
You know why I like limestone? Because it's incredibly beautiful material and it's very varied. There are all different kinds of limestone from Indiana and Alabama in our country and from France and Portugal and Jerusalem stone. They take the light in a beautiful way, and they look solid. They don't look like buildings you can open with a can opener.
Did you think that the Zeckendorfs would get behind your idea to do 15 Central Park West in limestone?
The Zeckendorfs were and are amazing. They came to us, and they had a little competition between us and another architect. The other architect was surely going to do a glass building. They asked us if we would do a glass building. We thought about it and said no. We thought it would be a brick building. For example the Century apartments next door, which is a beloved landmark, is brick. The Chrysler Building is brick. But Will [Zeckendorf] and his brother Arthur had made a study of buildings they love in New York. They came to me with a notebook of all these buildings from the Empire State Building to the Metropolitan Museum to 740 Park Avenue.
There really hadn't been a limestone building built since before the Second World War; the buildings that were built were either the expedient Emory Roth–type curtain-wall building mostly for offices or rather low-ceiling white brick buildings [like] Manhattan House. Anyhow, we studied it, we did markups, we stood in the freezing cold on a day in December. I got the world's worst cold as a result. If they hadn't made the right choice, I would have sued them for architect abuse. But they decided to go for the extra money, and it was a brilliant move—just the same brilliant move by the way that led them to buy that piece of property. It is the most expensive piece of residential real estate parcel ever bought. [They spent $401 million in 2004 for what was the Mayflower Hotel and a vacant lot next door.]
We used totally modern techniques. We cut the stone in Indiana. We chose Indiana empire quarry stone—the same stone used on the Empire State Building—then we sent the material to Canada where it was placed on precast panels. It was then trucked down to New York. Now, on 220 Central Park South [the condominium Stern's currently working on with Vornado Realty Trust], the technology has evolved, and we are using metal framework to assemble the building. So, the use of stone should be as modern as anything else. The argument that stone is 19th century material is a ridiculous argument…[but] many developers—not the Zeckendorfs of the world—fall for it because it's cheaper.
Were you offered an apartment in 15 Central Park West?
I don't think so.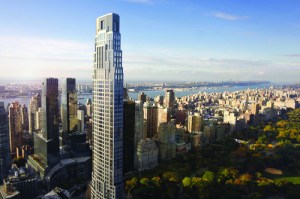 Not for free, obviously, but were you offered to get in on the ground floor?
Fifteen Central Park West was a deal beyond my reach. Also, I live in an apartment in the building called the Chatham [at 181 East 65th Street], which is a building that I designed. I am perfectly happy there…but it's pretty pricey [at 15 CPW].
It'll be interesting to see our building at 220 Central Park South, which is now taking shape. I just visited the 50th floor of the tower, and I think it was the eighth floor of the villa. Oh, my god, the views are unbelievable. You're beginning to see the stone on the west side and the south side. I am looking forward to the contrast of whatever the building above will look like.
One last question about 15 CPW: Did you read Michael Gross' book and do you keep up with news about the building?
Well, I read it, but I didn't like it. It's too gossipy. I think it's interesting who is there, but it intruded on people's private lives unnecessarily. He could have talked more about the building. People will buy and sell apartments, some will come and go, some will stay there for years. I didn't find it a higher form of gossip.
Fair enough. Tell us a bit about 30 Park Place.
Well, we were hired to do the Four Seasons at 30 Park Place in 2007. We were booming in 2007. Larry [Silverstein] had made a deal with one of the big financial people. They had a big building on the site. Larry was finishing 7 World Trade Center, and he needed a tenant. He was able to move them into the 7 building. Then what was he going to do with this? He said, "Let's build a hotel."
So he talked to Four Seasons, and they wanted to come Downtown. It's a top hotel chain, in the world probably, and now you have a hotel with super rooms, amazing restaurants, a ballroom. Then there's the health club, and the apartments above that have sold very, very well. If you want, get down there and go to the top of the building—the views are stupendous. You see the two rivers coming together, you see the harbor, you see Staten Island, you see Brooklyn. Brooklyn never looked better than from 30 Park Place.
I wanted to make the building like buildings I admire in Lower Manhattan, particularly 1 Wall Street—the Irving Trust building—and I interpreted it. I love to interpret things I like and give them new spins. What does your generation call it when you do a new spin? Like the guys with the records? 
A remix?
Ah, a remix. I like a little remix actually.
Is China the primary location where you're working outside of New York? Or are there other cities you're looking at?
China isn't a city. It is a country.
Yes, we are aware.
We have a lot of work in China and in Hong Kong, which you may or may not consider a part of China. I have been talking to people in Indonesia, but it is a more complicated situation there. But we have lots of work in San Francisco—two significant residential projects that will go into construction in the beginning of the New Year. We're working in Los Angeles. We still do houses by the way, single-family houses. We're doing work in California, upstate New York, Southampton and East Hampton.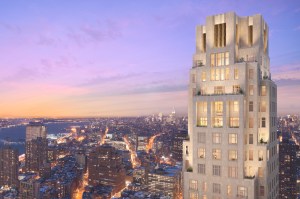 We have lots of university work. We have become specialized in schools of business—Alabama, Georgia, Kentucky are recent ones. We're working with the Kennedy Government School at Harvard. I think I'm the only Yale dean ever to have designed three buildings in Harvard. That says something about Harvard. Let's leave it at that.
If you could pick a rule to change in New York City in terms of the building code, what would it be?
I think the zoning code in 1961 was a terrible mistake. It favored the tower on the plaza, and we've spent 50 years tinkering with the bloody code to ameliorate that. I profess to be flummoxed by the zoning rule. When you have somebody strong, with clear thinking and a fine designing sensibility like Amanda Burden, she would sit down and have her people figure it out; we would debate things.
You did George Bush's presidential library. What would you do for Donald Trump?
Don't be silly! I will say this: People told me don't do [the Bush library]. He was at the nadir of his popularity. I said wait a minute. First of all, he is president of the United States. Secondly, he is president of the United States for eight years. He's incredibly popular with people who don't live on Manhattan island. You have to have his archive. He has a great foundation that is doing amazing things. He's not a fascist dictator despite what some newspapers might say—he's a wonderful person if you get to know him. So it was a pleasure to do that project. I think many people come away [from the library] with respect of how complicated it is to be the president of the United States. You have to think a little before you blab—something that Donald has not quite caught on to yet.
Are we done? I think if the interview ends on a note about Donald Trump, I'm ready to blow my brains out.
What's with the watch?
That's a Disney watch. They give it out when you're on the board [Stern served on the Disney board from 1992 to 2003]. I had a fancier watch that kept falling off, and I thought, "It is a very expensive watch, and if it falls in the gutter somewhere, I won't find it." So I switched. Nobody every commented on my other watch. No one! Not a soul! Everybody comments on this watch.
15 Central Park West
,
220 Central Park South
,
30 Park Place
,
7 world trade center
,
740 Park Avenue
,
Brooklyn Law School
,
Chrysler Buidling
,
Emory Roth
,
Grand Central Terminal
,
Larry Silverstein
,
PanAm Building
,
Robert A.M. Stern
,
The Brooklyn Museum
,
Vornado Realty Trust