Peter Von Der Ahe Explains Why It's Better to Be 'Hyper Specialized'
---
---
Let's say you had to make a choice between knowing a sector of the real estate market—like retail or multifamily—or knowing a territory.
Peter Von Der Ahe knows what he'd choose. The former wins, hands down.
"If you were going to start a cab company and you were going to be Bob's Cab Company and you only focused on Williamsburg and you were the best cab company in Williamsburg, do you think you could stand up against Uber?" Von Der Ahe, a senior vice president at Marcus & Millichap, posed to Commercial Observer. "I think what the world is teaching us is Bob's Cab Company is going to be out of business. And Uber is going to beat them, because it's a better service for the customer."
Taking his own advice, Peter Von Der Ahe and his team of nine brokers have been focused solely on multifamily investment sales in New York City.
"We have just found that we can do a much better job for our clients if we are hyper specialized," Von Der Ahe said. "When I started in the business, it would be more common to just find someone who would buy a building in their little submarket. What we have really seen as New York has continued to evolve is that buyers and sellers are moving around different markets to where the biggest opportunities are."
And Von Der Ahe's expertise is impressive. He has been the top multifamily investment sales broker for the firm for 15 years straight (his entire tenure at the brokerage). Year to date, Von Der Ahe's team has completed more than $1 billion worth of real estate transactions and sold about 70 buildings. During all of 2015, the team sold 102 buildings for a dollar volume of about $802 million.
Of course, Von Der Ahe's multifamily investment sales team is very active in Manhattan.
In April they completed a $58 million sale of the apartments at 50-58 West Third Street between First and Second Avenues. Von Der Ahe and his team represented the seller, investment fund GRJ, which sold the three contiguous buildings to Anbau Enterprises. There are 71 apartments and the properties comprise 52,481 square feet.
And the team completed a $38.5 million sale of 118 East 93rd Street in Carnegie Hill in July. The 38-unit building, which is 42,857 square feet, sold for more than $1 million per unit. Investor Lazar Gazivoda sold the nine-story property to Crest Realties.
While Manhattan has been a big focus, Von Der Ahe and his team have completed many large sales in the outer boroughs as well. The team represented seller JMC Holdings and brought in buyer RockFarmer Properties in the $29.3 million sale of an apartment complex at 40-07 73rd Street in the Jackson Heights section of Queens in September. The 48,916-square-foot building, which was recently built in 2010 and has 34 units, is emblematic of what investors are looking for in today's market.
"That building has a 421a tax abatement and with new construction it puts you in a unique category because most of the rents are set at market," Von Der Ahe said. "So selling an asset like that you are selling at a higher cap rate than a building that has a majority of rent-stabilized tenants." (It has a cap rate of 5.04 percent.)
He added, "[RockFarmer] was evaluating Manhattan investments, Brooklyn investments, Upper Manhattan investments— they were evaluating everything. That just happen to be the one that fit their need at the time." 
Marcus & Millichap Vice President of Investments Shaun Riney, who has been recognized as the firm's top Brooklyn investment sales broker since 2011, joined Von Der Ahe's team a year and a half ago, and they've completed the sale of a six-property, $56.5 million apartment portfolio in the Clinton Hill section of Brooklyn. The 86-unit portfolio, known as Mohawk Apartments, has addresses of 379 Washington Avenue, 80-82 St. James Place, 377-389 Washington Avenue and 369-375 Washington Avenue. The Marcus & Millichap team represented real estate investor Abram Shnay and found the buyer, Akelius Real Estate Management.
"Peter has always been the top multifamily broker in Manhattan and for years I have been the head multifamily broker in Brooklyn," Riney said. "And there have been many synergies as many [Manhattan] buyers have been coming to Brooklyn."
While Von Der Ahe, a 41-year-old married father of four boys (ages 10, 8, 6 and 1), is one of the big dogs at Marcus & Millichap now, 15 years ago when he started at the Manhattan office just a few weeks after 9/11, he had little real estate experience.
It's true, one of his brothers was a broker in Los Angeles—where Von Der Ahe was born and raised—but that didn't prompt him to turn to real estate. Instead, he listened to his stepfather's advice when it came what to study in college. 
"He said, 'Spend your time in college getting a more liberal arts, well-rounded education, and if you need more business skills, you can do that after college. But this is your time to think about life, how to think, what you are thinking about, how to write and how to read,' " Von Der Ahe recalled. "So there was no grand plan."
He graduated from Boston College in 1997 with an English degree and wanted to be a writer—which he would get a stab at later in life. But at his heart, Von Der Ahe was always a salesman.
He disliked working at part-time jobs in high school where he made hourly salaries (such as one at a sports shop), and even started his own car-waxing businesses.
"I had the hourly jobs and I realized in high school I could make $40 to $50 if I waxed somebody's car," Von Der Ahe said. "So I was always selling [that service] to people. There is a little dopamine rush when you make a sale."
The same year he graduated from college, he moved to New York City and worked for a few years in the sales department of Hotjobs.com, a startup that was bought by Yahoo. And then became a real estate consultant for Arthur Andersen, marking his first foray into the industry, until 2001 when he started at Marcus & Millichap.
Von Der Ahe has lived in New York City for nearly two decades since 1997 until he moved to Greenwich, Conn. last year.
Besides sales—and writing—another interest he had was music. He learned the piano as a child and played in a band throughout college. He declined to reveal the name of his crew, though, saying, "We can't write the name of the band. It was basically like a Grateful Dead cover band."   
He still plays the piano when he wants to relax and sometimes to entertain or strengthen relationships with clients.
"He's an amazing and talented musician," said Joseph Koicim, Marcus & Millichap's first vice president of investments who has worked alongside Von Der Ahe for 12 years. "We have had situations with a client where we would win the business and he got on the piano and entertained the entire family. It was spontaneous."
In a city that's know for real estate in various types and ways, Von Der Ahe started with multifamily investment sales and still works in that same asset class today. Why?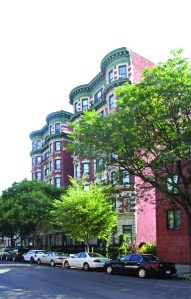 Multifamily has a various amount of story lines connected to it compared to commercial real estate, he said. And added that multifamily buildings in New York City produce some of the wildest stories ever.
"When my wife was just my girlfriend and I would go over to her apartment, she lived in a fifth-floor walk up on Avenue B on the Lower East Side," Von Der Ahe said. "At night, we would have to walk up, and below her, there was a Chinese man who must have been 150 years old, and he would leave his apartment door open, and his bathtub was in his kitchen. Most nights he was in the bath with the door cracked open, and you could see down to his waistline. These are only-in-New York stories."
But focusing on just one asset has a heightened risk factor as Von Der Ahe found out during the 2008 recession.
As a result of the housing bubble, his transaction velocity dipped about 70 percent in 2009 from the previous year, he said.
"It was silent for several months," Von Der Ahe said. "There was a shock period and then there was confusion. People were trying to figure out what's happening, what move should I make, because for a lot of people it was maybe I'm not going to do anything. As a broker that gave me some time."
He decided he had to do something else and wrote a book, Family Secrets, spilling secret strategies for New York City multifamily investing. (Michael Stoler wrote the foreword.)
Von Der Ahe believes the investment sales market has slowed down a little this year compared with last, but he is not ready to predict another downturn.
Recently, ZT Realty hired Von Der Ahe, Koicim, Riney and colleague Michael Salvatico to market an 18-building portfolio in central and northern Brooklyn neighborhoods for $80 million. The buildings have 174,378 square feet combined and 207 units—79 free market, and 122 rent-stabilized, one rent-controlled and five commercial spaces. The average residential rent in the portfolio is $1,989 per month, and it comes with a 4.61 percent cap rate.
And while he can't reveal most of the details yet, his team is about to start marketing an 800-unit portfolio that is split between Brooklyn, Queens and the Bronx, making great use of his principle of spreading out their reach across the city. Von Der Ahe said that the portfolio could achieve $200 million, and investors have already been lining up.
"The interest is pretty healthy so far," Von Der Ahe said. "The question is, Are these owners who are selling today going to get the same prices they were last year? There is nothing in the market that I see that would actually prevent these types of transactions from going forward right now."
118 East 93rd Street
,
369 Washington Avenue
,
377 Washington Avenue
,
379 Washington Avenue
,
50 West Third Street
,
80 St. James Place
,
Abram Shnay
,
Akelius Real Estate Management
,
Anbau Enterprises
,
JMC Holdings
,
Joseph Koicim
,
Lazar Gazivoda
,
Michael Salvatico
,
Peter Von Der Ahe
,
RockFarmer Properties
,
Shaun Riney
,
Uber
,
Yahoo!
,
ZT Realty
,
Marcus & Millichap