Gowanus Went From a Superfund Site to Super Fun, Thanks to a Smattering of New Hotels
---
---
"A madeleine is a kind of cookie," a mom outside the Whole Foods in Gowanus explained to her school-age daughter. "But also a kind of cake."
That might sum up Gowanus. It's not entirely one thing, or another. It's kind of a cheap alternative to brownstone Brooklyn, but it's also kind of a pricey (and soon to get pricier) hothouse for the next round of Brooklyn hotels. In the case of both Gowanus and the madeleine, the results are sweet.
According to Alec Shtromandel, the president of Greenwich Street Equities, which is the developer behind the Union Street Hotel and Gowanus Inn & Yard, there are currently a total of 800 hotel rooms in Gowanus.
Globiwest Hospitality, the developer behind Hotel Le Bleu is constructing a six-story, 58-room hotel on an empty lot at 399 Third Avenue between Third and Sixth Streets. And, Greenwich Street Equities' five-story, 76-room Gowanus Inn & Yard, which is located at 645 Union Street between Third and Fourth Avenues, is set to open later this year. Developer Sam Boymelgreen is contributing to the boom and has filed plans to develop a seven-story, 162-room hotel at 255 Butler Street, also between Third and Fourth Avenues. A 13-story, 176-room hotel is being developed by Miriam Chan a block away at 576 Baltic Street, while RJ Hospitality has plans to construct a five-story, 101-room hotel at 529 President Street. Both projects sit between Third and Fourth Avenues.
These are incredible developments for the area—and for the borough. "People have started coming to Brooklyn solely to visit Brooklyn," said Justin Fitzsimmons, a research analyst at GFI Capital Resources. "But [land] prices in Brooklyn are going up and these prices are driving the outer-borough hotel boom. Areas like Gowanus offer a cheaper alternative and are not quite there yet."
Nightly room rates in Gowanus average around $159 to $179—a significant dip from hotels in the hotter areas of the borough where the average is closer to $245, according to Booking.com
Fitzsimmons said hotel development in Gowanus has been coming in waves. The first included large chains like Holiday Inn Express and Fairfield Inn & Suites by Marriott. Today, the second wave is more niche and boutique, with the likes of Hotel Le Bleu, Union Hotel and the upcoming Gowanus Inn & Yard, which, in his opinion, should fare well because the high rates match the neighborhood's style.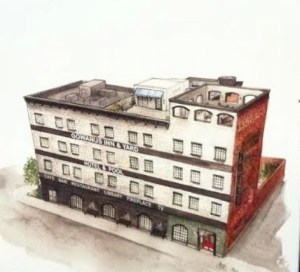 According to Diana Boutross, an executive vice president at Cushman & Wakefield, the trend will move more toward hotels that offer services that cater to relatives of young post-graduates and families that are moving into the area.
"I believe there are going to be twice as many hotels since zoning is conducive to hotel development," she added.
Zoning is one of the big unsettled issues for the neighborhood. Brooklynites of a certain age still associate Gowanus with its eponymous canal and barrage of environmental issues. In 2010, the Environmental Protection Agency added the canal to its Superfund National Priority List, stating that its contamination was a threat to its residents.
But the Department of City Planning recently announced that it will commence a rezoning study for Gowanus this fall. Most of the neighborhood is in the M1 or M3 zone, which allows construction of commercial spaces and hotels. The rezoning plan titled "Bridging Gowanus" intends to strengthen Gowanus as an industrial and affordable residential neighborhood, launch a cleanup initiative and improve its public spaces. It also plans to "place restrictions on hotels, big-box retail, self-storage facilities, nightclubs and large footprint offices to provide room for manufacturing to thrive."
A lot of the hotel boom can also be attributed to an influx of retail, which was spurred by comparatively low rents in the area. The potential of rezoning has made some developers cling to their properties, said Dan Marks, a partner at TerraCRG. This has slowed growth in the neighborhood, leading to limited inventory.
"We don't know what the rezoning will look like," he said. "Every neighborhood reacts differently when there are not a whole lot of large-scale development options."
Gowanus developers have responded to this by reinventing its existing inventory, Marks pointed out. Some landlords have taken to short-term retail leases for as low as $20 to $30 per square foot, he said. (Typical rents in renovated buildings in the area are at around $45 to $50 per square foot, according to Marks.) Others, like PWR (a joint venture between LIVWRK and FirstMark Capital) bought an abandoned building for $20.3 million, secured upscale clients like coworking space provider Cowork.rs and marketing company Genius Media before selling it last year for $73 million to Samson Management.
Both these approaches toward spaces have attracted retail tenants seeking an industrial look for their offices or stores and hotel developers who see promise in the neighborhood's commercial activity.
"Gowanus is maturing as a neighborhood and the price is significantly less [than its neighbors]," said Mitchell Hochberg, the president of Lightstone Group. "There are a vast number of hotel rooms in Long Island City as well, but it doesn't have the unique appeal of Gowanus, which has far more retail amenities."
Lightstone Group took on the construction of a residential complex at 363 and 365 Bond Street with a combined 700 luxury rental units. The latter building opened in March, and the former is still a year from completion.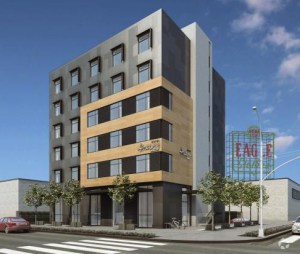 Geography is also a big reason why the neighborhood has flourished. Gowanus is nestled between Park Slope, Carroll Gardens, Cobble Hill and Boerum Hill, all densely residential areas.
The number of businesses in Gowanus has grown by nearly 44 percent since 2000, according to New York City Economic Development Corporation's 2013 snapshot, a surge attributed to the rise of wholesalers and craft makers. U.S. Census Bureau data also indicates that Gowanus has been attractive to young adults since the 1970s. After a population dip in the 2000s, the latest American Community Survey from 2007 to 2011 shows an increase in population again, particularly among young adults.
A walk around Gowanus proves it's a neighborhood under transition: You're greeted with the noise of drilling and a thick sheet of construction dust as you step out of the Union Street station. A billboard by Blink Fitness promises a new home coming to 227 Fourth Avenue, which will be occupying the former Brooklyn Lyceum. Orange construction cones and barricades dot Third Avenue. A small crane sits in front of the four-story Holiday Inn Express at 625 Union Street and almost every street corner has a vehicle repair shop or a car wash. But among the old industrial buildings are more upscale retail tenants—two raw bars that sell lobsters and beer, a robot foundry, a faux tree terrarium, a yoga salon and a drone shop.
Then there is the palatial Whole Foods Market, which opened its doors at 214 3rd Street in 2013. The supermarket chain is spread across 56,000 square feet with a parking lot and a rooftop overlooking the canal.
"The Whole Foods opening had a very large impact in the area, showing confidence and growing stability in the neighborhood," Fitzsimmons of GFI Capital Resources said. "It showed that Gowanus didn't just have small coffee shops but a big name."
Gowanus is not the only neighborhood to have experienced the hotel boom—there has been a borough-wide expansion (some would use the word "glut"). The glut (and subsequent slowdown) of hotel rooms in Brooklyn is something that should affect the market, as well. July data from STR, an analytics firm for the global hospitality industry, indicates that, while demand for Brooklyn hotel rooms has only increased by 9 percent compared with the year prior, the supply has increased by 14.8 percent. Another troubling sign is that occupancy is down by 5.1 percent year over year while pricing has remained flat at 1.4 percent, according to Jan Freitag, a senior vice president at STR.
Still, tourism in New York City is at an all-time high. The city received 58.3 million visitors in 2015, and that number is expected to rise by 2.4 percent to almost 60 million tourists this year, Fred Dixon, the chief executive officer of NYC & Company, the city's official destination marketing organization, announced earlier this year. And plenty of developers are swooping in to take advantage of the growing numbers.
Shtromandel, of Greenwich Street Equities, has already filed plans for a third hotel in the neighborhood beyond the Union Street Hotel and Gowanus Inn & Yard. According to him, these Brooklyn "oversupply" statistics don't hold true for Gowanus.
"The growth has been healthy, and there is no oversupply," Shtromandel said. "Building two hotels a year is not a boom; in fact there never was one."
Alec Shtromandel
,
Cowork.rs
,
Cushman & Wakefield
,
Dan Marks
,
Diana Boutross
,
Fairfield Inn & Suites
,
firstmark capital
,
Globiwest Hospitality
,
Gowanus Inn & Yard
,
Greenwich Street Equities
,
Holiday Inn Express
,
Hotel Le Bleu
,
Jan Freitag
,
Lightstone Group
,
LIVWRK
,
Marriott
,
Miriam Chan
,
Mitchell Hochberg
,
New York City Development Corporation
,
RJ Hospitality
,
Sam Boymelgreen
,
Samson Management
,
STR
,
TerraCRG
,
Union Hotel
,
Whole Foods Market