A Second Act for Gray's Papaya
---
---
Two and a half years after shuttering its Greenwich Village location, the iconic hot dog chain Gray's Papaya is opening up shop in Midtown West, independent broker Thomas Lee said. This will be the second Gray's Papaya in New York City, and marks the company's return to Eighth Avenue near Port Authority Bus Terminal.
The all-night hot dog establishment, founded on the Upper West Side in 1973, will occupy 1,300 square feet at Hata Realty Corp.'s 612 Eighth Avenue between West 39th and West 40th Streets so it can "take advantage of the high foot traffic from both commuters and tourists," Lee emailed. He was the lone broker in the deal.
The lease, signed yesterday, is for 20 years and the asking rent was $250 per square foot, Lee said, noting that the new outpost should open in three months. Owner Rachael Gray didn't immediately respond to a request for comment.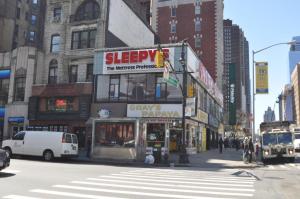 The wiener chain has its original and lone operating store at 2090 Broadway at West 72nd Street. Gray's Papaya closed down at 402 Avenue of the Americas at West Eighth Street in January 2014 due to a rent increase, as CBS News reported at the time. The rent issue also plagued the Gray's Papaya at 539 Eighth Avenue at West 37th Street, and it shuttered in 2011.
Alpine, N.J.-based Hata Realty bought the 1925 three-story building at 612 Eighth Avenue in 1984 for $1.1 million, property records indicate. The structure is 9,917 square feet and has residences upstairs, according to PropertyShark.
Port Authority Bus Terminal is surrounded by fast-food joints. As Commercial Observer reported in June, Jollibee Food Corporation is bringing its fried chicken, hamburgers, spaghetti and rice meals to Manhattan, joining Arby's sandwich chain at 609 Eighth Avenue.
2090 Broadway
,
402 Avenue of the Americas
,
539 Eighth Avenue
,
609 Eighth Avenue
,
612 Eighth Avenue
,
Arby's
,
Food & Drink
,
Gray's Papaya
,
Hata Realty Corp.
,
Jollibee Food Corporation
,
Port Authority Bus Terminal
,
Rachael Gray
,
Thomas Lee