SI Kicking Other Boroughs' Butts When It Comes to Hotels
---
---
When you think of Staten Island, you may not think of packed hotels with tourists banging down the doors to get into them. But the borough's hotels are faring well compared with their counterparts in other boroughs.
The hotel occupancy rate in Staten Island was 67.9 percent for the first half of this year, up 18 percent from the same period last year, according to data provided to Commercial Observer by STR, a hotel data and analytics company. In Richmond County, the average daily room rate, or ADR, reached $127.23, a 6.2 percent increase from a year ago. The revenue per available room, or RevPar, surged 25.3 percent to $86.37. Demand rose 11.7 percent to 95.59 percent and overall revenue increased 18.6 percent to $12.2 million.
In Manhattan, meanwhile, occupancy only ticked up 0.2 percent to 83.9 percent while the ADR dropped 3.9 percent to $254.72 and RevPar went down 3.7 percent to $213.60. In Queens, the occupancy rate crept up 1.1 percent to 81.1 percent, and RevPar rose 2.4 percent to $140.62. In Brooklyn, the occupancy rate dropped 5.3 percent to 73.1 percent, ADR rose up 1.8 percent to $163.75 and RevPar dropped 3.5 percent to $119.75. ("In order to protect the confidentiality of individual property data, we require a certain number of hotels reporting performance data in order to run a report. We have that in S.I., not the Bronx," a STR spokesman said.)
James Prendamano, a managing director for Staten Island brokerage Casandra Properties, said the positive statistics were not surprising.
"The fluctuation in the dollar over the past year has sapped tourists buying power," Prendamano said."As the tourists seek better value across the board you will find them electing to stay in locations that offer a reduced price point. Staten Island and Queens offer this option while remaining directly connected to Manhattan. Staten Island has seen the most growth… as they offer the most attractive ADR. … It's simply a direct result of tourists seeking more of a bang for their buck."
He continued: "The second factor that I think cannot be overlooked is [New York City Economic Development Corporation]'s efforts over the past several years raising awareness in the outer boroughs under their new New York platform. The mayor and his respective agencies are seeing results as they travel the world educating would-be tourists on the wonderful cultural, hospitality, shopping and entertainment options that had previously been overlooked by future travelers."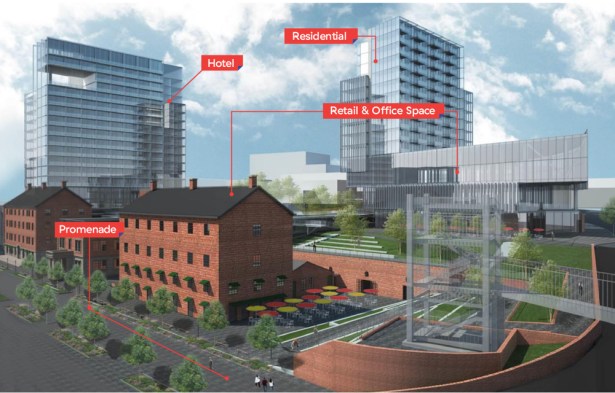 While the hotel metrics for Staten Island are positive, an important point to note is that there are only 555 hotels under development in the borough, according to data from STR, only a fraction of what is being planned in the other boroughs (but for the Bronx, which has 962 in some phase of construction).
One future hotel on the island is BFC Partners' 198-key hotel (which will have a 1,600-square-foot presidential suite on the top floor) at its 1.1-million-square-foot Empire Outlets complex in the St. George neighborhood. New York Wheel's Ferris wheel, which will be the largest such wheel in the world and a lucrative tourist attraction, will be adjacent to Empire Outlets. And in the same area, Triangle Equities is bringing a new 145,000-square-foot, 175-room hotel to Lighthouse Point.
"We have been involved in the revitalization effort of Staten Island for about a decade," said Elysa Goldman, the director of development at Triangle Equities. "During this time, and especially in the last 12 months or so, we have seen interest levels in the borough increase—both as a destination for New Yorkers and tourists alike."
When asked who the target audience will be for the hotel at Empire Outlets, Joseph Ferrara, a principal at BFC Partners, previously told CO: "The location of our hotel is unparalleled in our market, affording someone the convenience of being located not only at the entrance to the Staten Island Ferry Terminal, that enables a visitor to jump on a boat and be in Manhattan in 20 minutes, but it is also located right on top of the Staten Island Rapid Transit that runs the full length of the island and gives someone that comes and visits a friend or relative on Staten Island the ease of movement throughout Staten Island, the harbor and Manhattan."
STR's Bobby Bowers, a senior vice president for operations, said the comparison between boroughs is challenging because of the differences in the supply.
"Richmond County includes only nine open hotels, and supply is down 5.4 percent year to date due to a hotel closing in that county," Bowers said. "Other counties have significantly more supply—New York County in particular—and Richmond County absolute occupancy is significantly lower than the levels in New York and Queens Counties—and somewhat lower than Kings County. Easier comparisons in 2015 also play a role in the performance increases in Richmond County."
Regardless, Staten Island has garnered more attention from tourists.
"We've been able to change the way people view Staten Island," Prendamano previously told CO. "For so many decades we were overlooked. We have fought to put the spotlight on the borough."
BFC Partners
,
Bobby Bowers
,
Casandra Properties
,
Elysa Goldman
,
Empire Outlets
,
James Prendamano
,
Joseph Ferrara
,
Lighthouse Point
,
New York City Economic Development Corporation
,
New York Wheel
,
Staten Island Ferry Terminal
,
STR
,
Triangle Equities