Pressed Juicery Opening Union Square Store
---
---
Beverage retailer Pressed Juicery will squeeze into an eighth location in New York City this year.  
The company, which sells cold-pressed juice, has signed an 825-square-foot lease at 7 East 14th Street, Commercial Observer has learned. The terms of the deal were not disclosed.
The new store is expected to open in part of the ground floor of the 21-story building between Fifth Avenue and Union Square West in the last quarter of the year, according to Winick Realty Group, which handled the deal for landlord TF Cornerstone.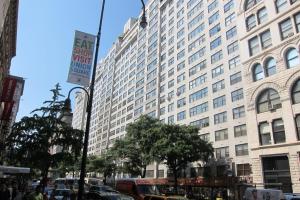 Pressed Juicery is "a great company and a great use for the neighborhood," Winick's Steven Baker, who represented TF Cornerstone with colleague Aaron Fishbein, said in a prepared statement.
Julian Hitchcock of F&B Group, who represented Pressed Juicery in the transaction, did not return a call for comment.
Pressed Juicery will join Ricky's NYC and Le Café Coffee in the ground-floor retail section of the building. The juicing store is taking over the space occupied by cosmetics store Lush.
Pressed Juicery has stores around the country, including in California, Las Vegas, Seattle, Hawaii and New Jersey.
Its locations in the city include 103 Mercer Street between Prince and Spring Streets, 329 Lafayette Street between Bleecker and East Houston Streets, Columbus Circle's TurnStyle shopping corridor, 2857 Broadway between West 111th Street and Cathedral Parkway, and 1240 Lexington Avenue between East 83rd and East 84th Streets. And Pressed Juicery recently signed a 450-square-foot lease at Triangle Assets' 369 Lexington Avenue, which CO previously reported. Also, a seventh store is coming to Westfield World Trade Center, according to the company's website.
103 Mercer Street
,
2857 Broadway
,
329 Lafayette Street
,
369 Lexington Avenue
,
7 East 14th Street
,
Aaron Fishbein
,
Food & Drink
,
Pressed Juicery
,
Ricky's NYC
,
Steven Baker
,
TF Cornerstone
,
Triangle Assets
,
Turnstyle
,
Westfield World Trade Center
,
Winick Realty Group