Finding Dormy: A Firsthand Account of the Co-Living Phenomenon
---
---
I felt like a freshman, as I got ready to go to Ollie, a co-living space in New York. It was a crush of introductions from different departments—the butler, the event manager and the doorkeeper—all promising to make my stay smooth so I could enjoy the community.
It is this sense of "community" that co-living uses to set itself apart from the way the rest of us live (with a random roommate found on Craigslist in a crumbling apartment with bugs and plumbing problems).
Of course, co-living is a pretty vague term that is open to interpretation. In a city like New York, where rent is exorbitant and most 20-somethings have roommates, we're already "co-living" in a sense. This experience promised to be more curated. So, in the spirit of experimentation and good-sportsmanship, I offered myself as a test subject; I would submit to co-living for a day and see how this experience would be different.
Co-living spaces—like Ollie, Common, WeLive, Krash—attempt to bring back that full life we once had in college, minus the shared rooms and the cheap furniture. The concept is to build community where you live, by helping people getting to know each other rather than awkwardly avoiding eye contact when they meet in an elevator.
The concept largely caters to "older" young adults, 25 and above, who have long recovered from the hangover of college life but miss certain aspects of it. Christopher Bledsoe, the co-founder of Ollie, a Manhattan co-living space provider with a third location coming soon, called his target audience "emerging adults." This is a relatively recent demographic that the housing market seems to have priced out, according to him.
That's because people are staying single longer. In the 1970s, the median age people got married was 21 for women and 23 for men, according to the United States Census Bureau. In 2015, the median age at first marriage was 27 for women and 29 for men, according to the same survey. About 50 percent of all adults live with a spouse now, compared to 70 percent in 1970, according to a census study on living arrangements. People sought the suburban sprawl as they settled into an early marriage four decades ago. But now they're increasingly postponing marriage, moving into cities and seeking roommates instead of families.
"Developers have done nothing for this way of living," Bledsoe said. "So we look at housing not as an asset class, but as a consumer product category."
So how can co-living provider expect to make a profit when their big sell is a sense of community? Well, Ollie and Common do not own or lease the buildings they operate. They operate as a management company responsible for filling a building and providing an extended set of services to foster community. Residents are on direct leases with the owner.
WeLive, the co-living arm of WeWork, does things differently. Instead of operating as a managing agent, WeLive has leased the New York property it operates at 110 Wall Street from Rudin Management Company for its facility. The building has both WeWork (coworking) and WeLive spaces.
Also, to be fair, a few developers have certainly begun dipping their toes in these waters. Michael Rudin, the vice president of Rudin Management, said that co-living fills an important void in the market—but it is too time consuming for a traditional landlord to oversee and manage operations that come with co-living.
"Developers are seeing the value of co-living," Rudin said. "With the cost of construction, condos are the highest value in the sales market. So there is more of an opportunity for co-living in existing buildings that are repositioning. "
Last month, Common, a co-living provider founded by Brad Hargreaves in October 2015, announced that it raised $16 million in a Series B round led by 8VC. The new investors included Circle Ventures, the technology arm of the Milstein Family, LeFrak, Solon Mack Capital, Inevitable Ventures and Wolfswood Partners.
"Developers really understand this," Drew Oetting, the founding partner at 8VC, told CO. "They see the way their properties are being used, and this has created a new category. Co-living is not a crazy, hippie commune. People love community—they want to live with other people."
But while Bledsoe and Hargreaves believe it caters to the middle class, Oetting admits that it's not a product of the mass market because the price point is just not for everyone.
Everything inclusive, Ollie costs between $2,446 to $2,910 a month. It is competitively priced with Common, whose monthly rent ranges from $1,340 to $2,650 a month, and WeLive, which costs $1,700 to $2,745 a month plus a flat fee for utilities. (Which, it should be noted, is more expensive than the average price of a studio in Manhattan that was $2,371, according to Citi Habitat's June market report. But these are cheaper than the average of a one-bedroom, which was $3,131 last month.) The costs are justified by the additional services provided depending on what your priorities are, but leases are still a few months to a year long with background and credit checks. Pets are not welcome.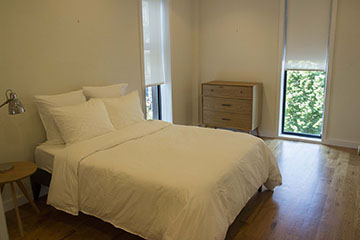 Ollie has two properties, one on the Upper West Side (its beta site) that is 99 percent occupied and one in Kips Bay that is 70 percent occupied (the latter being the one where I stayed). Locations Long Island City and Jersey City are still in the works. It recently announced an expansion to Los Angeles and will soon announce its venture into Pittsburg, Pa. Bledsoe started Ollie in 2011 with his younger brother Andrew. Their vision for co-living is to eliminate wasted square feet by cutting down space and incorporating space saving furniture.
"We spend 90 percent of our time in 40 percent of our apartment," Bledsoe said. "We don't need full kitchens or dining rooms."
Ollie offers "micro-suites" with units between 260 and 360 square feet. Its target audience is not only "emerging adults" but also divorcees and empty nesters. They then attempt to build a community around their residents with common spaces and personalized amenities.
I was going to experience this all-inclusive concept for an evening during my stay at Ollie's Carmel Place at 335 East 27th Street.
The building, developed by Monadnock Development and nARCHITECTS has 55 units—32 market rate, 22 affordable and one for the superintendent. Eight of the affordable housing units are exclusively for veterans.
The nine-story building is between First and Second Avenues, across the street from the Bellevue South Park. Among the introductory emails and all the apps I had to download was ButterflyXM that monitored each resident's visitors who came to the building with photographs and time of arrival, with you can track on your phone.
I was given a fully furnished, fully operational 305-square-foot studio for my overnight stay. The unit—a typical studio at Ollie's—was going to be occupied by its new tenant the following week.
The first thing I noticed was that despite being a small apartment, I wasn't rotating on my heels for lack of space. What made the studio seem spacious was that there was a queen-sized wall bed that folded up over the plush sofa facing a wide television equipped with over 200 channels. There were giant, double-glass windows on the right, overlooking a busy promenade. The apartment had plenty of storage space—covert nooks above the bathroom and cabinets and closets.
The kitchen had a mini-fridge, a two-burner electric stove, a marble countertop, a sink, a full-sized dishwasher and cabinets to store food. (Ah, so you do get a kitchen!) It came with some rudimentary cutlery—wooden tablespoons and mixing bowls. As someone who has a lot of random ingredients for Indian, Thai and Italian food (I cook daily), this downsized kitchen was still bigger than the one I'm used to in my apartment in Brooklyn.
A representative from Hello Alfred was with me, digitally speaking, as I was inspecting my new abode. Hello Alfred is a concierge service (the name is a reference to Batman's butler, Alfred.) This is an online service that is included in the monthly rent that Ollie residents pay. Residents download an app, as I was asked to do, where they can upload their weekly errands—buying groceries, doing laundry, washing dishes—which their Alfred does for them. (Alfred offers a real person hired by the concierge service with whom clients interact online.)
"You can even set personal goals on the app," said Zachary Rosenblum, the account manager at Hello Alfred. "Like, I never want to run out of blueberries or toilet paper. So every time we come in, we check how well stocked you are and replenish it so you never actually run out of something you really like."
I had a brief daydream of never running out of chocolate. Then I was told that you have to pay out of pocket for the cost of your groceries and laundry through the app, but the cost of actually doing the errands is something picked up by Ollie.
In addition to their own butler, members  have access to a benefits platform called Magnises, a service that vows to get them the best deals for happy hours as well as reservations at exclusive restaurants, concert tickets or anything that the members want to do individually or in a group. Like Hello Alfred, they choose what they want through a downloaded app.
I was then whisked away to meet Nicole Kelner, the house leader of Ollie's Carmel Place. Kelner, 23, is a part-time employee at Ollie. As a house manager, she is the liaison between the residents and the administration.
"The city can be intimidating and lonely," she said, as she walked me through a PowerPoint presentation that welcomed me into the community. "I've lived in apartments and hotels, but with Ollie it feels like you're coming back home to a community."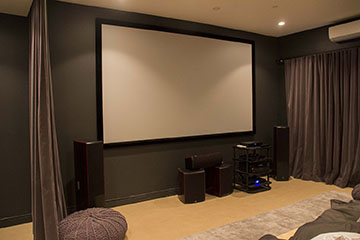 Kelner and I were in the lounge area in the basement, a room with a couple of round tables, high bar stools and Ping-Pong tables. It was nearly 7 p.m., but no residents were in sight. Kelner explained that they may be working late or still on their way back from work.
We made our way up to the eighth floor to an Ollie-sponsored rooftop party with the whole Ollie team, brokers looking to lease Ollie units and a few residents. Among everyone dressed in blazers or summer dresses, I spotted an older man in a bright shirt, impatiently waiting to be served by a mixologist.
Doug Cranfield, 47, is a resident of Ollie, a self-proclaimed extrovert and a spirits and wine educator. He said he lived on the Upper West and Upper East Sides and in Crown Heights before he decided to move here after reading about the concept.
"I try not to form judgments about people," he said. "People have different views politically, and I enjoy that. This is a good way to meet people and get them to talk to you."
But when I asked him whether he felt a sense of community here, he said that it had only been three weeks, and it takes time to build that up.
He was right. Ollie does everything it can to stimulate the community vibe—it provides common spaces outside your apartment which you don't have to maintain and organizes activities that you don't have to personally plan. It frees up tenants from chores so they actually do what they want to do (while making them lazier).
But despite 70 percent occupancy at Carmel Place, the sense of community was lacking. As I moved through the party, I met members of several teams that helped put Ollie together, but I didn't meet another person who lived in Ollie. I woke up early the next morning to check out a community space, hoping to find a resident enjoying a cup of coffee or getting the last stretch of work done. I was the only one.
The same case can be made for Common. It has three residences in Brooklyn—two in Crown Heights and one in Williamsburg—and announced its expansion into San Francisco and Washington, D.C., by the end of 2016.
I visited Common's Havemeyer location in Williamsburg. I intended to stay over, but Common had phased out month-to-month leasing and would not accept residents for a term of less than 90 days, a reason it used to decline my visit.
Havemeyer was a cluster of four separate three-story buildings with three suites each. The idea is to create different levels of shared spaces by not providing everything on one floor or in one suite. It also had a common space for the residents of all four buildings consisting of a lounge area with sofas, desks and longer tables, an exercise studio and a movie room with fluffy floor cushions. Each building also had connecting rooftops for events and parties.
The building I visited wasn't ready for occupation yet, but I was told that two of the buildings—the ones that I wasn't allowed into—were fully occupied with 19 residents living there already. But an evening boot camp class that I stayed for, organized by Common with Hosh Yoga, was attended only by two residents, one of them the house manager.
So, what is the verdict you ask? It feels pretty royal to have people organize your life and to not have passive-aggressive conversations regarding taking out trash. But co-living is not revolutionary. Common's Hargreaves admitted as much, himself.
"This is the way people have already been living," he said. "We're not creating something totally different. We are just acknowledging how people are living and creating products and services for it."
110 Wall Street
,
8VC
,
Circle Ventures
,
Common
,
Drew Oetting
,
Hello Alfred
,
Inevitable Ventures
,
Krash
,
LeFrak
,
Michael Rudin
,
Milstein family
,
Ollie
,
Rudin Management Company
,
Solon Mack Capital
,
WeLive
,
WeWork
,
Wolfswood Partners