Ali Esmaeilzadeh of Forest City Has Turned Downtown Brooklyn Into a Serious Player
---
---
On a Friday morning in early April 2015, news broke that Hillary Clinton's presidential campaign had finalized a two-floor, approximately  80,000-square-foot lease at the Forest City Ratner Companies-owned 1 Pierrepont Plaza.
Because Federal Elections Commission regulations say a candidate must declare within 15 days of conducting official campaign activities, the lease meant that the former secretary of state was in fact running for president.
The phones were going off in the office of Ali Esmaeilzadeh (pronounced eh-smiles-ah-day), the head of commercial development and leasing for Forest City Ratner's entire Downtown Brooklyn portfolio that includes 1 Pierrepont Plaza and the MetroTech office campus.
"I remember coming in that morning and I couldn't pick up my phone without it being Vanity Fair or somebody in like France," Esmaeilzadeh, 37, recalled last week at Forest City Ratner's 1 MetroTech Center offices looking out at the New York harbor. "At one point I had four different news organizations [on the line]. I just picked up the phone, and I hit conference and put everybody on the same conference line just to say, 'I can't give any comments. It's all subject to confidentiality. Thank you, goodbye.' "
It might naturally seem as if a campaign, which at best has a two-year lifespan, would be easier for which to arrange a lease. But in fact, Esmaeilzadeh said, it's "way more" difficult to facilitate. Forest City Ratner had to coordinate security measures with the Secret Service (as a former first lady, Clinton had round-the-clock protection before she even made the decision to run for president). Suddenly, media scrums were outside of the building. The property manager had to deal with people trying to sneak into the 712,000-square-foot structure.
A presidential campaign is not something most Big Apple landlords can say they have in their portfolio. (Although, this is the weird exception that proves the rule, in which both the GOP and Democratic presumptive nominees are New York-based.) But then again, it might not be out of the ordinary to have a unique or government-related tenant for the Downtown Brooklyn-based company where Esmaeilzadeh heads leasing and asset management. Once home to back-end offices for financial companies such as Morgan Stanley where the sidewalks would be rolled up at 5 p.m., MetroTech and the rest of the central business district have become front offices for technology and media companies as the portfolio diversifies with little vacant space left.
Stakeholders in the neighborhood and those who work directly with Esmaeilzadeh say the Iran native, who came to Brooklyn by way of Canada (he currently lives in the borough with his wife and daughters, ages 6 years and 11 months old), has played a big role in making Downtown Brooklyn a place people want to be. Over the last year, he's signed or renewed 650,000 square feet of leases across the several office buildings Forest City Ratner owns in the neighborhood. Those include renewing the Fire Department of New York and a division of the New York Police Department for a combined 536,000 square feet.
"Ali is a figure of cool and glamour," said Mary Ann Tighe, the chief executive officer of the New York tri-state region at CBRE, who represents Forest City Ratner at MetroTech and 1 Pierrepont Plaza. "When you meet him, just the way he's turned out, his appearance, his whole demeanor, you would think he's the product of the contemporary Brooklyn. What's funny is that the vibe of Brooklyn has caught up to Ali's vibe."
Esmaeilzadeh has been dubbed the "Mayor of MetroTech," because those who work with him say he knows the seven Forest City Ratner buildings in the office complex top to bottom—not to mention the people who staff them.
"What makes Ali special and what makes him tick and what makes him outstanding in his work is his ability to connect with people," said MaryAnne Gilmartin, the chief executive officer of Forest City Ratner, who recruited Esmaeilzadeh to the firm a decade ago. "I would say it's something that I think everybody recognizes is important. Ali not only recognizes it, but he knows how to do it."
Esmaeilzadeh took a circuitous route in his journey to Brooklyn from Iran. He was born in January 1979, the same week as the Islamic Revolution that overthrew the secular government began. His early years were spent guiding his little sister, who is four years younger, into a bomb shelter during the Iran-Iraq War. By the mid-1980s, his family left Iran, moving through Europe, and eventually settled in Montreal.
His father, who came from a long line of engineers, was getting a degree from McGill University in Montreal. By the mid-1990s, his father returned to Iran while Esmaeilzadeh, his mother and his sister remained in Canada. In his mid- to late-teens, the real-estate-executive-in-the-making returned to his homeland during the summers to work on infrastructure projects with his dad. After working in finance at Scotia Bank, he went to the University of Pennsylvania's Wharton School of Business at a friend's urging. He applied for an internship in 2005 with Forest City Enterprises, the Cleveland-based parent company of his current employer, and got assigned to Brooklyn. 
Early on when he started full time at the company in 2006 out of Wharton, he walked around the campus, learning about its infrastructure and its tenants. Tighe said that every doorman in the complex knows Esmaeilzadeh as simply "Ali." A humble Esmaeilzadeh chalked that up to what he acknowledges is a difficult last name to pronounce.
Howard Fiddle, a vice chairman at CBRE who represents Forest City Ratner with Tighe at MetroTech and 1 Pierrepont Plaza, said Esmaeilzadeh can run you through architectural issues, zoning and elevator systems.
"When he's on, he's fully on," Fiddle said. "He really has a thirst for knowledge and really is a quick study. He really is the full package." 
Brooklyn is a much different place from what the outer borough was when Esmaeilzadeh started at Forest City Ratner as an intern 11 years ago. Tighe and Gilmartin recalled begging people to come over the bridge from Manhattan to tour Brooklyn properties. For Esmaeilzadeh's part, he sold the idea of Brooklyn as a destination and got the deals done.
"He didn't singlehandedly create the Downtown Brooklyn office market, but what I do think he did is he helped drive the brand recognition and the brand value," Gilmartin said. "He made such compelling arguments for 'Why Brooklyn' that long before that was an easy thing to answer, he created the narrative, he sold the narrative and he sold it to the right people because those people carried the message."  
Between the Barclays Center opening in 2012 and thousands of residential units coming online since a rezoning 15 years ago, Downtown Brooklyn has become less of a place for financial companies' secondary operations. At MetroTech and One Pierrepont Plaza, the tenant base has changed significantly since the recession began nearly 10 years ago.
For starters, he's gotten a little bit of everything at MetroTech now. Esmaeilzadeh said today the tenant base is much more diversified to include technology companies, academia, government agencies and media firms. MakerBot, the 3D printing company, signed a lease at 1 MetroTech Center in 2012. The Slate Group, which publishes online magazine Slate, sealed a sublease at 15 MetroTech Center in January. New York University's long-awaited merger with Polytechnic University in 2014 has been "fortuitous," he added, because the school is now in virtually every MetroTech building.
Getting companies to set up their headquarters in Brooklyn has been a key priority for the neighborhood's players. Studies have found that vacancy in the area is below 3 percent in the office-starved Downtown Brooklyn. While more commercial development is on the way, Esmaeilzadeh had done well to keep the Forest City Ratner buildings completely filled, said Carlo Scissura, the president of the Brooklyn Chamber of Commerce.
"I think he realized, the way all of us did, that we're not a back office to financial services anymore," Scissura said. "We are front office for up-and-coming companies, and he has not been afraid to go out and find them."
While Brooklyn has been the nest for homegrown tech companies, no major firm based across the East River has yet to jump over to Brooklyn. And that's one of Esmaeilzadeh's goals going forward.   
Part of sprucing up the Downtown Brooklyn portfolio also includes making it more open, Esmaeilzadeh said. When it was originally built in 1992, MetroTech was basically a fortress in a less savory incarnation of the neighborhood. Since the upswing in the last decade, Forest City Ratner has introduced the commons, which is a park between the buildings and is open to the public.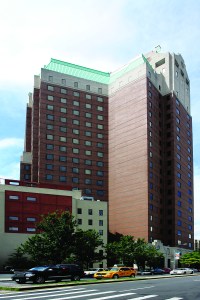 Esmaeilzadeh said he's focused on making the base of every MetroTech building more in line with the streetscape as well as home to strong retail and aesthetically pleasing lobbies.
The same goes for 1 Pierrepont Plaza, where the Clinton campaign will be operating at least through November. Esmaeilzadeh has big plans for that building as well. About 200,000 square feet at the base of the building could become available if Morgan Stanley decides not to renew its lease for its data centers, as has been reported.
Esmaeilzadeh said the plan is to redo the lobby at that building and begin an aggressive marketing campaign. Part of the building's cachet in the future is that it was home to the Clinton campaign. DIME Savings Bank of Williamsburgh has already signed a lease to take one of the campaign's two floors when it moves out. The other floor should be spoken for by the time the campaign is over, he said.
"If we do what we're supposed to do right, we should be in a place that we have both floors leased up," he said. "The building is a great building, and I think the only thing that holds it back—and I'd say this about all of our buildings—is putting the capital into renovating and continuing to improve the ground-floor plane in all of our projects so we're keeping the building contemporary."
1 Metrotech Center
,
1 Pierrepont Plaza
,
Ali Esmaeilzadeh
,
Brooklyn Chamber of Commerce
,
Carlo Scissura
,
CBRE
,
Forest City Ratner Companies
,
Howard Fiddle
,
Mary Ann Tighe
,
MaryAnne Gilmartin
,
Secret Service