Banks Were Tenants That Could Afford a Big Rent, but Now They're Suddenly Shrinking. Why?
---
---
As the world becomes increasingly digitized, the banking industry is being forced to rethink how it conducts business.
The popularity and ease of online banking—why schlep to a branch to deposit a check with a teller when you can do it remotely in the comfort of your own home?—has greatly diminished the need for retail bank branches. And so has the fact that you can find an ATM in your local Duane Reade or 7-Eleven.
"It's pretty apparent to me that banks are probably the largest giver-uppers of retail space in the city," said John Brod, a partner at ABS Partners Real Estate.
There are at least 16 branches on the market for lease or sublease in Manhattan, according to a recent assessment by ABS, totaling over 140,000 square feet (see chart below).
"I'm sure the actual citywide [square footage] number is far greater," Brod said. "That's significant."
Of the 16 availabilities, HSBC has five locations on the market, Wells Fargo has three, Valley National Bank has two, TD Bank has two (one is excess bank space), and Bank Leumi, Sterling National Bank, Bank of America and Citibank each have one.
"A significant decline in branch foot traffic has become an industry-wide trend," a Valley National Bank spokesman said. "The emergence of self-service technology has changed customer banking preferences. Electronic deposits and payments have increased dramatically. We are responding to customer demand by modernizing the banking experience and product offerings at Valley. Part of our branch modernization plan is to provide our customers with the availability of self-service, multichannel technologies that can make their banking experience more convenient."
While some banks are shedding entire spaces, others are shrinking the ones they're keeping. Banks are downsizing their retail spaces from 6,000 square feet to more in the 1,500- to 3,000-square-foot range, trending closer to 1,500 to 2,000 square feet, said Newmark Grubb Knight Frank's Jason Pruger.
At 2411-2015 Broadway at West 89th Street, HSBC is splitting its 4,000-square-foot space with Wells Fargo.
"Where there was one bank, there are two," Pruger said.
That will be a relocation—and a massive reduction in space—for Wells Fargo from 8,406 square feet at nearby 2330 Broadway at West 85th Street, a bank spokeswoman said.
At 2330 Broadway, Wells Fargo is "coming to the end of their lease—that's why they're not renewing," said Robert Kunikoff of Lee & Associates NYC, who is marketing the store.
Wells Fargo also relocated from a 4,400-square-foot ground-floor space at 2040 Broadway at West 70th Street to a space across the street at 2039 Broadway. The 2040 Broadway store is on the market.
"We're always evaluating our branch distribution network in order to meet our customers' evolving banking needs," the Wells Fargo spokeswoman emailed.
And Wells Fargo is reducing its footprint on East 10th Street. It has relinquished its 3,864-square-foot ground-floor space at 784 Broadway at East 10th Street and moved across the street to smaller digs at 781 Broadway, according to Pruger, who is marketing the space at 784 Broadway along with colleague Ross L. Kaplan.
"It's because [consumers are] doing more transactions electronically so the floor plate shrinks," Pruger said. "It's more cost-efficient to do it online or at an ATM."
TD Bank has a store up for grabs—8,139-square-foot at 1350 Avenue of the Americas at West 55th Street—after merging that store with the one at 1290 Avenue of the Americas at West 52nd Street, a bank spokeswoman said.
"As part of our normal business practices, we regularly look for new locations, as well as opportunities to consolidate our existing facilities," the TD Bank spokeswoman emailed. "We consider many factors including customer traffic patterns and store transaction volumes and our ability to best meet the needs of our customers—current and prospective."
Plus it has some space (2,100 square feet at grade) at 90 Fifth Avenue on the market, which is being marketed with an optional additional 1,600 square feet.
The spokeswoman explained, "We have excess space in that building that we had been attempting to sublease. In addition…the landlord has space available for lease in the building. We are not selling or vacating our store at that location."
As the behemoths have held the purse strings to the world of consumer banking locally and nationally, some smaller banks have shifted gears.
For the last 20 years, Bank Leumi has only maintained two branches, both in Manhattan, after having had a couple dozen branches in the New York City area in the early 1990s.
"As a business strategy we are much more focused on commercial banking and private banking," Bank Leumi spokesman John McGann said. "That has been the focus for the last several decades."
Bank Leumi is looking to find someone to sublease 2,136 square feet on the ground and 336 square feet on the mezzanine level at 3 East 47th Street just east of Fifth Avenue with an asking price of $170 per square foot, McGann said. About three years ago, the bank downsized to that space from 7,000 or 8,000 square feet in the building after a 40-year run. The bank plans to move "what small retail activity we have to a commercial floor in the building," McGann said.
The bank realized a few years ago that it "did not need that kind of space and the retail prices for Fifth Avenue just can't be justified by a branch."
Bank Leumi's former 7,488-square-foot space at 1400 Broadway is on the market. The bank used it as a retail branch until three years ago when it changed its use to office. The bank's lease expired in February, McGann said. (Because this space hasn't been an active bank branch it was excluded from the chart.)
Mergers among financial institutions have also led to some redundancies, while banks are also looking to streamline.
Valley National Bank has a 2,720-square-foot space on the market at 350 Park Avenue between East 51st and East 52nd Streets. It is available for lease starting July 1, according to CBRE marketing materials.
According to a source, the space used to be a Park Avenue Bank and when Valley National Banks assumed the banks deposits and bought the bank's assets in 2010 it retained the location.
"They're closing it down and moving the deposits to their location on 47th Street," the source said. "They don't need the branch because it's too close to the other branch."
And Valley National Bank has a branch on the market at 275 Madison Avenue at East 40th Street, which includes 3,975 square feet on the ground floor, 1,050 square feet on the mezzanine level and 2,950 square feet below grade.
"The branches we have closed reported a significant decline in foot traffic over the past five years and reside in close proximity to a neighboring Valley branch that can manage the account relationship," a Valley National Bank spokesman said. "In addition, our sales and service staff [have] become increasingly more mobile to serve the needs of our valued clients. Territory sales managers bring the bank to our clients by meeting them at a place and time of their choosing to address their banking needs." 
Banks for a long time ate up prime real estate corners in Manhattan, with their deep pockets and good credit.
More banks are giving up spaces "because they are too big and bloated," said a retail broker who asked for anonymity because he handled the expansion of a national bank chain in New York City. "They overpaid for rents seven or eight years ago, and now those rents have escalated to astronomical levels and they need to downsize and offload some rent liability."
This is not just a Big Apple issue.
BofA recently said it had 4,689, or 23 percent fewer, branches at the end of the first quarter than in 2009, when it had 6,100 branches, according to CNNMoney. As a result, the bank has reduced its workforce by 37 percent to 68,400 employees from 107,900 in 2009. And there are more job cuts to come on the consumer end of the bank's business.
BofA appears to be following the money. ATM and mobile deposits comprise 68 percent of the financial institution's total deposits, compared with 35 percent in 2009, according to CNNMoney. And doing business digitally costs less than a tenth of the expenses of traditional banks, the publication said BofA announced at a recent presentation.
A Gallup poll from the end of October 2015 shows the shift from consumers visiting branches to adopting digital banking. The poll indicates that U.S. customers were using branches 50 percent less often in 2014 than in 2011 while online banking increased by 23 percent.
"There are so many vacancies simply because banking has hit the digital age and so much can be done online and/or via phone and personal devices," Brod said. "There really is a decreased need for banks to have such a large brick-and-mortar presence and thus a consolidation is underway throughout the entire retail banking community. Banks that needed a large presence on a predominant corner can achieve local presence with a small ATM [in less than] 1,000 square feet. This is what makes sense today."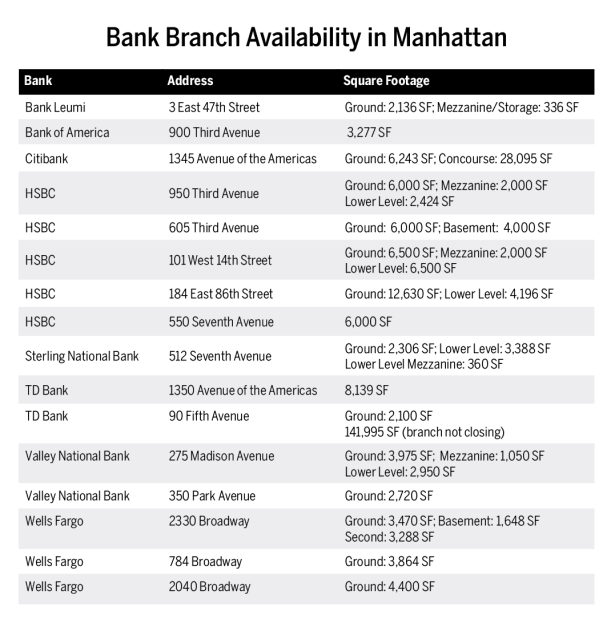 1290 Avenue of the Americas
,
1350 Avenue of the Americas
,
1400 Broadway
,
2039 Broadway
,
2040 Broadway
,
2330 Broadway
,
2411-2015 Broadway
,
275 Madison Avenue
,
3 East 47th Street
,
350 Park Avenue
,
7-Eleven
,
781 Broadway
,
784 Broadway
,
ABS Partners Real Estate
,
Bank Leumi
,
Bank of America
,
Citibank
,
Duane Reade
,
HSBC
,
Jason Pruger
,
John Brod
,
John McGann
,
Lee & Associates NYC
,
Newmark Knight Frank
,
Park Avenue Bank
,
Robert Kunikoff
,
Ross L. Kaplan
,
Sterling National Bank
,
TD Bank
,
Valley National Bank
,
Wells Fargo
,
CBRE