The Pop-Up Phenomenon Is Treacherous Terrain—and More in Demand Than Ever
---
---
Earlier this year, a real estate technology company called Storefront, which finds pop-up space for fledgling companies, fizzled.
The San Francisco-based Storefront worked with artists and emerging brands to find available retail spaces, according to technology news website Venturebeat. (A request for comment to the company's email address was not returned.) Probably its most famous client was Kanye West, whose team used the connecting service to open pop-up stores during his 2013 Yeezus tour to sell merchandise.
As of this February, the company boasted access to 10 million square feet of space nationally for short-term rentals—particularly in San Francisco, Chicago, Washington, D.C., and New York, as TechCrunch reported at the time. It also claimed to have 30,000 users and 3,000 storefronts. Since it was established in 2012, the company brought in $8.9 million in venture capital, according to startup investment tracker CrunchBase. But this March, the company abruptly announced on its website that it was stopping operations and working on a transition plan.
"We are proud of the progress our team has made: We helped thousands of brands open stores and build meaningful relationships with their customers," the website's message reads. "And we had a positive impact on the local economies in which we operated."
Normally, when a Silicon Valley startup goes belly up it doesn't elicit much more than a yawn from New York's real estate observers. But Storefront's expiration has left an interesting hole in the marketplace for other startups specializing in short-term leases to take over. Plenty of real estate brokers will handle a pop-up lease, which runs anywhere from a few weeks to a few months, as the situation arises, but few are dedicated solely to dealing with pop-ups, even as the type of store is having its moment in the sun. There's a similar New York City-based firm, the three-year-old Made on the Lower East Side, that brokers said hasn't reached its full potential or taken a major share of the market (its founders didn't return a request for comment).
The New York City pop-up market has become a way for young, inexperienced retailers to take a bite out of the Big Apple—and it has not just appealed to local retailers but international ones as well. And even landlords, who traditionally prefer a stable, lengthy lease, have been persuaded to give the phenomenon its due.
"Pop-ups have become more prevalent," said Anita Grossberg, a commercial broker with Douglas Elliman who has brokered a number of pop-up deals in New York City. "You don't want to hurt the landlord's possibilities of getting a long-term tenant, but the other side of it is it really can get really good exposure [for the space]."
Real estate tech experts and competitors said Storefront never reached its full potential in bringing together landlords and retailers. Instead, it stayed too small and wasn't able to grow.
"You have to control one side of the equation," said Ashkan Zandieh, the founder of real estate tech advisory RE:Tech. "In this case the retailer or the landlord. It seems as though they didn't have either."
Mr. Zandieh noted that many pop-ups tenants are typically fashion-related, and San Francisco is not typically known for its expertise in the clothing business and its crucial for a brokerage to understand the needs of the tenant. He noted that Appear Here, a London-based startup focused on short-term and pop-up spaces in the United Kingdom and France, and similar companies now have the opportunity to seize the market share left vacant by Storefront folding.
Appear Here expanded to Paris earlier this year and has partnered with many of the United Kingdom's top landlords including retail giant Westfield to list vacant space for use, according to Peter Lennon, Appear Here's head of property. While spaces might range from 500 to 2,000 square feet, Mr. Lennon said the company has even come to market chunks of up to 20,000 square feet for some of Great Britain's big landlords.
Ryan Masiello, a co-founder of leasing data platform VTS, said Appear Here has been successful because it partnered with large landlords early on and developed its direction. Staying too small and not adapting quickly to feedback is where many startups generally start to fail—and something that a pop-up, which is often new and untested, might be particularly ill-suited for in the long run.
"You have to really be willing to push hard to change behaviors, which is something that is time consuming and expensive," he said. "That's where a lot of startups miss the market. With a lot of these concepts, if you miss by an inch, you miss by a mile."
Appear Here has also partnered with a range of retailers from the smaller shops looking to create brand exposure to major corporations such as Nike and Google, according to its executives. It also has the advantage of being in two of Europe's fashion capitals—London and Paris—and can help companies from each nation open up pop-ups and create a foothold in a new market.
But the Appear Here and Storefront of the future might get help from a historically unwilling source: Increasingly, the executives added, landlords are setting up retail spaces dedicated solely to shorter leases that would keep the locations constantly fresh and bringing in new customers.
"We had touched a bit on the idea of creating dedicated space for pop-up, shorter-term leasing," Mr. Lennon said. "Something that's changing, something that's different."
One of the reasons Storefont faltered was because it never expanded beyond small retailers or space sharing in which several stores might use the same space, said Elizabeth Layne, the chief marketing officer for Appear Here.
Appear Here streamlined the process by which a tenant can lease a space, Ms. Layne said. A short-term agreement can be made on average in three to six days, she said.
"It's an online platform so everything is booked through the site," she said, adding that the process is streamlined "because landlords give us payment information [in advance]."
Mr. Lennon, who worked at Blackstone Group before joining Appear Here last year, said the company has considered venturing into New York City, but executives aren't mapping out a game plan or setting up a timetable yet.
"From the beginning the plan has always been the right audience for retail," he said. "New York is definitely on our radar. [But there is] no set time frame for now."
If Appear Here should decide to venture across the Atlantic Ocean, it might find an already established pop-up market in New York City. Beyond the Halloween stores full of decorations and costumes as well as the Christmas shops selling the year's must-have gifts, there are the new fashion brands, technology stores and galleries popping up all over the place.
Westfield is planning a rotating pop-up marketplace in the soon-to-open retail portion of the World Trade Center PATH station, also known as the Oculus, as Commercial Observer reported earlier this month. There will be 12 indoor pop-up carts that will be mostly for artisanal and emerging retailers, according to marketing materials obtained by CO, along with five outside sites. Those include "experiential and transactional" spaces that will be open for up to a month, as well as longer term flex spaces that might have a longer lifespan.
"Pop-up at Westfield World Trade Center will focus on artisanal, first-to-market and emerging brands, and be comprised of both rotating feature pop-ups as well as longer-term retailers in our pop-up flex units," the materials read.
Others have committed to their pop-up spaces for the long haul. Italian retailer Stone Island first signed to a deal for a pop-up at Thor's 41-43 Greene Street in Soho in summer 2015. Initially, it planned to make its first permanent United States store in Los Angeles, as CO reported last year. But executives decided to turn the Soho location into its first flagship store with a 10-year lease.
Not all companies can be that lucky, however. Because retailers pay a lower rental rate generally for a pop-up than in a longer lease, the economics might not make sense for them to take a long-term lease, in say 4,000 square feet, said Robin Abrams, a vice chairman of the Lansco Corporation who represented the gallery in its lease there. On the upside, that retailer might have found success in the neighborhood and sign on at a small space nearby.
"When you do a pop-up, you're going in at a reduced rent and you couldn't necessarily afford to stay in that space long term," Ms. Abrams said. "It's more about staying in that market area and executing on a long-term deal than specifically always staying in the long-term space."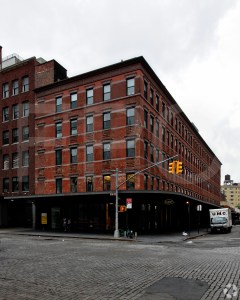 Pop-ups are beneficial to landlords who are looking to fill retail space that has lingered on the market, added Ms. Grossberg, who arranged about eight pop-ups for jewelry designer Alexis Bittar in the city beginning about 10 years ago. By bringing in an emerging store it can direct attention toward an on-the-market retail spot a landlord might have, she added.
"In retail, if a tenant is not going to be in for the holiday [season], there's a very good shot that space is not going to be leased," Ms. Grossberg said. 
Arranging these sorts of spaces is also easier and quicker than a traditional lease, which is for several years, the brokers added. Because they're typically for less than a year, pop-ups are done as a license instead of leases (it's a similar to agreements used in co-working office spaces).
Ms. Abrams said the agreement doesn't get into such things as real estate tax increases, terms of a potential sublease or restrictions on using the space. Instead of a potentially 100-page lease, it could be as thin as four pages.
"These deals can be positioned pretty quickly," Ms. Abrams said. "A license agreement you normally can in a couple of days trade comments and get it ready for signature."
These short-term stores can also help a brand get exposure as it's on the up-and-up, or let it test out a market that it might eventually get a permanent foothold in.
It's the approach Lumas, a photo art gallery, is taking in the art-heavy Meatpacking District. The studio initially signed a six-month deal at Thor Equities' 875 Washington Street at the corner of West 14th Street to occupy 4,850 square feet on two levels. The deal was supposed to run through this January, but the gallery extended the agreement for nine months to test how the market was through the holiday season and into the spring, said Ms. Abrams, who represented the tenant. Whether Lumas will be able to stay on Washington Street, where the average asking rent is $600 per square foot on the ground floor, is still unknown.
"They jury is still out as to whether they can pay what market rent has now become on [that] street," she said, "particularly for that front corner."
875 Washington Street
,
Anita Grossberg
,
Appear Here
,
Ashkán Zandieh
,
Douglas Elliman
,
ICSC 2016
,
Lansco Corporation
,
Made in the Lower East Side
,
Re:Tech
,
Robin Abrams
,
Storefront
,
VTS