Meridian's Institutional Investment Sales Team to Sell Standalone Flatiron Retail Building
---
---
[Sponsored]
Meridian Capital Group announced today that its Institutional Investment Sales Group, led by Helen Hwang, has been tapped to sell 164 Fifth Avenue. The standalone retail building, featuring 18,186 square feet, is located in the architecturally distinct Flatiron neighborhood and within walking distance of Madison Square Park and some of Manhattan's most desirable neighborhoods. The property's heavily trafficked and exclusive Fifth Avenue location also benefits from the critical mass of office tenants flooding the Midtown South market.
"Meridian Team to market 164 Fifth Avenue, an 18,186 square foot, standalone retail building"
164 Fifth Avenue is occupied by Bandier, a luxury fitness fashion boutique with a near-term lease expiration. The property offers exceptional physical characteristics including high ceilings, a floor-to-ceiling glass storefront and would be ideal for both discerning retailers as well as single building users see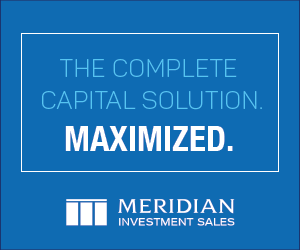 king meaningful presence in the neighborhood. 164 Fifth Avenue also provides an investor with the opportunity to capitalize on approximately 20,000 square feet of excess development rights.
"164 Fifth Avenue benefits from being located within one of the hottest neighborhoods in Manhattan," said Helen Hwang, Senior Executive Managing Director and Head of Meridian's Institutional Investment Sales Team. "Retailers have been feeding off of the demand from the influx of daytime office workers, students and tourists as well as the growing residential population."
Within the Flatiron District, Fifth Avenue has attracted a strong mix of luxury, contemporary and fast fashion retailers including Anthropologie, Bonobos, Coach, Cole Haan, H&M, J. Crew, Kate Spade, Lululemon, Tory Burch Sport, Victoria's Secret, and Zara. This shopping corridor has grown in popularity as a result of the surrounding area's live/work/play environment and recent influx of highly educated and affluent office employees and residential population.
Helen Hwang, senior executive managing director and head of institutional investment sales at Meridian can be reached at (212) 468-5930 or hhwang@meridiancapital.com.