The Power Players We Lost
---
---
The men and women taken from the real estate world in the past year include a man who made major inroads into peace in the Middle East; the creator of New York's lost, beloved Twin Towers; groundbreaking visionaries who smashed the glass ceilings of the worlds of architecture and finance; and several who altered the skylines and boosted the economies of numerous major cities, including ours. 
The real estate industry lost giants this year. Their accomplishments were world-changing. The losses of these people and their visions, to the industry and to their families, is incalculable.
Here are just a few of the notable industry movers who died over the past year.
Douglas Shorenstein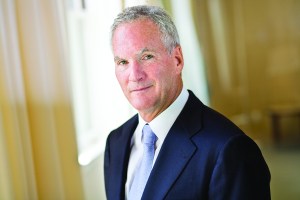 CEO of Shorenstein Properties
Douglas Shorenstein, 60, died on Nov. 24 of cancer.
Shorenstein was known for the breadth of his vision, taking the regional firm founded by his father Walter in California to national prominence as a company that brought almost $8 billion in investment capital to over 20 markets around the country by the time of his death.
After cutting his teeth as a real estate attorney, Shorenstein joined his father's firm in 1983, rising to CEO in 1995, according to the San Francisco Chronicle.
The company was one of the largest commercial firms in San Francisco, and, in recent years especially, Shorenstein steered the company further into the tech realm, purchasing the sort of larger commercial facilities that became increasingly desirable for today's tech giants. The city's Merchandise Mart, which Shorenstein bought in 2011, became home to Twitter.
Shorenstein had significant holdings in numerous major markets, including 850 Third Avenue (which it recently sold to MHP), 1407 Broadway and 447 Madison Avenue all here in New York. Also among Shorenstein's assets: the John Hancock Center in Chicago, Hamilton Square in Washington, D.C., and the Bank of America Building at 555 California in San Francisco.
The company was also a mover on the residential side, developing a 225-unit building at 509 West 38th Street, which is expected to be completed by early 2017.
Shorenstein served as chairman of the Federal Reserve Bank of San Francisco, and on the executive council of the University of California San Francisco Medical Center.
He is survived by his wife, Lydia; three children, Brandon, Sandra and Danielle; and his sister, Carol.  
Zaha Hadid
Director of Zaha Hadid Architects
Accolades poured in when news broke that groundbreaking Iraqi-born British architect Zaha Hadid had died of a heart attack on March 31 at the age of 65. 
Her visionary avant-garde-meets-modernism style produced properties of note including the London Aquatic Centre, the MAXXI Museum in Rome and Galaxy Soho in Beijing.
Among the many awards recognizing her brilliance, Hadid was the first woman to win the Pritzker Prize and the first to be honored with the Royal Gold Medal from the Royal Institute of British Architects on her own. She was made a dame of the British Empire in 2012.
Known for a curvaceous style and a personal as well as professional boldness, she suffered no fools, and would shut down an interview if she felt the questions unfair. Hadid produced designs in 1970s London that were often too out-there for many.
After winning a design competition for the Cardiff Bay Opera House in Wales, her design, a glass structure that came to be called the "Crystal Necklace," was rejected by the Millennium Commission for being too radical. In response, Hadid told the Financial Times that this happened because "people in this country have seen so much garbage for so long they think life is a Tesco."
She worked on massive prestigious projects and smaller local ones, and was awarded a retrospective of her work at the Guggenheim Museum in 2006.
Hadid is survived by her brother, Haytham Hadid.    
Patricia Goldstein
Vice Chairman and Head of Commercial Real Estate for Emigrant Bank
Patricia Goldstein, one of commercial real estate's leading financiers, died last April 29, the result of a bicycle accident in Delray Beach, Fla., six days prior. She was 69.
The pioneering Goldstein rejected an offer in 1966 to train as a typist—an occupation to which women were often steered—at Citicorp, choosing to become the company's first female credit trainee instead. Later, she would advocate for gender and racial equality, mentoring many women through the male-dominated industry in the process.
By the 1980s, the Queens native rose to the executive suite at several firms including Olympia & York, where she helped finance London's 14-million-square-foot Canary Wharf complex.
Back at Citicorp in the 1990s, she ushered the bank through some tough times, working out and stabilizing a $23 billion real estate portfolio. Goldstein's deals included negotiations for the sales of 1540 Broadway to Bertelsmann A.G., and of 750 Seventh Avenue to Morgan Stanley.
She became chairman and head of commercial real estate for Emigrant Bank in 2004, handling financing for projects including 56 Leonard Street, 505 West 19th Street and the Baccarat Hotel.
Goldstein was also active in a variety of charitable and industry organizations, including the NY Teachers Common Fund, the Real Estate Roundtable, the Women's UJA, the Real Estate Board of New York and the Association of Real Estate Women (which in late 2014 merged with New York Commercial Real Estate Women).
Goldstein is survived by her husband, Howard Epstein, daughter Alicia Goldstein, son Jeffrey Goldstein and grandsons Jack and Jetson. 
John Zuccotti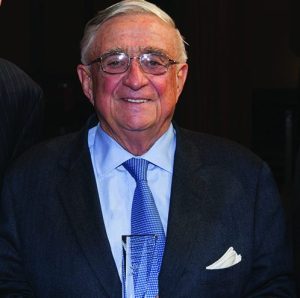 Chairman of Global Operations at Brookfield Asset Management
For most, his name is best known for the occupation of the park that bears it. For those in real estate, John Zuccotti, who died of a heart attack on Nov. 19 at age 78, was a politician, a businessman, an investor and a champion of New York City during the financial crisis of the 1970s, and again after the devastation of 9/11. 
Zuccotti had New York City in his blood. Born in Greenwich Village and raised for a time in an apartment above a Perry Street tavern, his father was the maître d' at the El Morocco nightclub, one of the great New York City hot spots of its day.
A Princeton University and Yale Law School graduate, he worked as an urban planner in conjunction with Harvard University and Massachusetts Institute of Technology before taking on the development of anti-poverty programs and more as a special assistant to the United States Department of Housing and Urban Development secretary. 
He served as the chairman of the City Planning Commission under Mayor John Lindsay, and as deputy mayor under Abe Beame, helping restore confidence in the city during its most dire time. In 1977, The New York Times called him "New York's indispensable man."
In the 1990s, as chief executive of Olympia & York, he led the development of the World Financial Center.
Zuccotti was so beloved throughout New York that speakers at his memorial included Timothy Cardinal Dolan.
He is survived by his wife, Susan Sessions Zuccotti; brother Andrew; children Gianna, Andrew; and Milena, and eight grandchildren.
Julien Studley
Broker, Investor and Founder of Julien J. Studley
Julien Studley was an American success story up until his death from brain cancer at 88.
He fled Europe at the start of World War II, arrived on our shores at 16 and built an empire from a fourth-floor walk-up on East 53rd Street.
After fleeing Brussels with his family and making short stops in Nice and Cuba before settling in New York, Studley worked in the diamond business until a profile he read in Life magazine on real estate mogul William Zeckendorf inspired him to switch careers, according to The New York Times.
He first built a business by attracting clients via postcards sent from his bedroom. Later, he worked at a firm where, he once said, he averaged $2 a month for two years while cutting diamonds at night. After that, business clearly improved. He founded his firm, Julien J. Studley, in 1954, making it one of the most prominent commercial real estate firms in the country focused on tenant representation, and serving as a tireless advocate for his clients. In time, major projects he helped usher through included Citigroup Center Worldwide Plaza and the Time Warner Center.
In 2002, he sold his company to associates in his firm for $20 million (The firm merged two years ago with the global real estate company Savills to become Savills Studley). He then founded Studley New Vista Associates, a real estate investment and management firm.
With his success, Studley gave his time generously, serving as chairman of the New School for Social Research and chairman of the Film Society of Lincoln Center and, through a generous donation, helped to establish The New School's Observatory in Latin America in 2006.
He is survived by his wife Jane, his son Jacob, his sister-in-law Helen Studley; his stepson, Ni jun, and wife LuLu; and his grandchildren, Adam and Benjamin.
John L. Tishman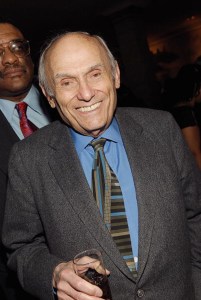 Chairman Emeritus of Tishman
If he hadn't had a lifetime of significant accomplishments, the construction of the Twin Towers alone would grant John L. Tishman, who died on Feb. 6, 2016 of respiratory failure at age 90, the status of a New York legend.
Of course, for Tishman, who inherited the firm founded by his grandfather Julius, the World Trade Center towers were just one chapter in a life that saw him affect the skylines and economic fortunes of major cities across the country, supervising the building of the John Hancock Center in Chicago, Century City in Los Angeles and the Renaissance Center in Detroit, as well as New York's current Madison Square Garden. His efforts in the 1960s and 1970s brought skyscrapers to reach new 100-floor heights. 
His company also built Disney's Epcot Center in Orlando, Fla., and handled the renovations for Carnegie Hall.
Entering the industry in 1948, Tishman was an early advocate of the use of reinforced concrete in residential high-rise buildings, according to The New York Times. He championed smarter business practices in many areas, creating construction management techniques that made building more efficient (and therefore cost-saving), promoting the use of energy-conserving lighting systems, and, during the World Trade Center construction, pioneering the method of breaking a bid into smaller components according to specific need rather than acquiring materials in massive bulk purchases.
He is survived by his son, Daniel, now the vice chairman of Tishman, his daughter, Katherine Blacklock, and three grandsons.
Leon Charney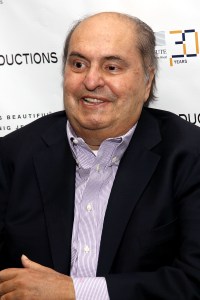 Attorney and Real Estate Mogul at H.L. Charney & Associates
Leon Charney, who died on March 21 at the age of 77, was such a towering giant in the world of real estate that his influence extended to the most contested piece of real estate in the world—the nation of Israel.
Charney grew up poor, and made his way through college and law school earning money as a cantor. He built a successful practice as an entertainment attorney, representing the likes of Jackie Mason and Sammy Davis Jr.
He amassed enough of a fortune to purchase One Times Square in 1980, according to Bloomberg News, back when the area was still scary and rundown, littered with drug dealers and porno theaters. Once Times Square was rehabilitated, it proved to be a tremendous investment. He added more buildings over time, eventually owning 1.5 million square feet of commercial real estate, and these investments made him a billionaire.
Charney may be best remembered for his role in the Middle East peace process. He had developed a relationship with Israeli Prime Minister Golda Meir when he served as an adviser to Indiana Senator Vance Hartke. When President Jimmy Carter prepared to engage Israel and Egypt in peace talks, he called on Charney, who helped coordinate the meetings between leaders Anwar el-Sadat and Menachem Begin that led to the peace accords between the two countries. Carter later called Charney "one of the unsung heroes of the Middle East peace process."
He hosted a televised weekly public affairs show, "The Leon Charney Report," from 1998 until his death. His prestigious guests included the likes of Yitzhak Rabin, Ehud Barak and Ed Koch.
Charney is survived by his wife, Tzili Doron, their sons Mickey and Nati, and his sister, Bryna.