Streamlining the Messy Work of Construction Through Virtual Design
---
---
The people who have best mastered construction are the ones who have also mastered the terms "moving parts" and "saintlike patience."
Consider what happens when dealing with a fairly minor problem—like, say, when the electrician plans on running lines through a spot reserved for the plumbing. You've just entered weeks of agony.
The subcontractor spots the issue and notifies the engineers through a request for information, or RFI. It takes two weeks before the subcontractor receives an answer. Or, if the subcontractor didn't catch the problem in time and the electrical wiring was already installed, then all the work would have to be redone. Time, money and labor are flushed down the toilet.
While it's probably true that construction will always involve a large number of people, a certain amount of red tape and the random force majeure, a few smart companies are applying virtual design and construction, or VDC, as a way to streamline the process early, avoiding redundancies and inefficiencies by integrating the architects, engineers and construction workers in the design phase.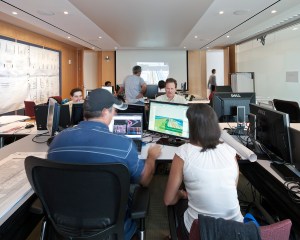 "It really allows us to work more collaboratively with the designers, whereas it's not so much of us going back and forth with a lot of paperwork like we used to," Michael Lorenzo, the director of emerging technologies at Tishman Construction, told Commercial Observer. "We have more of an open dialogue."
This is not necessarily the "virtual reality" that we're accustomed to; there are no wired gloves or omnidirectional treadmills to speak of. (Although there has been some usage of Oculus Rift and HTC Vive headsets to view buildings virtually.) To be clear, it's not virtual reality. It's more a shared computer network, which imagines the whole building from soup to nuts and allows all the players to see the effects of what they're doing before the first brick is laid. That's the technical part. But the other part is a spirit of collaboration that anyone schooled in VDC honors.
In the case of the aforementioned plumbing versus wiring snafu, when the plans are being drawn up, the subcontractor can turn in real-time to the engineer and ask to move it digitally through a virtual model on a computer to avoid the conflict during actual construction.  
The technology behind this construction method is building information modeling, or BIM, which is essentially the 3D digital model of buildings. Its popularity has grown at an astounding rate for users in the industry. BIM adoption in projects expanded to 70 percent of the industry in 2012 from just 17 percent in 2007, according to a 2013 Dodge Data & Analytics report. But only recently have construction firms started integrating with architects in making VDC.
"I think what naturally happened five years ago is that contractors realized that their trade is using this technology and they really need to get a handle on it," said Stacy Scopano, a senior industry manager for construction at Autodesk, which makes the software.
Tishman, which was acquired by AECOM Technology Corporation in 2010, will be employing VDC at mostly new and large projects in the city, such as Related Companies' Hudson Yards complex, L&L Holding Company's 425 Park Avenue and Brookfield Property Partners' 1 Manhattan West. They are also currently engaged in using VDC with 3 World Trade Center, which is set to top out this fall.
"We are kind of eliminating the duplication of efforts," Mr. Lorenzo said. "We are identifying the pinch points that could be problematic. There is always something because the designers are trying to figure out the big-picture items. They just don't have the time to put together a detailed set of drawings for all of the service requirements. They have some pretty stringent deadlines to get the designs to the owners."
VDC was employed for the 500,000-square-foot Mount Sinai Hess Center for Science and Medicine at 1470 Madison Avenue between East 101st and East 102nd Streets, according to Nicholas Holt, the technical director at SOM, the building's architect. It had a significant "scheduling impact" on the project, saving 35 percent of the construction time thanks to coordinating designs of the property before construction began, Mr. Holt said. The building opened in December 2012.
VDC involves three main components, according to Michael Schroeder, a director of SGA Architecture.
First, there's the BIM software. Massachusetts-based Revit Technology Corporation, which was founded in 1997, built what is widely credited as the pioneering BIM software. (The product was so successful that Autodesk bought the firm in 2002 for $133 million.)
Today, Autodesk is widely regarded as the North American industry leader for BIM software, but there are dozens of software programs and other providers around the globe. And today there are free apps for basic BIM software, while top of the line products cost in the tens of thousands of dollars. Autodesk recently adopted a subscription model for its BIM software products, which has reduced prices to a few hundred dollars per year.
Software similar to BIM, known as computer-aided design or 2D models of buildings in computers, has been used in some form or another prior to Revit, but BIM is different in that the models are no longer just graphics; modern BIM models reflect the actual physical changes as well as the ramifications to other parts of the building.
Secondly, the program allows for the different players in construction to work on the project separately but have all their changes incorporated in one place at the same time.
This finally winds up in a war room, where the disparate members of the team hash out the design with the engineers, architects and contractors.
Mr. Schroeder, who heads SGA's VDC services, is leading the design and building of Alexandria Real Estate Equities' 530,000-square-foot, laboratory development at 50-60 Binney Street in Cambridge, Mass., and said overall scheduling has been reduced by 20 percent and change orders to less than 1 percent. The project is part of the Alexandria Center at Kendall Square, a sprawling 2.6-million-square-foot mixed-use complex.
Currently, 50-60 Binney Street which is slated for completion in December, is around 80 percent completed and has had no RFIs during the course of construction. Thus, the buildings are actually coming in under the estimated price for the building, which was to cost about $1,000 a square foot.
Even through the 3D computer models of buildings are the arguably the sexiest part of VDC, Mr. Schroeder believes the most important factor is teamwork.
"It's about establishing early on a high level of trust between the project participants," Mr. Schroeder said. "The secret sauce to this is collaboration."  
When a subcontractor asks for a change on the spot, the architects and engineers have to trust that subcontractor's decision as the right one and prepare for alterations. If they don't and they try to verify everything instead, it adds more time to the schedule.
This has not been done without resistance from some of the construction teams, engineers and architects, said Andy Reinach, the vice president of development and construction at Alexandria Real Estate Equities.  
"The level of which you are able to deploy VDC into a project, depends on the personality of the teams," Mr. Reinach said. "Because it's a new technology and a new concept for building, when it becomes difficult to do, people tend to want to go back to the old way of doing things. You could train a pitbull to be a friendly dog, but once its senses trouble it's going to do what a pitbull does. And that's the same with contractors and architects."
The BIM technology has only improved; from two-dimensional images on the computer screen, it went to 3D and showcased the textures of the building materials, the weight of the concrete, the thickness of the glass and so on. But despite these benefits, many developers have still not instructed architects, engineers or construction firms to adopt the method for their projects.
Some developers are slow to adopt the new methods simply out of loyalty to the old-fashioned ways of doing things; others because only a handful of firms use VDC design and a lot of experienced architects were never trained in the technology.
But that can only last so long: Nowadays more architecture students are coming out of school knowing how to use the technology.
"There's a bit of a financial and economic [consideration] that goes into it, but I believe that all [massive] projects will be going into VDC and BIM in five years," said Justin Mihalik, the president of the New Jersey chapter of the American Institute of Architects, "because the average draft person will be someone who really knows BIM."
VDC is a better deal when doing a big project rather than a small one; laying out the cash for the technology and coordinating a bigger team are simply more cost effective for something with a lot of moving parts rather than a more modestly staffed one, Mr. Reinach said.
But as more and more architects and designers use VDC and hand their virtual plans over to landlords, it will become a bigger and more important part of doing business.
"Institutions which have 25 buildings are interested in" keeping virtual models and plans of their properties updated, Mr. Holt said, referring to universities and medical campuses. "The potentiwal of a BIM model to manage a building is pretty amazing. It can really make a building super smart."
Alexandria Real Estate Equities is already planning to use a virtual model of 50-60 Biney Streets for management and maintenance purposes after the project is complete.
"We'll have a better understanding of the core shell," Mr. Reinach said. "I think we are just scratching the surface of what we could do because new technologies are coming out every day to help with the virtual aspect of it."
1 Manhattan West
,
1470 Madison Avenue
,
3 World Trade Center
,
425 Park Avenue
,
50-60 Binney Street
,
Alexandria Real Estate Equities
,
Andy Reinach
,
Autodesk
,
Brookfield Property Partners
,
Dodge Data & Analytics
,
Hudson Yards
,
Justin Mihalik
,
L&L Holding Company
,
Michael Lorenzo
,
Michael Schroeder
,
Nicholas Holt
,
Related Companies
,
Revit Technology Corporation
,
SGA Architecture
,
SOM
,
Stacy Scopano
,
Tishman Construction