Jonathan Simon and Matthew Baron Are Making a Big Mark on LIC and Beyond
---
---
Like Simon and Garfunkel, or Simon and Schuster, the partnership between Jonathan Simon and Matthew Baron has plenty of backstory.
Simon Baron Development made its bones in the 1990s, owning residential walk-ups in Manhattan. Today, the firm has a number of high-rise projects in the pipeline amounting to about $1.2 billion in development, and the company's reach stretches from Manhattan to Queens and Brooklyn.
In Long Island City, Simon Baron is developing a 500,000-square-foot, 42-story residential tower with 467 apartments at 29-26 Northern Boulevard that it hopes to complete by 2018. And the company is trying to get approvals to convert the old Paragon Paint Factory at 45-40 Vernon Boulevard into a rental complex with about 344 apartments and a new 28-story, glassy structure. The firm owns 17 properties around New York City that are mostly luxury rental apartment buildings, comprising more than 1.5 million square feet. Its portfolio is valued around $1.7 billion.
Simon Baron's assets is not limited to just residential assets either. The firm is finishing up a 30-story, 248-room hotel at 11-13 East 31st Street between Madison and Fifth Avenues, and although the company's executives wouldn't say much about it yet, it is planning to enter the Brooklyn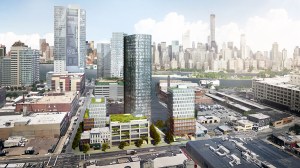 office market soon with a project in Greenpoint at 12 Franklin Street, which the firm bought for $18.7 million in February.
At one point, Simon Baron was just Simon Development. Mr. Simon, the firm's chairman and chief executive officer, founded the firm nearly a quarter of a century ago, just a few years after graduating from the University of Pennsylvania in 1987. In the early 2000s he began working on his first high-rise, ground-up project, Tower 31, a 42-story, 283-unit residential rental building at 9 West 31st Street between Fifth Avenue and Broadway.
By 2005, he was in the middle of working on Tower 31, when he decided to beef up his staff. He discovered Mr. Baron via Columbia Business School's website, where Mr. Baron earned his MBA (Mr. Baron was on the finance side of the industry as a vice president with Pergolis Swartz Associates, a lender), and Mr. Simon decided to make contact.
Commercial Observer: How did the partnership begin?
Mr. Baron: One night he called me at like 10 p.m. I picked up the phone, and we just started talking.
Mr. Simon: So I'm sitting with my wife, and he said to me, "I'm not really interested." And I said, "Okay." But somehow we agreed to have lunch together. I said to my wife, "I like this guy, but he said he wasn't interested." Six months later or eight months later we were partners.
What was it that made you like Mr. Baron?  
Mr. Baron: I think it was the fact that I said, "I wasn't interested."
Mr. Simon: No, no. We had a good conversation—I forget what it was about. We met up, and I think we shared a common view of where we wanted to go, what we wanted to do, the kind of company we wanted to build and the kind of culture we wanted to build. We are very like-minded people.
What kind of deals does Simon Baron like to do?
Mr. Simon: There are a few themes running through our company right now, but I would say the biggest theme is that we like to do projects that have a great basis, where we could get into the project at either a below-market land price or a very attractive basis with a building, where we can create value for ourselves and our partners, and our investors.
What asset classes are you most interested in?
Mr. Baron: I don't think we are out in the market looking for one special product. I think we are just opportunistic. Our preference in general is not to do condominiums. Our preference really is to do projects that we can own long-term.
Mr. Simon: There are a couple of neighborhoods that we are highly concentrated in right now, one of them being the Upper West Side, where we have three projects. We have two rental projects—166 West 75th Street, 393 West End Avenue—and we are doing a [condo] project, which we'll be hopefully selling this summer, at 269 West 87th Street between Broadway and West End Avenue. And we are very active in Long Island City. I would say we look at rental housing, number one, and then we are sprinkling in some for-sale projects. But we think in this stage in the cycle we are probably less focused on condos, unless it's an opportunity that's too good to be true.
And now you are doing a hotel, too. How's the 11-13 East 31st Street hotel project coming along?
Mr. Simon: This was a deal that we have been working on for 10 years.
Why did it take so long?
Mr. Baron: We acquired it pre-crash, and that put a big delay on our plans. [Simon Baron recapitalized on the property for $12 million in 2011].
Mr. Simon: We have recapitalized it a couple of times with a couple of different equity partners.
Did you ever think about scrapping the plans during the downturn?
Mr. Simon: The hotel was a workout for us. But I think it really showed that where other people may have wrote some investments off, we were able to stick with it and take it through the cycle.
Why stick with it?
Mr. Simon: First of all we had capital in the deal, and number two, we believed in the business plan and we believed in the location.
Mr. Baron: The way we see real estate, it's a long game. It's chess, it's not checkers. I have no idea if I buy a building tomorrow, whether it is going to be worth more next year, but I'm pretty sure it's going to be worth more 10 years from now. So I think the one secret in real estate that we both believe in is, if you could have staying power and hold on through the cycles, when you come out through the other side, you'll be okay.
What brand is the hotel going to be?  
Mr. Simon: It's a 250-room, 30-story boutique hotel. We are going to have a rooftop bar, a restaurant—it'll be very nice. And it's in the NoMad area of Manhattan, so it's around the Ace Hotel, the NoMad Hotel, the new Virgin Hotel. It's a hot spot in the city right now.
So hotels are something that you will be further diving into?
Mr. Baron: We're not aggressively seeking hotel opportunities in this part of the cycle, but obviously, that one is an older asset that we are finishing up. And then we have another opportunity that came to us close to a year ago that is sort of an off-market opportunity that we are engaged in.
What about rentals? Simon Baron already owns a rental property in Brooklyn, but is the company activity working on anything else there now?  
Mr. Baron: We are involved in an [office] project on a site that we just acquired in Greenpoint.
What is it about the Brooklyn office market that you like?
Mr. Simon: Brooklyn, if it was its own city, would be the fourth-largest city in the United States, and there has been virtually no new Class A office space built there. So I think that it's behind; there is demand from all the influx of people who have moved there.
Will this be ground-up?
Mr. Baron: Yes, it's a site that we have acquired where we could build an as-of-right office and retail building of a certain size, but we are kind of watching what's going on in the neighborhood to see if there may be an opportunity to enlarge it.
Let's talk about Long Island City. Why did you target the Crescent Club at 41-17 Crescent Street to begin investing in the neighborhood?
Mr. Simon: To be perfectly honest with you it happened by accident. There was a busted [130-unit] condo that presented itself to us—this was during the downturn. We acquired it in 2011 so we probably started looking at it at the end of 2010.
Mr. Baron: [NCF Equities] was building a 160,000-square-foot condominium building. It was your typical story: They were over-budget, late; the building was half-finished. Lenders started foreclosing. We ended up buying the debt from the senior lender at a discount, took it through the foreclosure process, foreclosed on the borrower, and then we finished the property, and we actually turned it into a rental.
That was our first experience in Long Island City and it really opened our eyes. I grew up in Brooklyn and truthfully I had no idea where Long Island City was. I wasn't fully sure it was Queens. But when we got there and we started studying the area and understanding what was going on, the biggest thing for us was the proximity to Manhattan—it was just crazy.
How much did you pay for the property?
Mr. Baron: The outstanding debt was $54 million, and we bought it for $39 million. We were fortunate. We closed it in 2011 and then sold it in 2013 [to Bonjour Capital for $85 million].
What led you to the firm's second Long Island City project?
Mr. Simon: From that opportunity, we got a call from another broker, and we were able to capitalize very quickly because we understood the rents and we understood the neighborhood and we were able to buy the 29-26 Northern Boulevard site and we knew that it was going to be a much taller
building, a better building, have better views and higher rents.
For a 42-story residential rental building like that, it's all about the amenities, right?
Mr. Simon: It's got a 42nd-floor clubroom with amazing views of Manhattan. It's got a gym and a swimming pool, a business center and a lounge. Rental buildings today are what condo buildings were 20 years ago. I mean, the finish level has just gone up and up and up, and the amenity packages have gone up and up, and it's a whole lifestyle thing with the tenants today. Tenants have come to expect it, and developers are trying to get top rents. It's a lifestyle for the tenants, and that is happening in offices, too. People want dining rooms and health clubs and all these amenities.
How did you find the Paragon Paint Factory?
Mr. Baron: That site came to us through a relationship. An individual who had assembled the site and started the remediation process, he was having issues with his partners, and it was a very messy deal—it was a very environmentally contaminated deal going through a BSA [Board of Standards and Appeals] process. But, we were able to go in and really see the value and be able to digest sort of the brain damage that would be involved in getting that project from zero to completion. So we're still in that process. We're a lot closer than when we started, and we are trying to bring a lot of value back to the community in exchange for allowing us to build that.
What do you mean by bringing "value" to the community?
Mr. Baron: Well, there are a few things that we're doing. The site was actually deemed by [New York] State as a hazard to human safety. It was a paint and varnish warehouse—this goes back 100 years. So the first part is we've cleaned up the building. The site is complete now after our environmental remediation. And secondly, as part of our development, we are going to build a pretty tremendous park that gives access through Vernon Boulevard to the waterfront. The other thing that we are doing is we are keeping the facade of the Paragon building.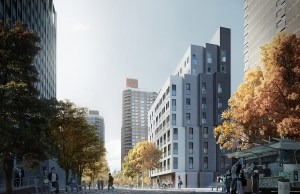 Why then didn't Queens Community Board 2 give its support for a variance for the project?
Mr. Baron: I don't think we want to comment on that too much right now. In general these things can be very difficult because there are always competing interests in these types of situations. You know there is a saying, "You can't make everyone happy." I think that rings true with a lot of different things and certainly in a situation like this.
So you are investing in a micro-apartment building called Ollie at 335 East 27th Street. Are micro-apartments the answer to New York City's housing crisis?
Mr. Baron: People need a place to live, and people are being priced out of—not just New York—a lot of major urban markets. You have a subset of the market that is already asking for a product like this. Think about people who just finished college, come to New York, just got their first job—whether they are living in Manhattan or in Brooklyn or in Long Island City—a lot of them are hooking up with friends for roommates. So they are used to living in smaller spaces, especially the younger generation who is not so focused on having dinner parties at home. What they want to spend their income on is experience. You look at the hotels, like the Ace Hotel and the NoMad Hotel—you walk into the hotel, and the lobbies are full of people hanging out. And it's not only people staying in the hotel: It's people from the neighborhood. People want to be out there, they want to be social, they want to be with other people. They are not looking to sit home and watch a 70-inch TV.
Is it becoming tough in this cycle to do deals?
Mr. Baron: I think they are fewer, and further between right now, but it doesn't mean that there are none. The truth of the matter is, it's cycles like this that really create the opportunities. As Warren Buffet said, "You want to buy when there is blood in the streets." Not that there is blood in the streets right now. But you don't want to buy high and sell low; you want to buy low and sell high.
11-13 East 31st Street
,
12 Franklin Street
,
166 West 75th Street
,
269 West 87th Street
,
29-26 Northern Boulevard
,
335 East 27th Street
,
393 West End Avenue
,
41-17 Crescent Street
,
45-40 Vernon Boulevard
,
9 West 31st Street
,
ACE HOTEL
,
Bonjour Capital
,
Jonathan Simon
,
Matthew Baron
,
NoMad Hotel
,
Simon Baron Development
,
Tower 31
,
Virgin Hotel