How the Empire State Building Became a Movie Star
---
---
It is the "closest thing to heaven in this city," or so said Deborah Kerr in An Affair to Remember shortly before her upward gaze at the Empire State Building caused her to have a run-in with a taxi and almost approach the actual pearly gates. The 1957 tearjerker was a remake of Love Affair and subsequently the inspiration for Nora Ephron's 1993 hit, Sleepless in Seattle. All three movies celebrated and romanticized the Empire State Building, featuring it as the fairytale happy ending for star-crossed lovers—the original meeting place pre-smartphones, much as the church spire is to the village. Meeting in New York City? See you at the top of the Empire State Building, my dear.
The Empire State Building has been featured in over 250 movies and heralds the movie's location to an audience with one simple shot. When William F. Lamb designed the building he probably did not realize, 10 million bricks later, he had created a movie star in its own right. Leading ladies and men come to 350 Fifth Avenue, between West 33rd and 34th Streets, in search of something, just as so many others come to New York City. They seek love, they seek happiness, they seek acceptance, they seek money, they seek power, and they seek world domination (well, maybe that's just King Kong. Or is it?).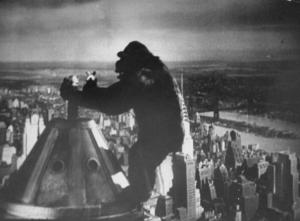 The building's cinematic debut took place in 1933, just two years after its opening, when King Kong climbed its spire in a bid to escape public exploitation and protect "his" love, Ann Darrow, from his captors flying overhead. But although it was technically the airplanes that caused King Kong's fall to death, his love for Ann was the reason he found himself 102 stories up, swatting planes, in the first place. "Oh no, it wasn't the airplanes," Carl Denham said to the police lieutenant afterward. "It was beauty [that] killed the beast."
Perhaps the building's romantic allure stems from the fact that only its observation  deck is available to us mere mortals. Its dizzying heights mirror the unwavering optimism of the lead characters and their belief that love conquers all—its spectacular silhouette towering above the New Yorkers below while a happy ending awaits above. Who can forget the radio station call-in that led to Meg Ryan falling in love with a sleepless Tom Hanks. Despite his declaration, "I am not going to New York to meet some woman who could be a crazy, sick lunatic! —Didn't you see Fatal Attraction?" —go, he did. And, he met this potential "crazy sick lunatic" at the top of a 102-story building. As for Meg Ryan, when the Empire State Building's lights changed to twinkle in the shape of a red heart, she didn't even finish her champagne before sprinting   off to meet her destiny. 
In Elf, Buddy the Elf travels to New York City in search of his long-lost father, cynical businessman Walter Hobbs (James Caan), after struggling to fit in, both figuratively and literally, at the North Pole. The sense of wonderment and excitement in Buddy's journey is in play from the second Buddy beholds his father's office building, the Empire State Building, inside a snow globe. The snow globe, with the building towering above the skyline, is the only GPS he needs. In Elf, it is New York City that is filled with a childlike sense of wonder, not the North Pole, and the Empire State Building the goal.
The Empire State Building's inclusion in movies is due to more than simply its iconic status; it is the heart of New York City. As the city streets pulse below it with a rushing of locals, settlers and tourists, the Empire State Building stands in quietude and anchors us, a perpetual reminder that we are in the greatest city in the world. It is the sight that passengers crane their necks to catch a glimpse of when landing at one of New York's airports; it is the sight that causes sidewalk scuffles as tourists stop dead in their tracks to look up at its magnificence, frustrating busy New Yorkers in their path; it's the place of countless proposals and photographs. The Empire State Building is a movie star because it is magical, and it is New York.