The Plan: La Pecora Bianca at 1133 Broadway
---
---
On the day after Thanksgiving (the second ever) in November 1864 confederate soldiers set fire to the St. James hotel at Broadway and West 26th Street, part of a 21-hotel-wide plot to set the city ablaze. The New York Police Department and Fire Department of New York (and a bad choice of chemical fire-starters) thwarted the plans. The St. James, built in 1859, survived until 1896, when it was demolished.
Two years later it was replaced by the 16-story St. James building (1133 Broadway), designed by architect Bruce Price. According to a Landmarks Preservation Commission report, the new building was popular with architectural firms, including Mr. Price's, which opened an office there. 
Last August the red brick and terra cotta Beaux Arts building, currently operated by Kew Management, welcomed the Italian restaurant La Pecora Bianca into part of the ground-floor space designed by McKim, Mead & White for the Havana Tobacco Company in 1904. Rizzoli Bookstore and the restaurant Inday occupy the remainder.
"I was looking for a building with history to create a European atmosphere in the midst of New York City," restaurateur Mark Barak told Commercial Observer.
He spent more than six months searching for "something with volume and light," in a pre-war building, in a neighborhood that could support an all-day business plan of breakfast, lunch and dinner. NoMad was optimal, Mr. Barak said, because it has business, tourist and residential traffic—100 years ago it was valued for the same things.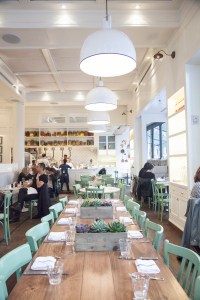 After seeing some 75 spaces, a 15-year lease for 2,250 square feet at grade and a 1,750-square-foot basement was signed in November 2014. The asking price was $250 per square foot.
What differentiated this space from the others for Mr. Barak, who is also co-owner of Claudette, a year-and-a-half-old French restaurant in Greenwich Village, was, firstly, its history as the tobacco company's showroom (not to mention the wrap-around glass front). The "amazing proportions" and ceiling height were a close second.
"I am obsessed with ceiling height," he said. These are 18 feet high, dropped to 14 to fit mechanical equipment everywhere but the front.
Mr. Barak also appreciated the space's original white marble, including an original column, which was mostly in need of a good cleaning, not a full restoration, to be preserved and remain in the space. The white marble is a perfect fit with the name of the restaurant (White Sheep) and the white theme of the design created by Nema Workshop (chosen for its experience and graceful manner) and Chiara de Rege Interiors (chosen to add a residential and European feel).
The space was raw when they took occupancy. "It had never been a restaurant and didn't have any of the basic infrastructure necessary to operate as one," Mr. Barak said. This meant bringing in utilities and building all the mechanical systems from scratch. And the design would have to include a path for exhaust, since there was no heating or cooling source from the building. So "a highly complex web" of totally self-contained ducts and exhaust to service the space was created. 
They needed landmarks approval to upgrade the doors. And an original staircase that led to the tobacco shop's humidor was restored using original marble from the basement walls.
Keeping with the theme of honoring the historic, the designers sourced reclaimed oak from France and terra cotta from across Europe for the floors and walls. Graphic designers at Pentagram created a tile pattern reminiscent of the restaurant's logo for a kitchen wall hand-painted by artists in California. Sage green, classic Thonet Cafe dining chairs were custom made by Sedia Elite, in Italy.
Pecora Bianca's chef Simone Bonelli is from Italy, too. He grew up in Modena. (You may know him from the now-shuttered Perbacco.)
Mr. Barak's vision, and passion for all things Italian, was cultivated during an eight-year stint working in London.
1133 Broadway
,
Bruce Price
,
Chiara de Rege Interiors
,
Claudette
,
Fire Department of New York
,
Havana Tobacco Company
,
Inday
,
Kew Management
,
La Pecora Bianca
,
Mark Barak
,
McKim Mead & White
,
Nema Workshop
,
New York Police Department
,
Rizzoli Bookstore
,
Sedia Elite
,
Simone Bonelli
,
Thonet Cafe