Cushman & Wakefield's Bruce Mosler Looks West
---
---
Springsteen is not the only Bruce who went by the name "boss."
From 2004 to 2010, Bruce Mosler served as Cushman & Wakefield's chief executive officer. Now, as the chair of global brokerage, he's keeping his focus on more local matters, but by no means has he taken a back seat.
Last year, Mr. Mosler represented Brookfield Property Partners in a 550,000-square-foot deal with law firm Skadden, Arps, Slate, Meagher & Flom to anchor 1 Manhattan West on the Far West Side. He and his C&W team represent the developer in its 7-million-square-foot, five-building development between Ninth and 10th Avenues, including the converted 5 Manhattan West.
Commercial Observer sat down with Mr. Mosler, 58, in Brookfield's on-site offices at the property (formerly known as 450 West 33rd Street). The married father of two discussed marketing the Far West Side, as well as how C&W was faring following its $2 billion merger with DTZ, which finalized last September, as well as serving as a board member for The Intrepid Sea, Air & Space Museum and his advocacy for veterans. He now finds himself working with longtime friend Brett White, the chairman of DTZ who took over as C&W CEO following the merger.
It's not the first time they've crossed paths, after all, as Mr. White served the same position at rival CBRE from 2005 to 2012—when Mr. Mosler helmed C&W.
Mr. Mosler has an infectious energy whether it's talking about deals, corporate tricks of the trade or his family. When asked by a photographer to climb onto an imposing window box, he happily complied and pointed to the construction behind him. A Manhattan native who lives on the Upper West Side, Mr. Mosler also hinted at the negotiating tips he picked up from his teenage daughter.
Can we discuss a little bit of what's going on here at Manhattan West?
What's made us super attractive is this gravitational pull westward. The excitement that was created over the whole Hudson Yards project—which is about 26 million feet of commercial space between Hudson Yards and Manhattan West—is that we are from a speed-to-market standpoint able to deliver in 2019 and 2020. And that Brookfield is Brookfield: the premier developer probably in the world. We're pretty pleased with where we sit today.
At the end of the day in [5 Manhattan West here's] a new, modern, efficient space. Here's a building that five years ago you would have driven by and said that's a $35-[per-square-foot] building. With a couple-hundred-million-dollar investment, a new glass façade and a new lobby that's a little bit more interesting, you're talking about rents that are going to be in the $80s, plus probably higher for the space that will come due.
The Associated Press is going to be vacating about 252,000 square feet in 5 Manhattan West. What kind of impact is that going to have?
The AP space, which we really haven't begun to formally market, is going to be the best space in the building. One floor has 27-foot-high ceilings, terraces all the way around and views that are largely unobstructed. I'm not going to [say] the companies, but you know who's out there looking. There are plenty of tech companies still looking to grow, and this is the kind of space that they want: large floor plates, high ceilings, the ability to do what you want within and create the work environment within the space.
Because the other Manhattan West buildings are new office product, is it more of those finance, insurance and real estate, or FIRE, tenants who might be interested them?
I think we have just as good of an opportunity for it to be FIRE or service-oriented—legal or otherwise. We're in a very wide range of conversations with a lot of folks, and if you look at who could deliver a space, we have one competitor at the end of the day [Hudson Yards].
The brand of Brookfield makes an enormous difference in terms of the confidence that people have to sign on the dotted line, understanding that it's [mostly a] new development and all the risks that go with it. They understand Brookfield is here for the long term, built for the long term and never sells an asset for the most part.
You've known this neighborhood for 20 years being involved with The Intrepid. Did you ever expect it to be like this though?
Well, now you're playing on my age [laughs]. The truth is, no. Not until Mayor [Michael] Bloomberg sort of said this whole area should be more, and asked "where are we building new product for the 21st century?" So Bloomberg envisioned a 40-plus-million-square-foot neighborhood when you take into account residential and commercial and hospitality. Not to underscore this, but at 26 million to 28 million square feet of commercial, you're talking about the size of the Dallas downtown marketplace. It's larger than the fifth-largest market in the country. This is a profound undertaking. No, I didn't see that.
Can you discuss what the merger with DTZ has been like?
Let me give you Bruce's version more so than corporate speak. Cushman & Wakefield is the third-largest player in the global service market. The combined business is now north of $5 billion in revenue, 43,000 people. We are in a very rarified air. We increased our ability from my perspective on the ground to service our clients in more marketplaces with more talent. In the U.S., I think it had a lesser impact but still an impact in some key cities. We went from on the fringe of being in the elite group to being in the elite group of every city that we want to be. So we added expertise, talent and service ability from the client perspective.
From a leadership perspective I think Brett White is the best in the industry today. His experience in growing and building CBRE—he was the architect of the development of that company. If I didn't believe in him, I wouldn't have stayed. Now in the breaking news: We formed this global advisory board so that our revenue producers, our service line people could talk to each other so that we could pursue key clients, service key clients and talk about best practices in servicing them. Most importantly because we want to communicate with each other—to talk about resources needed, where the firm needs to grow and why and how and with whom. I'm really excited to work that closely with Brett. For me it's yet another step in Cushman & Wakefield's development in creating a seamless service for our clients.
When we spoke for the Power 100 last year, you said having Ed Forst at C&W was a great factor in C&W's success. So how do you feel that Mr. Forst left the company as a result of the merger?
Look, Ed from my perspective was an exciting CEO because he brought different experience and talent to the table. What Brett brings is yet again a different set of talents and experiences but exactly what we need given the size of this organization, not to mention the fact that behind us we have an investor in the country that knows his space, likes his space and is committed to his space.
The best example I can give is myself. I served as a CEO from 2004 to 2010, and our revenues grew from $1 billion to $2.2 billion. I don't think I was the right person to take the company from $2.2 billion to $5 billion. Ed came along, and he repositioned the company and took us to another level. Yet again Brett is the right person to take us from where we currently are to that next level.
When did you first come to C&W?
I came to Cushman in 1997. So I'm on the cusp of the 20th year. I came to Cushman as a broker who had some success and gravitated toward the management side. I credit [former C&W CEO] Arthur Mirante with being one of the great brand architects, as I credit Brett for being that for CB. In 2004, I became CEO and in many ways completed Arthur's vision, brought a little more focus to aspects of the business such as technology.
Returning back to brokerage was for me in many ways coming home. I didn't have immediate success. When I stepped down in 2010, I did okay in terms of finishing in the top 100. But I wasn't knocking it out of the park. It took me several years, and I'm very proud that the last couple of years have been extraordinary years, and I have been doing some of the largest deals in Manhattan [such as Skadden, Arps at 1 Manhattan West and representing MetLife in a 300,000-square-foot sublease to Salesforce at 3 Bryant Park]. But it takes time. It's a hard business by the way, for me.
Which side do you enjoy more?
Okay. I won't punt. What I enjoyed about the management side was the privilege of leading people and bringing them along and touching and feeling it because the one thing you learn as a CEO is that you cannot send someone to deliver a message. I think at the peak I did 220 days a year on the road. I can remember having to fly back in for my son's basketball game on the weekends. Flying in, coming off a plane, arriving in a suit and coaching with Glenn Markman [from C&W], my beloved friend who passed [in 2014]. Glenn would look at me and go, "God, I can't believe you're here." I go, "What else am I going to do?" Opposing coaches are going, "What's this clown doing in a suit?"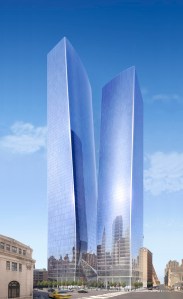 On the brokerage side, I love the diversity. Every deal is a different deal. Every problem is a different problem. You have to solve something different. You have to make a balance sheet effective for those companies. The sophistication of businesses today is so that I can't do a deal on my own. The best brokers I know today are the conductors who know how to bring in the pieces to solve. I'm a conductor today.
Being that you're involved in a lot of veterans' groups, have you brought any particular veterans into C&W?
We have over 300 veterans in our organization thriving—not just there but thriving. That's part and parcel to what I think is the right thing to do, and not for them, but for us. We are the beneficiaries of the talent. I really want to draw that line. Nobody's doing a veteran a favor for a job; they've earned the right for jobs. But you're doing your company a solid by what you get. I don't care whatever else gets misquoted, that's important.
You said your son is not going to go into real estate. What's he up to?
David is a junior at Richmond University [in Virginia]. He was a baseball and basketball star in high school. He went out for baseball at Richmond, which is Division I, Double-A, and, I think in the end, he decided there was almost no life in that. I wouldn't say he's a concert violinist, but he's been a violinist since he was 5. Also he loves I think the entertainment industry and possibly sports agency because he loves sports.
My daughter, Charlotte, who is 16, will be in business. She is the greatest negotiator. Example No. 1: I have a habit of every night I leave my wallet in the same place on the bar. Every morning I am shy 20 bucks. Every morning. Almost without fail. For the first couple of months I said, "I don't know. Maybe it's [my wife] Wendy. I don't know. Who knows?" I finally determined, it's pretty clear: It's my princess. I walked in and I said, "Charlotte, is there a reason why you think it's okay to take $20 out of my wallet?" and she says, "Well, how long have you noticed?" I said, "Well it's at least the last three or four months." She said, "It's much longer, daddy. And by the way, if you leave your wallet on the bar like that my assumption is that it's okay," [laughs]. I looked at that and I said, "It's really hard to argue with."
Have you picked up anything from this?
Oh, hell yes! She's given me tenacity. The one takeaway I have, and I mean this, is the ability to negotiate is natural. You either don't mind haggling back and forth or you do. As sophisticated as it is by the way, the art of it is the back and forth. She'll do good at that if that's what she wants to do. She's the businessperson.
1 Manhattan West
,
450 West 33rd Street
,
5 Manhattan West
,
Arthur Mirante
,
Associated Press
,
Brett White
,
Brookfield Property Partners
,
Bruce Mosler
,
CBRE
,
Cushman & Wakefield
,
DTZ
,
Manhattan West