Co-Working Spaces Delve Into Design, and Tenants Want In
---
---
Less than a year ago, when Commercial Observer put WeWork's Co-Founders Miguel McKelvey and Adam Neumann on its list of the 100 most powerful players in real estate, their company's shared workspace empire had been valued at a staggering $5 billion. But that was then. More recently, the company was reassessed, and the powers-that-be at Fidelity Investment decided that WeWork was worth another $10 billion on top of that.
Such is the shared workspace phenomenon, globally and in New York City. It represents a big trend and big money. It has officially moved beyond the days when it was just an empty room with desks and spotty Wi-Fi.
With new co-working players setting up shop seemingly every week, the demand for architectural and interior design expertise to create customized and dynamic coworking communities has gone full throttle. Shared workspaces require flexibility that supports multiple work environments, from couches and large chairs to small offices and conference rooms. Furniture must be comfortable and durable.   
Scott Spector, a principal with the Spector Group, a firm that has worked with a number of the city's shared workspace companies such as WeWork, noted that with the growth of the shared workspace market, "more owners are looking to architectural experts to individualize the look, feel and aesthetics."
According to a Nov. 20, 2015 Global Coworking Survey, those looking for shared workspace want 24-hour access, an equal number of flexible and permanent desks and, perhaps most surprisingly, they want to be involved in decisions about the interior design.
"Coworking is not just about workspace," said Jason Saltzman, the chief executive officer and co-founder of Alley, a shared workspace company based in Manhattan. "It's about the community."
Prior to opening the firm's flagship Chelsea location at 119 West 24th Street, Alley conducted surveys about size, space, office types and overall design with current tenants at its two other locations. He added, "We wanted our people to feel as though they were part of the space development."
Alley's Chelsea location is the third shared workspace location for the company. Mr. Saltzman recalled the distinct difference between the development of the Chelsea digs and older workspaces that have been around for a few years, such as Alley's Midtown location at 500 Fashion Avenue between West 37th and West 38th Streets. "The ecosystem of a shared workspace has changed considerably since we opened our first workspace in 2012," he said. "In those early years, it was really about open collaborative areas where people see each other and share ideas, the face-to-face interaction. We didn't use an architect or interior designer…we just bootstrapped the build [out] of the space."
That's not the case for Alley's Chelsea space. The company hired a professional architectural firm to help create the right ecosystem based on member requests.
Ajay Chopra, the owner of Echo Design + Architecture, was brought in to work on the Chelsea offices.
"The entire space [is] subdivided into experiences with different seating arrangements and a different environmental feel," Mr. Chopra said. "Even the phone booths and bathroom provide a specialized experience. For instance, one floor incorporates a café that feels like a comfortable apartment with soft lighting and seating, evoking a friendlier atmosphere."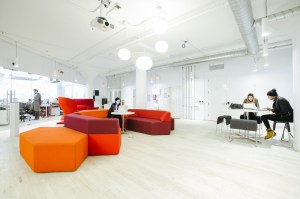 The architect also accommodated tenant requests for more private space for small group gatherings or individual work areas, individual phone booths, better lighting and nursing room for mothers. 
The shared workspace company, WeWork, also individualizes workspace locations to fit members. The locations vary from comfortable loft-like environments with bean bag chairs at its West Broadway Lounge at 379 West Broadway to more modern spaces, such as the Soho West Lounge on 175 Varick Street. 
WeWork is currently developing a new workspace in the Brooklyn Navy Yard. Michael Rudin, a vice president of Rudin Management, said at Dock 72 in the Brooklyn Navy Yard, a project that the company is co-developing with Boston Properties, WeWork is taking one-third of the 220,000-square-foot building. Mr. Rudin said that WeWork is "a co-development partner of sorts, not financially, but on the design and amenities. They're playing a very big role in how we position the building."
In addition to WeWork designing its own amenities in the building, it is helping the developers design the building amenities, which the coworking giant will help operate.
For Mr. Spector, the key concepts of today's shared workspace design are inspirational and collaboration.
"Shared workspace organizations are thirsting for the collaborative piece," Mr. Spector said. "It's easy to go into a collaborative working facility, sit at a desk and put on your headphones whether it's an open plan or small closed office plan. However, a 'connected' common area must be arranged in such a way to optimize seating, daylighting, food delivery and especially acoustics. The common space can't be small in scale; it must block out the outside typical city sounds."    
Johanna Rich, the owner of interior design firm J Rich Design, offered a perspective as a member of a coworking community as well as a professional designer. Ms. Rich joined Ensemble, another coworking space, several years ago to meet people and grow her then-new company as it was getting off the ground. 
When Ensemble looked to move to a new, larger space, the company executives hired Ms. Rich to design the new space.
"I learned from experience that the first criterion for designing the optimal coworking space is that it really has to be a dynamic environment with a lot of flexibility in terms of open space and private offices," Ms. Rich said. "A start-up company might have one or two people at first and then grow to nine or 10 soon after. The space needs to evolve to meet those needs."
Ensemble currently leases an 8,000-square-foot space at 32 West 39th Street in Midtown Manhattan. The office features a series of private offices around the periphery and open seating in the center. Ms. Rich said her focus in the design was to ensure the space created energy for networking and one that can facilitate lectures, networking events and social engagements. The energy she believes comes from the movement of people that's visible even in private spaces that are still seen through frosted glass. Ms. Rich opted for a neutral color palette that ranged from white, shades of gray and black elements with natural wood tabletops.
The open lounge space encourages interaction, while the private quiet areas facilitate teamwork. 
Mr. Spector agreed: "Really, there's no pure model for today's shared workspaces other than an inviting common area and access to food and the freedom to move from space to space—though the best ones inspire ideas and drive collaboration."
With additional reporting provided by Lauren Elkies Schram.