After Its Dream Tenant Bailed on 2 WTC, What Happens to Silverstein Properties' Tower?
---
---
This year began with things going the right way for 2 World Trade Center.
The previous June, Rupert Murdoch's News Corp. and 21st Century Fox signed a non-binding letter of intent saying they would anchor the still-undeveloped 90-floor tower in a deal that would be worth billions.
A rent subsidy was approved in December by the Port Authority of New York & New Jersey that would be passed along to the two media companies.
Architects with the Bjarke Ingels Group based on the 10th floor of developer Silverstein Properties' 7 World Trade Center were churning out drafts of what the lobby could look like and renderings of the building were breathlessly reproduced in the press (including Commercial Observer).
But on Friday, Jan. 15 this year, Silverstein Chairman Larry Silverstein received a call from Mr. Murdoch.
The News Corp. and 21st Century Fox head told the developer that because of the shaky global economy, his companies were not going to relocate their headquarters from two locations along Avenue of the Americas in Midtown. (Messrs. Murdoch and Silverstein have publicly stated that for a real estate break up, this one was rather clean and amicable—as one might expect.) With financing dependent on a large occupant, this meant that all plans to move ahead would be put on hold until a replacement could be found.
Following the nail-biting three-day weekend, executives at Silverstein arrived to work with one question: What now?
"[We were] talking about, 'Okay, where is our focus?' " Mr. Silverstein said last week at his office, which overlooks the potential site of 2 WTC, as well as the under-construction 3 WTC and the completed 4 WTC. "Who's on the table next and what's our strategy to go after each of [these prospective tenants]? That's our business: to get it done as quickly as possible. Because time is money." 
Indeed, Silverstein finds itself back to square one in securing an anchor tenant to build the roughly 1,270-foot tower following the extremely public blowup.
While this might seem like a daunting task, the team behind the project sounds bullish that a replacement will be signed by the end of this year, and completion is only pushed back a year to 2021. Plus, now the developer has a new design for the property—the only silver lining after the Murdoch deal went south—that will allow the company to lure in someone new. And it's not like the WTC complex hasn't enjoyed success wrangling tenants.
"We have real momentum now," said Mary Ann Tighe, the chief executive officer of CBRE's New York tri-state region, who handles leasing for the complex. "Hopefully, we're close with three significant tenants at Tower 4 right now. So much so that we have a fourth tenant that is interested in Tower 4. We said, 'If you can extend your lease or do a short-term holdover, we'd prefer to put you in Tower 3.'"
Occupancy at 4 WTC is at about 70 percent since opening in 2013. Sister tower, 3 WTC, is set to top out this summer with total completion slated for 2018. The skyscraper is already anchored by advertising firm Group M, which is leasing 685,000 square feet at the building.
But finding an anchor tenant for 2 WTC involves a particular criterion, according to those involved in the project and other Big Apple brokers. First, a new tenant has to have the size needs to take a big chunk of the building, thus financing part of the construction. Ms. Tighe said the marketing team is looking at tenants who need about 500,000 square feet, if not 750,000 square feet.
Most likely, that could mean a consolidation of a company with several offices throughout the city, as well as those in growth mode looking to expanding in the next couple of years, Ms. Tighe said.
"One of the ongoing fictions is that a tenant who has never been in New York City is going to show up and take half a million or a million square feet," she said. "That doesn't happen. But what you do see are tenants who are 100,000 square feet or are in a very rapid growth mode."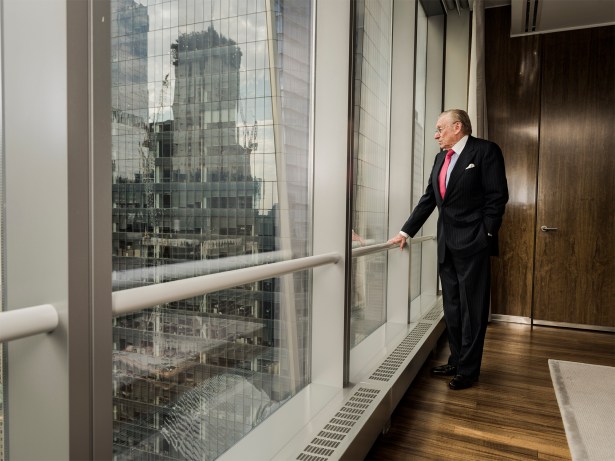 Since its revitalization, the World Trade Center has become a hub for tenants in the technology, advertising, media and information services, or TAMI, realm starting with Condé Nast's move to 1 World Trade Center (which is owned by the Port Authority and the Durst Organization). And that type of tenant is as much in play to anchor 2 WTC as a financial services firm.
Time becomes the other factor in who is the best fit for 2 WTC.
Tenants have a lot more options than they did a year or two ago; if a tenant's lease is up four years from now, it could look at the 65-story 1 Vanderbilt in Midtown, as well as Hudson Yards, said Michael Cohen, the president of the New York tri-state region of Colliers International.
"Larry has a pricing advantage over most other new construction," Mr. Cohen said. "But he's in Lower Manhattan and not every tenant is a [good] candidate in Lower Manhattan."
The best candidate depends on the location from where most of a company's workforce would be commuting, Mr. Cohen added. Downtown might be an option if most workers traveled from Jersey City and Brooklyn—but in the case of Skadden, Arps, Slate, Meagher & Flom's decision to anchor Brookfield Property Partners' 1 Manhattan West at the corner of Ninth Avenue and West 33rd Street last year, Mr. Cohen said the fact that most of the executives lived in nearby Chelsea played a key role. 
But while Hudson Yards and Manhattan West no doubt have a bright future, the World Trade Center is closer to realizing its potential.
"Hudson Yards will be a very attractive place to work and to live 20 [to] 25 years from now because it's going to take that time for it to be built out," Mr. Silverstein said. "In the next three years, [3 WTC] comes on board, and then two years later [2 WTC] comes on board. And then you've got a completely finished and rebuilt World Trade Center."
Mr. Silverstein stressed that Downtown has 11 mass transit lines, new retail at Brookfield Place and the World Trade Center PATH station, and 60,000 new families living in Lower Manhattan. 
John Wheeler, JLL's expert on all things Downtown, added that a prospective anchor tenant would be looking for a business district that's already developed with connected streets and varying types of retail. That's a world of difference from when Condé Nast started to move Downtown near the end of 2014, he added.
"Now anybody that starts to think about what it would be like for their firm to anchor 2 World Trade Center is a firm that is able to look at the complex in its completed state," Mr. Wheeler said. "Your long-range planning is a lot easier because you're going to be looking at a mature site versus what Condé Nast did when they decided to make that commitment with a lot of the enhancements to be opened subsequent to their relocation down here." 
In the divorce from News Corp. and 21st Century Fox, Silverstein has walked away with custody of the Bjarke Ingels design for 2 WTC, which replaced an earlier draft by Norman Foster. The design, which was drafted during the negotiations at the request of the prospective tenant, features several terraces all the way up in the staircase-like structure. Prospective tenants have been receptive to the design, Mr. Silverstein said.
Ms. Tighe added that while Mr. Foster's 2006 design was beautiful, the rendering by Mr. Ingels carries "the notion of how we work in 2030, as opposed to how we were working at the time." 
"[Mr. Foster] was designing without a specific use in mind," Ms. Tighe said. "Now along come two great companies that are in the TAMI sector, with absolutely clear, specific requirements and a big vision as to the nature of the talent they want to attract and retain and support. They say, 'We can't use this design because that's not how we work today, and for sure we won't be working that way in the next decade.'"
Silverstein in a way has lucked out when it comes to the design of some of its floors. It was originally assumed that finance firms would fill the World Trade Center space once it was rebuilt; that all changed between 2008 and 2009 when the recession hit and firms like Goldman Sachs became less focused on new offices, according to Silverstein executives. TAMI companies emerged at the same time and took a liking to the designs of the trading floors and finance-inspired offices at 3 WTC and 4 WTC.
Mr. Silverstein said the look and the technology of the World Trade Center buildings have made them stand out from other pockets of the city where the office stock might be older. He said the complex's towers are greener, had fewer columns and are more adaptive to the needs of 21st century companies.
Group M took the trading floors at 3 WTC, along with above offices, in its initial lease at the end of 2013 for 515,000 square feet, which was followed last year with an additional 170,000 square feet. That tower is already 900 feet high, and work has reached the 73rd out of 80 floors. CO ventured to the top last week—which is close to matching the height of 4 WTC—adjacent to the tower. Silverstein has been able to speed up construction by building the concrete core first, allowing for electrical and plumbing work to begin earlier than normal, as opposed to initially putting up the building's steel.
Location, the tenant amenities being created and the mass transit—the Fulton Center, the PATH station and ferries—have played a crucial role in making Downtown an option beyond just being a value play.
John "Janno" Lieber, the president of the World Trade Center division of Silverstein, said the terrace at the 15th story of 3 WTC has been an attractive feature of the building for creative tenants who want outdoor space. 
"As we have all found out, that's one of the things that tenants become excited about in this market," Mr. Lieber said. "All of the tenants will be able to reserve time for events on a space which is about 15 floors up in the air. It's a great level both to be elevated—to see the water—but also to be close enough to the ground plain to be kind of in the neighborhood in a way."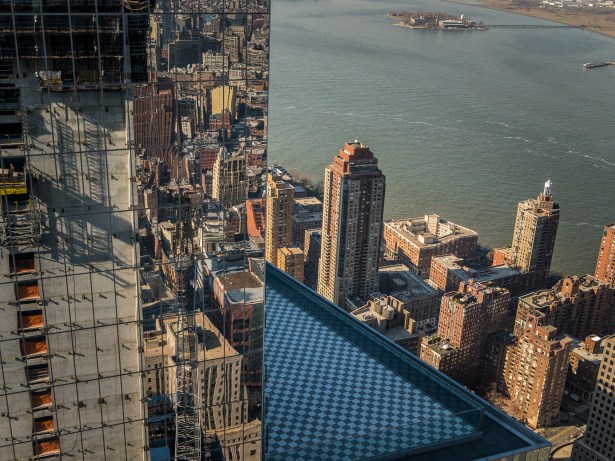 The Port Authority and the City of New York anchor 4 WTC. Silver Suites, the developer's version of short-term shared workspace, recently opened in a full floor of the 2.2-million-square-foot tower this month, and executives expect it to be completely occupied in the next six months. PadillaCRT, a food-focused public relations firm that originally took space in the 7 WTC Silver Suites space, moved into its 14,639-square-foot office at 4 WTC in the beginning of March and features a full-use kitchen.
Silverstein's towers and Durst's 1 WTC are also becoming connected by the new PATH station, which opened earlier this month following a lengthy and controversial delay. The hub will be filled with retailers this October once buildouts for the likes of Apple and Kate Spade are complete. Mr. Lieber said the mass transit and its proximity to Brooklyn, New Jersey and the rest of Lower Manhattan where the tech workforce has called home have made it stand out in a city ripe with development.
"That triangle we are at the center of from a transportation standpoint" has been a game changer, he said. "That, rather than sheer luck. It's the demographics, the transportation and the way New York's economy has developed since the recession that have really turned this into a TAMI neighborhood." 
1 Manhattan West
,
1 World Trade Center
,
2 World Trade Center
,
21st Century Fox
,
3 World Trade Center
,
4 World Trade Center
,
7 world trade center
,
Arps
,
Bjarke Ingels
,
Brookfield Property Partners
,
CBRE
,
Colliers International
,
Conde Nast
,
Group M
,
Janno Lieber
,
JLL
,
John Wheeler
,
Larry Silverstein
,
Mary Ann Tighe
,
Meagher & Flom
,
Michael Cohen
,
News Corp.
,
Port Authority of New York & New Jersey
,
Rupert Murdoch
,
Silverstein Properties
,
Skadden
,
Slate
,
World Trade Center