Under Construction: AKA Wall Street [Updated]
---
---
If the Financial District is best known for its glass and steel architecture, there are still a few stone gems that stand out to developers looking to build something in the area.
Lower Manhattan's resurgence as a hot residential neighborhood convinced a joint venture of Shorewood Real Estate Group, Korman Communities and Prodigy Network that it needed a luxury long-term stay hotel with a range of amenities, including a rooftop cinema—and they found something with character to tie it all together.
AKA Wall Street, at 84 William Street between Platt Street and Maiden Lane across from the Federal Reserve Bank of New York, is the partnership's project, which is wrapping up a nearly three-year gut renovation in the hopes of opening in May. The hotel will include 137 units with a mix of luxury studios and one- and two-bedroom units. It will be AKA hotel's—a division of Korman Communities—fifth location in New York City and 11th worldwide.
While the renovation will be adding a lot of new features to the 1907-building, the partnership decided to keep various original details of the yet-to-be landmarked property.
"To restore a building that is very visible in the Financial District and to bring it to its prior grandeur signifies the emergence as the Financial District as a real destination where people want to be and prepared to come and live on a short-time basis, and it mimics to me the luxury that is going to be inside the building," S. Lawrence Davis, the president and chief executive officer of Shorewood Real Estate Group, told Commercial Observer.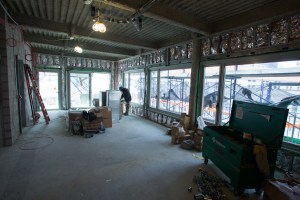 Mr. Davis, who is also the president of Prodigy Capital Group, and his partners are restoring, not replacing, old staircases, which have
custom-designed patterns, and revitalizing an eight-foot diameter clock that has hung on the property since its early days. They will also add limestone to the base facade of the structure, bringing back the original material to the building. The joint venture purchased the building in October 2013 for $58 million, according to city records. Construction began a couple of months later. Project administrators refused to disclose the cost of the renovation, but the website for partner Prodigy Network—a real estate crowdfunding company—shows that $40 million was successfully raised to fund the project on its website.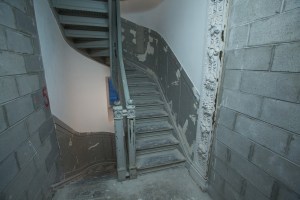 The hotel will feature plenty of new and luxury features as well to support its costly $425 per night charge for one-bedroom units. (Rates can decrease based on length of stay.) The partners added new elevators and are building a new lobby. They also reinforced the columns on upper floors and added three new levels to the previously 17-story structure—two penthouse suites and the 20th floor, which will be a bar and common area. The top floor will also include an outdoor area with a gigantic, weather resistant 10-foot-wide (120-inch) TV. It will have a special concrete holder and steel posts to support it, and there will be seating for a theater on the roof.
Other amenities in the hotel will be a high-end gym, a business center and a conference room for 14 people. And celebrated chef Wylie Dufresne, known for his outrageously popular but now shuttered WD-50 in the East Village and Alder restaurant on the Lower East Side, is opening a new eatery on the ground floor.
"If you're traveling for two weeks or three months, and you're on your own, there are times that you want that alone time, but there are times you want a communal experience beyond let's say a fitness center," said Larry Korman, the co-chief executive officer of Korman Communities. "So to have these lounges and restaurants and bars is another way in which our residents get to interact when they choose to."
Update: This story previously misstated that S. Lawrence Davis is the president of Prodigy Network. He is the president of Prodigy Capital Group, which manages each property offered by Prodigy Network.