Some bankers chase the sexy deals that grab headlines, but push the envelope of common sense. Gregg Gerken and Roy Chin, backed by the culture of a conservative Canadian lender, play by a different, more cautious set of rules. Quietly, their disciplined approach has turned TD Bank into a major player in New York City real estate.
Mr. Gerken, TD's head of U.S. commercial real estate, and Mr. Chin, regional director for commercial real estate in New York, didn't quadruple TD's New York real estate book since 2010 by recklessly leaping headfirst into luxury condo deals with breakeven prices that would make their bosses in Toronto blush. Yet, they also didn't transform TD's real estate business by avoiding risk altogether.
Back in 2010, as the more established banking giants were still licking their wounds from the financial crisis, Mr. Gerken and Mr. Chin pounced. They had a secret weapon: TD Bank was one of the only major banks in the world that didn't suffer writedowns in the subprime mortgage market. That means Mr. Gerken and Mr. Chin had the firepower to step into the chasm that had formed in the New York real estate business.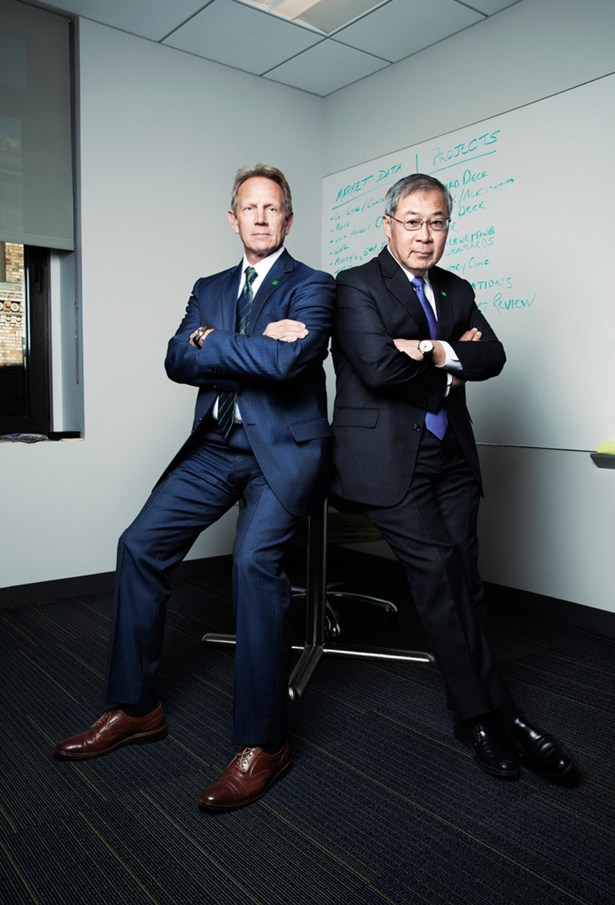 "We were there—and we were a phone call away—at a time when a lot of banks by necessity had to pull out of deals," Mr. Gerken told the Commercial Observer from the 24th floor of the bank's temporary Midtown Manhattan office building.
TD Bank—one of Canada's largest lenders by assets—avoided the dramatic losses large U.S. banks experienced because it showed relative restraint before the financial crisis, analysts said.
"They were never really aggressive pre-2008, so they didn't really get hurt," said Michael Stoler, managing director at Madison Realty Capital.
"Canadian banks in general and TD in particular were never brought low by housing loans in the crisis," said Richard Bove, a banking analyst at Rafferty Capital.
To be sure, TD did not emerge from the financial crisis completely unscathed. The bank's stock price plunged from $38 a share in August 2007 to below $14 in February 2009 (on the U.S. stock exchange). And it did suffer some mortgage setbacks, including several high-profile foreclosures in hot Florida markets like Miami and Palm Beach, according to press report.
But most big banks that power the commercial real estate market suffered far more damage. Many needed a federal bailout just to avoid bankruptcy.
"Everybody got hurt in Florida," said Stoler.
The lack of financing available at the time allowed TD to be extra selective about which development projects it would support. It grew its book of New York metro commercial real estate loans by nearly $5 billion since 2010 to $6.2 billion.
"The strength of our balance sheet enabled us to rise to the occasion. It's something that differentiated us," said Mr. Gerken, who grew up in Ohio and now lives in Tarrytown, N.Y.
Even today Mr. Gerken and Mr. Chin get to brag about TD's fortress balance sheet. Moody's assigns TD Bank "very high" credit ratings (technically it's "Aa1," or one notch below AAA) due to the strength of the bank's "relatively low risk" consumer-facing business in North America that is focused on gathering deposits.
Mr. Gerken knows retail banking backwards and forwards. He was an executive at Commerce Bank for a decade, when TD Bank acquired the New Jersey-based community lender in 2008. Just over a year later, Mr. Gerken was promoted to co-director of U.S. commercial real estate at TD Bank and then in October 2010 he became head of commercial real estate in the U.S. Today he's responsible for a $15 billion investment real estate portfolio.
Mr. Gerken, who graduated from Ohio University in 1982 with a bachelor's degree in international business and political science, credits Mr. Chin's arrival from Bank of America-Merrill Lynch in 2010 with making TD's ramp-up in New York real estate possible.
"Roy was my first and only call—and fortunately he took my call and accepted the position," said Mr. Gerken, who met Mr. Chin when they worked together at Fleet's real estate business.
It was an easy decision for Mr. Chin, who was handed the keys to TD's New York, New Jersey and Long Island commercial real estate teams, as well as its mortgage warehouse division.
"It was a great opportunity," said Mr. Chin, a seasoned banker who had also done stints at Chase and Hypo Real Estate Bank International.
"We both saw this as a chance to build a platform the way we always wanted to," said Mr. Gerken.
Mr. Gerken and Mr. Chin have a natural, easygoing rapport built by years of working together. The two men share an obvious mutual admiration for each other's talents and youthful personalities, despite their status as grandparents.
"We're two forever immature people stuck being very young at heart—which is why I love this business. We're surrounded by all these young people that constantly have moved onto bigger and better things across the industry. It's very rewarding watching people's careers take off like that," said Mr. Gerken.
Asked about his hobbies outside of work, Mr. Chin half-jokingly said he doesn't have any because he's always working.
Then Mr. Chin settled on his answer: "I have no idea what I'm going to do when I grow up."
It's already been a long journey for Mr. Chin, who got his bachelor's degree in engineering at Rensselaer Polytechnic Institute in Troy, N.Y. In the 1970s, he switched gears entirely by going into banking and getting an MBA from New York University.
Mr. Gerken, a self-described "big music buff," sits on the board of the New Jersey Performing Arts Center.
"I live vicariously through musicians who can actually play something. I always wished I could but I have to settle for just being able to listen," he said.
Mr. Gerken, 57, is also an avid runner. Three years ago, he was six blocks short of the finish line at the Boston Marathon when terrorists exploded two bombs. Mr. Gerken returned the following year to finish that infamous marathon and then run a complete one two days later.
"I had to relive those steps," he said.
Even though the market has bounced back dramatically from those dark days following the recession, Mr. Gerken and Mr. Chin have maintained their same disciplined approach today. That may mean TD has to reject some deals that don't fit its credit appetite, but they're fine with that.
"We were disciplined then. We've been disciplined when the market was getting better and we're just as disciplined today," said Mr. Chin.
There's little doubt TD's prudent approach stems from the bank's Canadian roots.
"In the U.S., you have a regulatory environment that a lot of institutions try to work around—as opposed to work within. In Canada, there's a cultural acceptance of staying within the lines," said Mr. Gerken.
Mr. Stoler, the Madison Realty Capital executive, has watched and admired TD's strategy from a distance.
"They're like the snail: slow and steady. They are not risk takers. They don't run and put money out at ridiculously low pricing for unproven sponsors," he said.
TD ranked seventh among commercial banks in 2014, with $2.92 billion of commercial real estate volume, according to the Mortgage Bankers Association. While TD was ahead of both Citigroup and Goldman Sachs, which did between $880 million and $1.1 billion in 2014, it was well behind other big banks like J.P. Morgan Chase's $24.4 billion. Final statistics on TD's 2015 rankings weren't available yet.
In New York City, TD grew its volume of lending to commercial, income-producing properties by 50 percent through the first 11 months of 2015 to $1.3 billion from $874 million, according to data provided by CrediFi, a research firm that uses big data to analyze commercial real estate. TD made 6 percent fewer loans last year than in 2014, but the average size jumped 59 percent to $1.2 million, CrediFi said.
Mr. Stoler said TD is unlikely to gamble on emerging neighborhoods just to make an extra buck.
"They're not going to change their attitude. They are who they are—even if they don't get the extra business," he said.
Given TD's conservative approach, it's no wonder the bank's Rolodex of real estate borrowers is slanted toward savvy real estate investment trusts like Vornado Realty Trust, SL Green Realty Corp. and ones controlled by private equity giant Blackstone Group.
Mr. Gerken likes real estate investment trusts because they're less leveraged, making them safer to lend to. He said it also helps that REITs are publicly traded, offering creditors real-time visibility into their financial health and enabling them to inject more equity into development projects.
"It's been a great place to play. You've got professional management, very deep and diverse portfolios," Mr. Gerken said, adding that TD's loan commitments to the REIT industry have grown to nearly $4 billion.
At the same time, Mr. Chin has successfully spearheaded an effort to build up TD's business with the family-run development firms like Gotham, Rockrose and Durst that have been in Manhattan forever.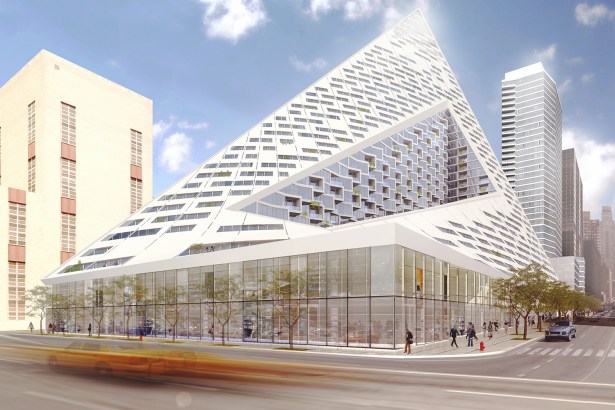 For instance, TD is currently providing $60 million of construction funding for VIA 57West, a 700-unit multifamily rental development being built by The Durst Organization at 625 West 57th Street.
"They are a sophisticated lender that understands the intricacies, vagaries and eccentricities of the New York rental market," said Jonathan Durst, the firm's president.
TD also recently provided $46 million to help finance Gotham West, a 1,200-unit project developed by Gotham Developers that spans three buildings of mixed-use rental, 2,000 parking spaces and 16,000 square feet of retail space.
"TD is right at the top of the banks I like to deal with," said David Picket, chief executive officer of Gotham Developers.
Mr. Picket said he's enjoyed working with Mr. Chin because he's "very straightforward, very transparent and very accessible." Even better, he said Mr. Chin cuts right to the chase.
"The best answer is, 'Yes, we'll do the deal.' The second-best answer is 'no,' but it's a quick no. Roy doesn't drag things out. In my business where predictability is really important, I appreciate that," said Mr. Picket.
Mr. Picket said TD is so quick to weigh in on projects that Gotham will frequently call the bank with details on a preliminary deal just "to get an early lead" on whether the transaction makes sense or not. "They're very helpful that way," Mr. Picket said.
It's part of a concerted effort by TD to be responsive to borrowers so they'll be more likely to come back next time.
"Everyone has a memory," Mr. Chin said.
But don't let Mr. Gerken and Mr. Chin's reputation for discipline fool you. Even they can get excited about the big financing deals.
TD's mortgage warehouse team committed $1.9 billion last year to help Berkadia finance private equity firm Lone Star's acquisition of Home Properties, an apartment REIT. TD's final funding was $1.7 billion and the loan has already been fully repaid.
That was "the first transaction I've been involved with where I could see the impact on the balance sheet," said Mr. Chin with a smile. "It was huge."
The Berkadia transaction was led by Dick Hay, who worked with Chin at J.P. Morgan Chase and joined TD six years ago to launch TD's mortgage warehouse operation. Under Hay, the platform's loan volume has soared from zero to over $3 billion.
Get ready for TD to make a splash in the affordable housing space next, which Mr. Gerken said offers more opportunity at this point in the real estate cycle than the luxury market.
"Given the cost to build and the cost of a land, developers can't afford to build anything but Class A high-rent properties. Yet there's a huge segment of the market that can't afford that," Mr. Gerken said. "There's a definite need in all of our markets, but in New York in particular, to make housing more affordable. That is going to be a major focus going forward."
TD is aiming to double its volume of loans in the affordable housing space to about $360 million a year over the next two years. To make that possible, TD has sought to create a "one-stop shop" by recently moving its community capital group from the equity side of the bank to the real estate division.
The consolidation is aimed at speeding up the approval process and improving the sharing of information about the complex tax credits provided by governments and nonprofits that make these projects economically feasible.
TD recently financed a $71.5 million direct bond purchase of a Housing Finance Agency-bond for an 80/20 project, which offers tax-exempt financing to multifamily rental developments that set aside at least 20 percent of the units for low-income residents. The development is a 167-unit residential rental project in Lower Manhattan. TD's ramped-up efforts in affordable housing come as Mayor Bill de Blasio promises to make affordable housing the focal point of his second year in office.
"Politically, it makes sense. From a socioeconomic perspective, it makes sense. If you put those things together, we can make good business sense out of it," said Mr. Gerken.
Of course, the real estate industry continues to carefully monitor the situation surrounding the 421a tax abatement program for developers that provide affordable units in new buildings. The program officially expired in January over a dispute about wages for construction workers at 421a sites.
Still, Mr. Gerken's focus on affordable housing also reflects a sense of sober realism about the state of the high end of the real estate market.
"A lot of our clients are saying now is not a very good time to buy. The market has kind of topped out price-wise," he said, adding that he thinks opportunities are still out there—but they're harder to find.
That's not to say TD is negative on the real estate market.
"The core fundamentals are as good as they get. There's no negative signs there," Mr. Gerken said. He pointed to declining vacancies, healthy rents and the recovery in prices.
Mr. Gerken and Mr. Chin try to stay ahead of the game by listening carefully to what their clients tell them about shifting dynamics.
For instance, Mr. Gerken sounds very cautious about the suburban office market nationally. 
"Suburban sprawl was a trend. But building roads and endlessly adding lanes has peaked out. Urban renewal is the new trend. Now almost every project we're involved with is around a transportation hub," he said.
That sense of caution—along with TD's history of restraint—suggests the lender is unlikely to be the one left without a chair when the music in the booming New York City real estate market inevitably stops.
"You need to look down the road and peer around the corner. If you get lulled to sleep by the fundamentals, you're going to hit by the bus because you stepped off the curb at the wrong time," Mr. Gerken said.
Bank of America Merrill Lynch
,
Chase
,
Durst Organization
,
Gregg Gerken
,
Hypo Real Estate International
,
J.P. Morgan Chase
,
Jonathan Durst
,
Madison Realty Capital
,
Michael Stoler
,
Moody's Investors Services
,
Rafferty Capital
,
Richard Bove
,
Roy Chin
,
TD Bank
,
VIA 57West