Leslie Wohlman Himmel Is a Partner in a 2M-SF Real Estate Empire, but That's Hardly Enough
---
---
When Harvard Business School called up Leslie Wohlman Himmel about a month ago and told her that it wanted to bestow on her its Entrepreneur of the Year award later this year, she didn't initially have the "right" reaction: She was too busy to schlep up to Cambridge to receive it.
Too busy? That was the conundrum Ms. Himmel, a co-founder of Himmel + Meringoff Properties, faced. Even a high honor from her alma mater (she graduated in 1978) has to jibe with her schedule. And awards are less important than business.
Ms. Himmel eventually came to her senses and decided she'd make the trek up to Harvard in May. Still, it'll be a sacrifice.
That's because she and longtime business partner Stephen Meringoff plan on doubling the firm's 2-million-square-foot portfolio in the next five years. Mr. Meringoff, who popped in during Mr. Himmel's interview with Commercial Observer, said the goal is really within the next five to 10 years, to which Ms. Himmel said: He's "the conservative one here."
"Leslie's really much happier out and about at lunchtime, visiting brokers, going to events, going to broker seminars," Mr. Meringoff said of their dynamic. "I like staying in and banging away at the real estate from a management point of view."
Expanding the Himmel + Meringoff empire started last year with the company's purchase of the operating share of 1460 Broadway at the corner of West 41st Street, which is getting a full renovation following the March 2015 departure of anchor tenant Skadden, Arps, Slate, Meagher & Flom. The firm has since leased the entire retail portion of the 215,000-square-foot structure to Foot Locker with coworking space company WeWork (WE) taking the whole office section.
Ms. Himmel, 61, said the company is trying to push up that property's value, along with that of 729 Seventh Avenue between West 48th and West 49th Streets, where Himmel + Meringoff is renovating the lobby.
Commercial Observer: Can you discuss what you've done with 1460 Broadway?
Ms. Himmel: Our greatest achievement in 2015 was the purchase of 1460 Broadway—which was actually done in September of 2014. Then in 2015, we embarked upon a business strategy question, which was: How do you take a building that has Skadden, Arps as the main tenant leaving March 31, 2015, and has the base of the building with small but nationally recognized retailers, and create value and maximize both the short- and long-term value of the asset?
We looked at what was going on in Times Square. It had fascinated us that in the middle of Times Square, rents had reached all-time highs in the past 24 to 36 months. However, Times Square South, which is south of 42nd Street, had not yet [had] a flagship store. 
We saw a flagship store south of 42nd Street. We saw that the upstairs could be recreated as an office building off Bryant Park. We gave ourselves 24 months from the time that Skadden, Arps was going to leave, which was March 31, 2015, to execute and implement a plan. Through an awful lot of hard work, and quite frankly luck, we were focusing on the retail and had been negotiating with Foot Locker to take over a flagship store. We took what had been a building that was just bricks all the way down and we created a three-floor, all-glass entrance for them both on Broadway and on West 41st Street. It's going to be a 36,000-square-foot store.
The retail tenants that had been in just left, Dec. 31, 2015, and the storefront and whatnot will be in about September and Foot Locker should be opening at the end of 2016 or maybe in the beginning of 2017. 
We have the TAMI [technology, advertising, media and information services] tenants in a lot of our Park Avenue South and Midtown South locations. We knew that they were almost getting priced out of the Midtown South area and were actually moving north again. On the very day that Skadden, Arps was leaving, we signed a lease for the entire property with WeWork. 
Who did the redesign?
This is Dan Shannon of [MdeAS Architects]. His look is always like this—open, a lot of really cool colors. We spent hundreds of hours working with Dan to do a really thoughtful lobby. WeWork said they really preferred to do their own thing. They're going to make a slightly different lobby.
I felt really guilty. We said, "O.K., [729 Seventh Avenue's] lobby could be repositioned." Let's do his same like double-height, cool-looking approach [at the Seventh Avenue building]. The lobby was gold. It was actually quite beautiful. We're tearing it out and making a double-height lobby with a really stunning new marble everywhere.
We're making it cool and modern and slick and we're going to get TAMI tenants here, as well, but we wanted to preserve part of the history. Dan Shannon kept saying, "This is a really cool building. Please don't throw out the history here." We got lectured on it.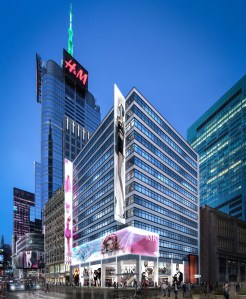 Why did you lease the entire office portion of 1460 Broadway to WeWork?
We have WeWork as a tenant at 401 Park Avenue South [between East 27th and East 28th Streets], and we put them in several years ago. 
We are a believer in their business plan and execution. They're not just subleasing space; they're creating environments for new and emerging businesses. We think that the smaller companies will continue to be a backbone in New York City.

What are the emerging areas in the city that you would venture into next?
You've got to actually watch where the artists are going. One would probably say today's emerging neighborhoods are more in the outer boroughs than in Manhattan, because I think every corner of Manhattan has emerged.
You're going to have a lot of ground-up development, but I think you have niches of New York that really need to be revitalized. 
You own 34-02 Queens Boulevard in Long Island City. Can you discuss that property?
We purchased that in 1986. Thirty years ago. Waiting, watching, investing in the neighborhood. We've been in some places quite early. We're very patient with our money. I would call that a legacy asset. 
That area, it's fascinating. Cornell-Technion [on Roosevelt Island] is going to affect Long Island City a lot. Tishman Speyer built a fabulous building [at 2 Gotham Center], and is building now residential. So it's really hopping. 
Would you potentially build on that site if the Fire Department of New York and the New York City Department of Transportation were to leave?
I see that property one day having a very tall building on it. It is presently only a two-story building. It has 120,000 square feet of land. I absolutely see that. But we believe in being pioneers, and I think the market is going to come toward us as more and more development happens closer to Queens Plaza. We're right across the street from a subway stop as well, which is fabulous. 
Would you ever buy in Brooklyn?
Sure. We've been looking at projects in Brooklyn. 
Is there anything else you have planned for the future?
At this point, Steve and I have been partners for 30 years so we're embarking on our fourth decade together, which has been a brilliant, fantastic partnership. We have 2 million square feet right now. We'd like to double the size of the portfolio within the next five years. 
What was the first property you and Mr. Meringoff bought together?
We purchased 989 [Avenue of the Americas between West 36th and West 37th Streets] in December of 1985. It was a 100,000-square-foot property that we purchased for about $5 million. A bank had owned it and they needed to do a year-end closing. I had known somebody who knew the chairman there. They locked us literally in a room. We sat there looking at the leases, writing down the numbers.
Do you still own it today?
No, we sold that back in 2005. 
Was it hard to let go of?
Yes! I was sad; it was my first asset and I let go of it.
What's it like to build an asset management company from scratch?
We've had great luck, but great luck comes from working as hard as you possibly can and creating opportunities and good fortune by just being out there, turning over every stone. We were lucky when we first started buying properties in 1985 together. We were lucky to have lenders believe in us. And we've been lucky to have great institutions believe in us when we were buying bigger properties.
Would your kids ever consider joining the company?
My daughter, Andrea, graduated Wharton [School of the University of Pennsylvania] in 2008. She is an energy analyst with Sanders Capital, and very happy in the investment management world. My son, David, graduated Harvard Business School in 2014, and he's working at Jamestown and they have a fantastic portfolio. 
Have you ever wanted him to work at your company?
He's really happy at Jamestown right now. So let him grow that company. 
What responsibilities do you and Mr. Meringoff each have at the company?
I focus a little bit more on the external and building the business from the outside in; he really helps maximize the value of the properties. I tend to work a lot with bringing in new equity partners, new lenders.
There are some partners like Robert Lapidus and David Levinson of L&L Holding Company who seem to be friends outside of the office. Are you friends outside when you're not working, too?
L&L, they're partners, what, seven years? Steve and I are partners 30 years. We've gone through cycles together. Steve's like family to me. We've gone through ups and downs of both business cycles and life. But we both have a lot of outside interests so we do our own thing on the outside.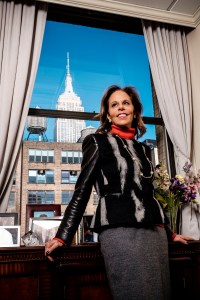 What was your reaction when you found out you were named Entrepreneur of the Year by Harvard Business School?
I actually turned it down at first. I didn't want it. 
How come?
I'm so busy right now trying to build the portfolio and refinance that I just really didn't know that I had the time for it. My first reaction was: No, I've had enough awards. I'm a deal junkie and I love working, so anything that's a little bit of a distraction to me, which in fact this isn't because it's great for business—but it just felt like a distraction. 
What made you decide to take it then?
You have these voices in your head saying you should or you shouldn't. I said, "What's wrong with you? That's a huge honor. How could you turn that down?"
Did they name any particular deal when they gave you the award?
Steve and I have amassed one of the few privately owned, first-generation portfolios. I know Harvard right now is pushing entrepreneurship. Well, I did that starting 30 years ago. It wasn't because it was cool or it was "in." It was because I wanted to own my own assets and be my own boss.
They recognize chief executive officers, people with titles. People ask me my title, I actually don't even know it. I come to work every day. I'm working. Who cares what my title is? 
In 2013, you told CO that you didn't want to discuss women in real estate anymore.
[Laughs and says to Mr. Meringoff]: He's going to try again.
Asset ownership and development are areas where you don't see the presence of women as much. Any advice from that respect?
Gender neutral. Be proud that you're a woman. Look like a woman. And just go for it. 
1460 Broadway
,
401 Park Avenue South
,
729 Seventh Avenue
,
Arps
,
Dan Shannon
,
Foot Locker
,
Harvard business School
,
Leslie Wohlman Himmel
,
Meagher & Flom
,
Skadden
,
Slate
,
Stephen Meringoff
,
Himmel + Meringoff Properties
,
WeWork