Joseph Klaynberg's Journey From Minsk to Manhattan
---
---
In 1979, Joseph Klaynberg left Minsk, Belarus, and sought refugee status in Italy with the plan to eventually make his way to the United States. Life was difficult if you were Jewish in the Soviet Union, even if you had a degree in engineering from one of the top schools. During his six-month stay near Rome, Mr. Klaynberg—who was then in his mid-20s—worked at a construction site during the day and guarded the same site at night.
He found passage to the U.S. through the various Jewish groups that helped Soviets come stateside. The day after he arrived in New York, Mr. Klaynberg went to work.
"My first job was my last private job," he said. "It was very easy." 
It's daunting enough to flee an authoritarian state, come halfway around the world with a couple of bucks in your pocket, start a new life and find employment. Going to work the following day requires something more—an even higher level of determination. But Mr. Klaynberg's life in the real estate world is sprinkled with instances like these. He worked his way up from laborer to supervisor at that job, and in seven years had the capital and manpower to form Wonder Works Construction. Today, the 29-year-old company toggles between construction and developer hard hats.
His focus has been on both ground-up projects and conversions, and building affordable luxury buildings in areas that are in the early stages of becoming hotspots, like Chelsea in the early 2000s or the Financial District later in the decade.
"We're trying to create the value where there is no value," he told Commercial Observer last week in the company's Herald Square offices. "That's what I like to do."
Last year, the company did $100 million in construction, and has another $200 million in the pipeline. Mr. Klaynberg, 62, said the company has partnered on more than a dozen projects as a developer and has built more than 1,000 units with another 800 units underway. That includes 302 East 96th Street between First and Second Avenues—a 48-unit luxury affordable residential building that's being completed alongside the site of the future Second Avenue subway—which he is doing as both developer and builder. 
Construction broke ground in mid-December 2015 after Wonder Works closed on $57 million in financing for the project. A lease has been executed nearby for a sales office, which is going to open in the spring. Mr. Klaynberg said the building should be done next year. Last March, he and his partners paid $24 million for the site, which at the time had a three-story property on it, The Real Deal reported.
Building in New York City is difficult to begin with, but factor in an already overdue subway project and things get more difficult. Mr. Klaynberg has weekly meetings with the New York City Department of Transportation and the state Metropolitan Transportation Authority to ensure the concurrent projects run smoothly. Sometimes the MTA will want to deliver supplies in front of his site, which will become even more problematic in the future when cranes arrive to lift supplies for the 21-story building.
At one point, transportation officials asked if Wonder Works could hold off construction for another year, he said.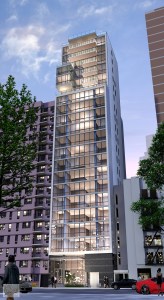 "No, it's impossible," he told them. "We have a loan. We have to pay back the loan in 24 months." He added, "We're working with them. It's not easy, but we have a good staff." 
It was interesting that Mr. Klaynberg picked that stretch of Second Avenue to make his stand. Sure, the Upper East Side has its hoary appeal, but it isn't like Chelsea or the Financial District in terms of hotness. However, Mr. Klaynberg is banking on a simple proposition: the Second Avenue subway could start forcing commercial and residential rents back up as mass transit starts to move residents to Midtown and Downtown quicker.
"The opportunity is that New York City has finally put a train on that avenue," said Eric Brody, a principal of Wonder Works who has worked with Mr. Klaynberg on and off since 2008. "We're hoping to meet the demand that will be created."
Being a developer as well as a construction company at the same time is something of a unique situation, since the former typically hires the latter for jobs. Wonder Works has 120 employees, about half of whom are laborers, with the rest in supervisory roles.
"Usually people wear one hat," said David Amirian of the Amirian Group, who has partnered with Mr. Klaynberg as a developer and hired him as a general contractor. "He's one of the few guys who does both."
Mr. Amirian added that Mr. Klaynberg has the unique skill of not trying to meddle in a project when he's strictly doing the construction. In a profession of deadlines, setbacks and high-pressure situations, Mr. Amirian said his associate remains cool and calm, "where a lot of people in the industry don't follow that same mantra."
People are drawn to Mr. Klaynberg's company because he has a high attention to detail, delivers on promises and is transparent throughout projects, according to those who work with him. In the case of being a general contractor, Mr. Klaynberg has been honest when giving cost estimates and is thorough during the construction process, Mr. Amirian said.
"The biggest fear is that the contractor is going to make a low bid" to win the project and increase the cost later, he added. "[Mr. Klaynberg] really doesn't do that. He's transparent from the beginning."
That kind of reputation drew Mr. Brody to work with Mr. Klaynberg. Originally a developer with his own company, The Brody Group, Mr. Brody partnered with him on a project in 2008 in the Park Slope section of Brooklyn. Then, about four years ago, Mr. Brody decided he wanted to start his own construction company.
"The construction and development markets had started to slow down," he said. "I realized development was fantastic, but I needed a day job."
Mr. Klaynberg told him not to start his own construction firm. Instead, he advised Mr. Brody to come work for him, but the idea of answering to a boss made the developer hesitant.
Mr. Klaynberg came up with a solution: Rather than Mr. Brody working for Mr. Klaynberg, he promised Mr. Brody would work with him. After two years at the company, Mr. Brody became a partner in 2014.
"Joseph is an extremely fair person to work for," Mr. Brody said. "Extremely demanding. He gives you a goal that he knows is difficult, that not everyone can achieve. But if you do achieve it, he recognizes the greatness of others."
Mr. Klaynberg studied for six years at Moscow University, which was one of the top schools in the Soviet Union. He returned to his native Minsk in 1977 and spent the next two years working as the chief engineer for a major construction company. His parents told him it would be best to leave the country and build a life in America.
You couldn't simply emigrate to the United States, however, without making a big splash and causing a high-profile defection sure to make the 6 o'clock news. Mr. Klaynberg said his options were to seek refugee status in either Austria or Italy. So in mid-1979, he left Minsk for Rome with $100 in his pocket. There was little to do but work and make some extra income, so he secured the construction job during the day and worked security at night.
"You could not just sit and wait," he said. "I found a part-time job."
By the time he arrived in New York at the end of 1979, he had arranged for a job at a construction company, Universal Ceiling, where he started as a laborer. Within two years, he had saved up, established himself in the United States and was able to bring his parents over before tensions within the Soviet Union flared up and it became more difficult to leave. At the same time, Mr. Klaynberg worked his way up from laborer to carpenter and eventually foreman.
In 1983, he married his wife and they went on to have three sons, ages 33, 30 and 17. Until recently, one of his sons lived in his project in Chelsea; another lives in his FiDi building; the youngest lives with Mr. Klaynberg and his wife near Union Square and is headed to Columbia University.
By 1987, Mr. Klaynberg was able to start Wonder Works as a carpentry company—taking a few of his fellow carpenters, he still worked on the jobs himself. A few are still with the firm nearly 30 years later, he said. By 2000, the company grew to 100 carpenters and requests started to come in to do general contracting.
The company focused solely on construction-related work until 2001, when a partner backed out of a conversion in New Rochelle, N.Y. that Wonder Works was building. Mr. Klaynberg stepped in with the vision to give it a Lower Manhattan feel at a lower price point.
"Not everybody could afford Tribeca at the time," Mr. Klaynberg said. "So our concept was…to create the Tribeca lifestyle at more affordable prices in New Rochelle." 
That was followed by the Chelsea Club at 444 West 19th Street between Ninth and 10th Avenues in 2004, which was a 42-unit project he had partnered on, before the area had been rezoned or became development-heavy. Initial prices for the condominium units at the building range from $400,000 to $1.8 million, according to City Realty, an online real estate listing company.
In 2009, he developed the District at 111 Fulton Street, which has 163 units. The FiDi building has what Mr. Klaynberg called "the best rooftop in New York City" featuring a pool and cabanas.
As a developer, Mr. Klaynberg is known for being hands-on in terms of how a project looks. Following his interview with CO, he gave a quick tour of Wonder Work's model kitchen that shows off the Italian finishes, floor tiles and appliances that he puts into projects. There are the closets that are essentially furniture, which can be moved around the apartment and are less expensive and time consuming to build.
"We've been heavily influenced in interior design, especially coming out of Europe," Mr. Brody said. "He has a massive attention to detail and structures the teams around him to also have that attention to detail."
Mr. Klaynberg goes to Italy twice a year to trade shows for finishes. In April, it's kitchen cabinets and in September, it's ceramic tiles and bathroom fixtures. Last year, he said, Wonder Works shipped 80 containers worth of finishes, cabinets and furniture, mostly from Italy, to his warehouse.
Since leaving the Soviet Union about 35 years ago, he said that despite all the work trips to Europe, he's never returned to Russia. It's not necessarily any ill will, but his focus has mostly been on his work.
"It's not like I hate [it] or anything," he said. "I have no hard feelings; I just don't have time." 
Mr. Brody said the fact that his partner came here from the U.S.S.R., worked his way up and now owns a well-respected development and construction company shows Mr. Klaynberg's unfaltering will and determination to deliver on time with high-quality buildings.
"He's going to work harder than you have in your life," Mr. Brody said, adding that Mr. Klaynberg's history sent the message that, "You do whatever it takes to get done."