Under Construction: Talking Dining at Time Equities' 50 West Street
---
---
If Francis Greenburger had his way, Gotham Bar and Grill would be the restaurant at the base of his 65-story residential condominium tower under construction at 50 West Street.
The founder, chairman and chief executive officer of Time Equities likes Gotham's contemporary menu, which is filled with chicory salads and striped bass sashimi. (It doesn't hurt that Mr. Greenburger's office is only a block or two away.) However, the owners of the restaurant turned down his request to open an outpost at his Lower Manhattan skyscraper.
So, what's a real estate developer to do?
"What I would like is to find a restaurant that is comfortable and at the same time high quality, but would have a menu that if you are going there twice a week, you wouldn't mind," Mr. Greenburger told Commercial Observer. "I have to find a Gotham look-alike."
The eatery will have an excellent space to settle into. Currently, the Helmut Jahn-designed building has topped out, and the glass panels of the curtain wall system are being added to the exterior. The 10,500-square-foot duplex restaurant space still has exposed concrete, but its potential is obvious.
The 9,371-square-foot second floor has 20-foot-high ceilings and wraparound glass windows, providing an elevated view of West Street and the neighborhood. In addition to the second floor, there will be an 1,189-square-foot ground floor section for a bar. Almost the entire second floor will be covered with glass, minus a quadrant for the kitchen.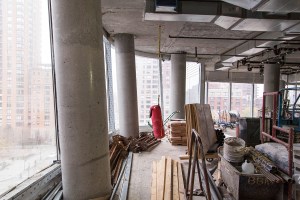 Time Equities' building is expected to be completed in the fall and residents should be moving in at the end of the year. The firm hopes to have the restaurant space occupied by spring 2017. The developer isn't planning to pre-build the space, allowing a restaurateur the freedom to construct his or her own dream bistro. However, renderings of a potential eatery show an elegant sit-down dining space with wood furniture and star-like lights.
Fifty West Street's restaurant will be among the rising retail options in the Downtown area, including at the World Trade Center site, where Westfield Group will operate a mall, and at the recently renovated Brookfield Place (formerly known as the World Financial Center). Rents in the area has been moving up because of the revitalization of those large sites and since more technology, advertising, media and information or TAMI tenants have been moving in. A few blocks over, retail ground-floor rents at the Broadway commercial corridor between Battery Park and Chambers Street are around $308 per square foot, according to a Nov. 25, 2015 Real Estate Board of New York report.
Time Equities is asking $95 per square foot for its space, which was purposely set far below average rents, "because we want to find a really good restaurant," Mr. Greenburger said. "For us, it is an amenity for the building and we are more interested in finding a really good restaurant than charging more rent."