The Plan: Inside a New Coworking Space at 1412 Broadway
---
---
When real estate investor Charles Aini first learned that the 21st floor at 1412 Broadway was vacant, he wanted to get one of the major coworking firms on board.
"I was willing to share the risk and build half the space out for the tenant, yet nobody was interested," said Mr. Aini, whose father, Jacob Aini, acquired the 14-story building with partner Isaac Chetrit last year.
So he did what most landlords haven't done yet: create his own coworking firm, Workville.
"WeWork proved that coworking spaces work and landlords have to think differently," Charles Aini said. "What's so hard about putting out some walls here?"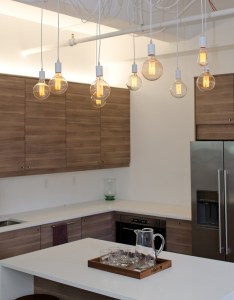 The 28-year-old partnered with Dori Jack Dashti, his first cousin and a residential broker at Spire Group Real Estate. They also roped in Eli Chetrit as a partner. They have been working to design and refurbish the 11,000-square-foot space, which will house three conference rooms, two kitchens, two lounges and a total of 230 desks dotted across the open area plus 40 private offices.
Workville is shooting for a luxurious look—a mix between WeWork and NeueHouse. "We're one of the few coworking spaces located on high floors," said Mr. Dashti, adding that the wraparound terrace can be blocked off for private events.
Memberships, which start from around $500 for an open desk, will run month to month. For those who prefer to work in a private office, a desk will range from $750 (no windows) to $1,000 (a corner office with windows) per month. All offices are separated by glass instead of white walls, but members can add a layer of film to address privacy concerns, Mr. Dashti said.
Danielle-Marie Mullins, a local artist, will be working on a mural in the open space and two paintings in the cafe area as members are moving in. "She will use the white walls as a canvas and create colorful pieces that pop," Mr. Dashti said.
As owners of the building, Workville operators are not as pressured as their competitors to fill up the space and can enjoy the economies of scale. That means better Internet deals, an existing network of maintenance staff and contractors familiar with the space and no broker cost, allowing the duo to move faster with the $1 million project.
Mr. Aini's family also owns the Refinery Hotel, which helps him to instill a sense of comfort and service that typical office spaces lack. As such, there will be free amenities including stationery, bagels and coffee, as well as a community manager to oversee daily operations.
Workville opened to the public Jan. 1 and is serving as a test ground for the pair, who have plans to aggressively expand by March.
"If it works out here, we don't mind replicating the model in three or four other locations," said Mr. Aini, adding that he is eyeing spaces in NoMad and Hudson Yards, where the Aini family already has a foothold.
1412 Broadway
,
Charles Aini
,
Danielle-Marie Mullins
,
Dori Jack Dashti
,
Isaac Chetrit
,
Jacob Aini
,
NeueHouse
,
Refinery Hotel
,
Spire Group Real Estate
,
Workville
,
WeWork