Helen Hwang Is Looking at $2.5 Billion Worth of Deals in the Pipeline for 2016
---
---
It takes a lot to leave a company you've worked at for 16 years. But last year, Helen Hwang got an offer she couldn't refuse.
In September, she and most of her eight-person team left Cushman & Wakefield's offices and headed east for 800 Third Avenue, the office of Meridian Investment Sales, a subsidiary of Meridian Capital Group. Ms. Hwang is now head of the company's institutional investment sales team, which has nine brokers.
Hiring Ms. Hwang has been Meridian Capital Group's latest move to beef up its institutional sales wing. The division was launched in April with Eastern Consolidated's David Schechtman, Lipa Lieberman and Abie Kassin taking the helm. Their team, which handles different types of investors, currently works in tandem with Ms. Hwang's group.
Her team is currently marketing 88 Leonard Street in Tribeca, which Crain's New York Business reported in October could sell for more than $300 million. The first round of bidding closed near the end of December, she said, and interest in the 384,485-square-foot residential building has been strong.
It's familiar territory, as Ms. Hwang arranged the last sale of the building in 2011 for $210 million on behalf of Africa Israel USA. Last year, she represented the group once again in its $296 million sale of the retail condominium at 229 West 43rd Street. (Disclosure: Kushner Companies bought the Times Square condo; Jared Kushner, the company's chief executive officer, is also the publisher of Commercial Observer).
Ms. Hwang said her team has $2.5 billion worth of deals in the pipeline for 2016. That includes ground leases at 311 West 42nd Street and 320 West 31st Streets, both of which are closing imminently. Late last year, her team had a two-week tour in Asia in a bid to find a $1 billion partnership in Midtown's Plaza District (particulars of the partnership were confidential, she said, and it's tough to pry any secrets out of her.)
"It's going to be a very, very busy 2016," she said. "We're very excited about it."
The oldest of three siblings—she has a younger brother and sister, all of whom are four years apart—she originally went to Cornell University with the intent of becoming a medical doctor. But a conversation with her father led her into the real estate business. A native of South Korea, Ms. Hwang, 40, came to the United States at 14 in 1989 and grew up in West New York, N.J.
Commercial Observer: What's the difference between what you do on the institutional sales side versus the other parts of Meridian Investment Sales?
Ms. Hwang: It's primarily based upon [what] the buyer type is and the expertise that is required to transact each asset, so depending on the expertise that's required, they might come to our wheelhouse, or also based on the deal size.
What's the relationship between the your team and Mr. Schechtman's team?
We talk to each other every day. I spoke with one of my good clients last week about a [deal], and that was a lot more of a fit for David's group due to his expertise of that neighborhood and that property type. We got together, we worked on it together and we analyzed it together. He'll spearhead the transaction, but we collaborated on the overall strategy and valuation and handling of the strategy.
What would you like to see your team become as it's growing?
We've always been a prominent player in New York City investment sales. I think we would like to have a lot more transactional volume and continue to collaborate with our finance department.
Our ultimate goal is to become a comprehensive, one-stop-shop, so it's not a separate investment sales house but more of a collaborative capital markets group where we can provide a one-stop solution for our clientele. I think it's really the advisory angle. We really aim to become the ultimate, trusted adviser to New York City owners.
Why did you decide to go to Meridian?
I really wanted a capital markets shop. Obviously, their financing division is number one in New York. Being able to provide our clients with that one-stop-shop, multiple-capital-markets solution—that to me was very, very invaluable.
What were institutional investment sales like once Cushman merged with DTZ?
We left shortly after the merger. There were a lot of changes happening within the organization…and overall that's what got us thinking about perhaps changes that we can bring forth in our team. This was the first year we ever thought about leaving Cushman & Wakefield, because of those changes.
It must take a big change to make you move after that long.
It was as much of our team's decision as it was mine. But this was definitely the right time to do it, because it happened during the year that everyone thought about starting an investment sales team, and this was our first year to ever even think about relocating to another company, so it just happened at the right time at the right place.
Why did the retail condominium at 229 West 43rd Street sell for $296 million?
What we've worked very hard to achieve are consistent results for clients, where they turn to our team as their trusted adviser, and 229 West 43rd Street is an example of that. We previously represented Africa-Israel USA as the seller in the marketing and sale of 88 Leonard Street, and as a result, our team was retained to market their iconic 250,000-square-foot retail condominium space at 229 West 43rd Street. These are very different properties in very different areas but our hands-on approach in deconstructing the asset to unlock the maximum value has allowed us to consistently achieve outstanding results in line with our clients' business plans.
Can you discuss your work marketing properties for St. John's University, and the impact of the $223 million sale of 101 Murray Street?
Beginning with the sale of 101 Murray Street in 2013, we have had ongoing and strategic dialogue with St. John University and announced on Dec. 7, 2015 that we will be representing them in the marketing of their 170-acre Oakdale, N.Y. campus.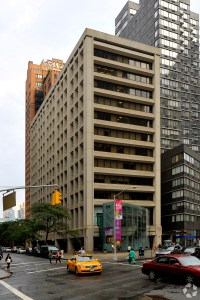 How did you develop your method of breaking down a deal?
I was actually a chemistry major in undergrad…and that's just the way I think my mind works. While [many] people really look at the holistic asset, the way I look at it is really tearing it apart and seeing "where does the inefficiency lie in the asset," or "how can I maximize the valuation?" So by looking at each asset that way, we naturally deconstruct it.
When we sold 1865 Broadway [in February 2015 for $300 million to AvalonBay Communities], which is the American Bible Society site, everybody looked at it as a 270,000-square-foot development site and a great location. The way we looked at it was really bifurcating the value of the retail out, because the top payer of the residential component was typically not the top payer of the retail component, so we sort of saw this inefficiency, and we saw the market wasn't pricing the retail right, so we really demonstrated the value of the retail separately from the overall asset.
What made you go into the real estate business and into institutional investment sales in particular?
I was pre-med. I thought I would just go into medical school and become a doctor. It was actually my father's advice. He said, "Why don't you try doing something in business?" My dad actually invested in real estate, so I said, "What business should I do?"
I thought about real estate, so I decided to just do an internship first before I really made that shift, so I interned at Tishman Speyer one summer, and I really liked it.
After I got out of college, I said, "Let me give this a try," so I applied for jobs, I got a bunch of offers and I decided to work for Cushman & Wakefield. And I was there for 16 years.
All of that time you were pretty much doing investment sales, right?
I actually started my career at Cushman & Wakefield on the appraisal side [and in the] valuation and advisory services department. I came in through this program called Career Development Program, so this was a program that Cushman had in place for recent college grads, and, I went into the appraisal division. I was there for two to two and a half years, and then I joined the investment sales team after that.
And you lived in Korea until age 14?
Yeah.
Could you discuss that a little bit and then coming to the U.S.?
I grew up in Korea in Kyungki-do. It's a province in [South] Korea, and I lived in a really, really small village. So with no paved roads. Like 50 households. That small [a] village.
My dad was actually a livestock broker at the time. So brokerage apparently runs in the family. He decided to come to America two years ahead of us moving here, just to check it out and make sure everything was good. He worked in the U.S. for the year, he worked in Canada for a year, and he really liked it, so he invited us to come [to the U.S.], and we immigrated when I was 14.